No Love Lost | No Love Lost
by Justin Gaines
– Senior Columnist/News Editor —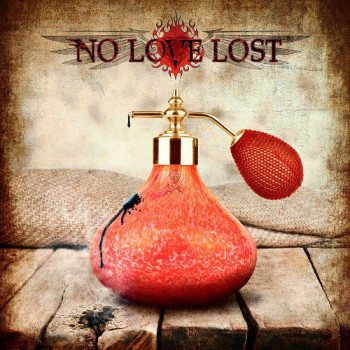 North Carolina-based melodic rockers No Love Lost made their debut last year on the Kivel Records label with this self-titled offering. The band features vocalist Scott Board, who fans of the NC scene might recall from bands like Dimage and Cerebus. Board is joined by fellow Dimage veteran Jason Staton on guitar, as well as drummer (and producer) Brian Asbelle, guitarist Dan Fournier and bassist Scott Davis.
No Love Lost has a sound that's very much rooted in the melodic rock of the 1980s, which isn't a bad thing at all. There's a bit of Whitesnake, a bit of Tesla, and a lot of Firehouse. Board's unique voice plays a major role here. He's got a very memorable high pitched wail, but at the same time it has that David Coverdale-like sense of earthiness and soulfulness. Honestly it may be too much for some listeners, but if you have an appreciation for vocalists with higher registers, you're probably going to love this album.
It helps that those vocals are backed by some very solid musicianship (not to mention some surprisingly effective backing vocals). The songs never get too glammy or too heavy – they're right in that "something for everyone" rock n' roll middle ground. The '80s rock influence is undeniable, but the album never sounds overly retro. Driving rhythms, catchy melodies and choice solos are timeless, after all. Highlights include the very rocking "Back on the Streets" and "Another Bad Goodbye," "Break," which has an Outloud vibe, and the mellow, Mr. Big-style ballad "Closer to Home."
This is a rock solid debut from No Love Lost, who along with bands like Line of Fire, Crossing Rubicon, Tango Down and Adriangale are keeping the melodic rock flame burning here in the US. Whether you're a fan of these newer bands or the classic bands like Whitesnake, Tesla, Mr. Big and Firehouse, chances are you'll enjoy the No Love Lost experience.
Genre: Melodic Hard Rock
Band:
Brian Asbelle (d) (v)
Dan Fournier (g) (v)
Jason Staton (g) (v)
Scott Board (v)
Scott Davis (b) (v)
Track Listing:
1. Another Bad Goodbye
2. Sign of the Times
3. Little Things
4. Catch Me Carrie
5. Miles Apart
6. Friend of Pain
7. Back on the Streets
8. Lie in Ecstasy
9. Grounded
10. Break
11. Skin and Bone
12. Closer to Home
13. Desiree
Website: www.facebook.com/NLLMusic
Hardrock Haven Rating: 7.5/10