Savage Messiah | The Fateful Dark
by John Kindred
– Publisher —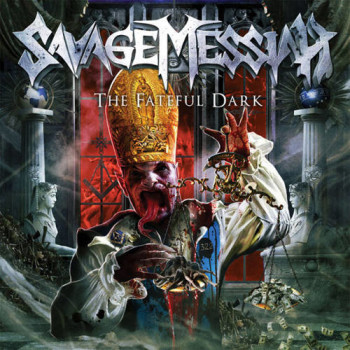 London's Savage Messiah returns with its fourth studio album, The Fateful Dark, which will be released in Europe March 10 and in the United States on March 18. The album follows up the band's 2012 release Plague of Conscience and continues the band's metallic journeys. Savage Messiah comprises guitarist and vocalist Dave Silver; guitarist Joff Bailey, bassist Stefano Selvatico, and drummer Andrea Gorio.
The Fateful Dark was recorded at Grindstone Studios in Suffolk, England, with producer Scott Atkins. The album contains 10 tracks and three bonus tracks and is available via the Earache Records Web store and on iTunes. The artwork was created by Peter Sallai.
Savage Messhiah combines elements of heavy, thrash and power metal. The band's sound also has plenty of melodic nuances. Dave Silver's vocal approach has mellowed since 2009's Insurrection Rising. Actually, the change began on Plague of Conscience, when the band signed to Earache Records. While some may wish for his harsher approach, and depending on the song, it's a subtle change. This deviation from Insurrection Rising features more flexibility and allows for more melody, expanding the possibilities for the music.
The core of the band continues to be based on power-thrash metal. The songs are heavy, with riff-oriented arrangements that fuel the vocals and guitar solos. The rhythmic pulse provided by drummer Gorio and bassist Selvatico provides the intense sound bed for the guitars and vocals assault. The guitars of Bailey and Silver provide the rhythmic crunch and deliver blazing solos and melodic passages that help make the music diverse. Savage Messiah certainly can't be categorized as one-dimensional band.
The lyrics are left in the hands of Silver, whose influences come from Medieval English to science fiction. His ideals bleed through as seen in the the song "Minority of One," which is derived from Gandi's quote, "… I was thinking about liberty, freedom from tyranny and oppression, etc., and about being resolute in objective truth." (source: http://rockyourlyrics.com/the-fateful-dark-interview-with-savage-messiah/). While some of the songs pull provocations from the daily grind, Silver is not too afraid to touch on social, political or philosophical ideas. So, if you are into music with a deeper message for introspection, you can find it here.
Lyrics aside, without stellar music to graft onto, the presentation, as a whole, would be without merit. The band drops some brilliant metal anthems for listeners to enjoy. From "Minority of One" to "Crosses of Babylon" and "Hellblazer," the 10-song CD does not fail to deliver. "Live as You Already Dead" offers epic music orchestration and superb vocal performance, while the title track pours on the rhythmic-head bobbing aggression combined with a melodic chorus. The CD wraps up with plenty of thrash-inspired riffage on "Hammered Down" and "Scavengers of Mercy" and closes with "The Cursed Earth," which provides listeners with plenty of dynamic changes.
Genre: Thrash, Power Metal
Band:
Dave Silver (v)(g)
Joff Bailey (g)
Stefano Selvatico (b)
Andrea Gorio (d)
Track Listing:
01. Iconocaust
02. Minority Of One
03. Cross Of Babylon
04. Hellblazer
05. Live As One Already Dead
06. The Fateful Dark
07. Zero Hour
08. Hammered Down
09. Scavengers Of Mercy
10. The Cursed Earth
11. Be Quick Or Be Dead *
12. Lightning To The Nations *
13. Killers *
* Earache webstore / iTunes-exclusive bonus tracks
Label: Earache Records, Century Media Records
Website: https://www.facebook.com/SavageMessiahMetal
Hardrock Haven rating: 9/10