The Amatory Murder | Exploiting Our Dreams EP
by Anabel Dflux
– Senior Photojournalist —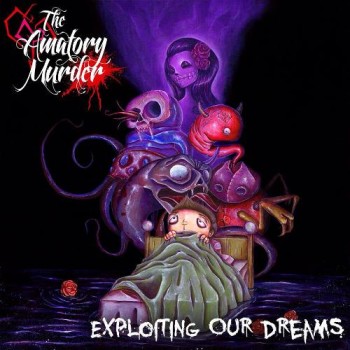 The Amatory Murder is on the verge of releasing their EP Exploiting Our Dreams. An electronic Goth band from New York, they are determined to take over. The EP includes five songs and multiple remixes, all showcasing this band's talents.
The opening track has a very… Birthday Massacre melody, but the vocals are edgier, harsher, and significantly cooler. Rock meets Goth in the most grotesquely beautiful way. Next up, track two opened with a very strong riff, with a romantic desperation that many of their audience can relate to. Sexy? Quite so, but the chorus lends itself to being dreamy and swoon worthy as well.
Tracks three and four showed the gradual mixture of hard and soft in the track listing, which works well. From the very first note, the melodies have the potential of hooking anyone listening. The vocals give nostalgia of many bands in the local Hollywood scene, as there are many similarities in the singing style. However, The Amatory Murder has enough variation in their sound to stand out amongst the crowd. This musical act is sure to gain the attention of fans who find themselves listening to bands such as Escape the Fate, Get Scared, Falling in Reverse, and more of the sort. The lyrics are significantly darker in theme than the aforementioned bands, however, adding a moody atmosphere to the overall musical experience. The EP finished with one of the catchiest tunes in the mix.
Interestingly enough, multiple remixes of songs were added to this EP collection; that is not often seen. Very dance-able, the remixes would fit right into the Los Angeles Goth and industrial club scene, something you can easily find yourself moving to.
Overall, this is a band with a tremendous amount of potential to make it big; this EP is certainly just the beginning.
Genre: Synth Rock, Goth Rock, Electro Rock
Band:
Christian Peppas – Vox, Synth, Programming
Joey Halimi – Lead Guitar
Marios Drakos – Rhythm Guitar
Ernest D'Amaso – Bass Guitar, Backing Vox
Ben Tourkatonis – Drums
Website: http://www.theamatorymurder.com
Hardrock Haven rating: 8/10