Arthemis to release first live album titled "Live From Hell"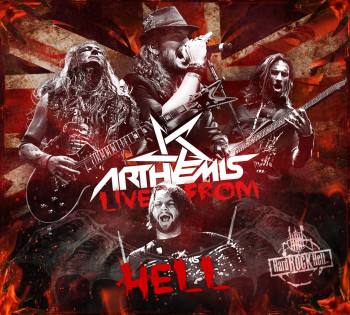 Arthemis are please to announce the release of their first ever-stunning live album new album "Live From Hell" via OFF YER ROCKA RECORDINGS on 25th May 2014.
Recorded on 30th November 2013 during "HARD ROCK HELL VII" Festival, Arthemis deliver a face-melting-fire-breathing-killer live performance captured on a truly explosive album.
Fiery, catchy, damn heavy…LOUDER THAN HELL! That's what it's all about!
Andy Martongelli, lead guitarist of the band states:
"We wanted this live album to be special for our fans as much as we wanted new Metal addicts to enter our world and feel the energy of a special ARTHEMIS live gig … so we worked on a killer show that includes some of our best songs, something that we like to play live so so much and now it's real, carved in stone and ready for you to crank your iPod or Stereo up!"
Off Yer Rocka CEO Jonni Davis added: "Arthemis are a Metal proposition that everyone should want to see, capturing them live at HRH was a pinnacle point of their career which we are now able to share with the world. These Italian Masters of Metal are one of the most solid outfits on the circuit and one we feel will only grow globally with our help".
ARTHEMIS strikes back!
Track List
1. Scars On Scars
2. Still Awake
3. We Fight
4. Home
5. Electri-Fire
6. Empire
7. 7 Days
8. Vortex
Useful Links:
www.arthemismusic.com
www.facefook.com/arthemis.official
https://twitter.com/arthemismusic
www.offyerrocka.com
ARTHEMIS "LIVE FROM HELL" is available on iTunes, Amazon, Off Yer Rocka Recordings.
Arthemis to release first live album titled "Live From Hell"