Ricky Warwick of Black Star Riders
by Steve Patrick
– Senior Columnist —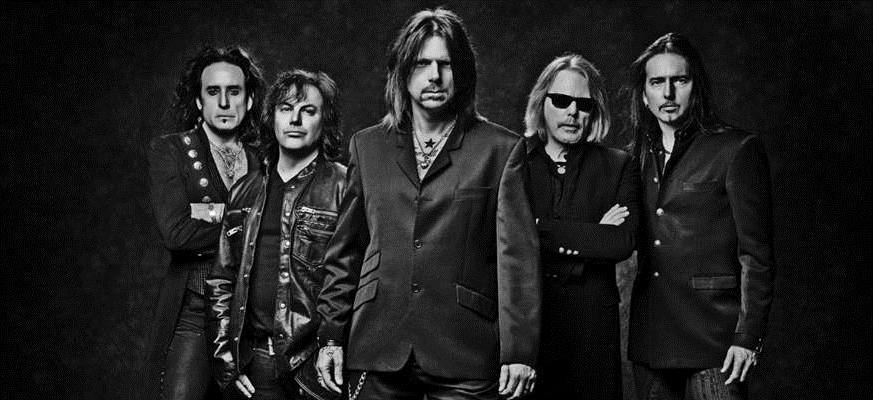 When the members of Thin Lizzy decided in late 2012 to not record a new album under the Lizzy name, Black Star Riders were born. May of 2013 saw the release of Black Star Riders' debut album All Hell Breaks Loose on Nuclear Blast Records. All Hell Breaks Loose was produced by Kevin Shirley (Aerosmith, Joe Bonamassa, Led Zeppelin) and received critical acclaim for providing a fresh take on the classic Lizzy sound.
Leading up to their debut US tour, Black Star Riders vocalist Ricky Warwick (The Almighty, Thin Lizzy) spoke with Hardrock Haven about his early musical influences, the creation of All Hell Breaks Loose, what it's like to be an Irish rock fan while in a band with Scott Gorham, and how Joe Elliot of Def Leppard will be producing the sophomore Black Star Riders album:
::: Listen to the interview :::
BLACK STAR RIDERS will enter the studio in Dublin, Ireland this fall to start recording their sophomore album, which will be produced by DEF LEPPARD frontman Joe Elliott and engineer by Ronan McHugh.
BLACK STAR RIDERS videos include:
"Kingdom Of the Lost (official):
• "Kingdom Of The Lost" (lyric video) – http://youtu.be/OEWPbi3Jtm4
• "Hey Judas" (official) – http://youtu.be/sUFhANBJPwY
• "Bound For Glory" (lyric video) – http://youtu.be/kq6Z6C3ipMk
Tour dates are:
5/01/14 The Aztec Theater – San Antonio, TX
5/02/14 Queen City Music Hall – Fort Worth, TX
5/03/14 Concert Pub North – Houston, TX
5/04/14 Juanita's Café & Bar – Little Rock, AR
5/05/14 Neumeier's – Fort Smith, AR
5/08/14 Rialto Theater – Tucson, AZ*
5/09/14 The Marquee – Tempe, AZ*
5/10/14 M15 Concert Bar & Grill – Corona, CA*
5/12/14 Harlow's Night Club – Sacramento, CA*
5/13/14 DNA Lounge – San Francisco, CA
5/15/14 Canyon Club – Agoura Hills, CA*
5/16/14 The Coach House – San Juan Capistrano, CA*
5/26/14 Altar Bar – Pittsburgh, PA
5/27/14 Agora Theatre – Cleveland, OH
5/29/14 Turner Hall – Milwaukee, WI
6/03/14 Exit/In – Nashville, TN
6/04/14 The Orange Peel – Asheville, NC
6/05/14 Amos Southend – Charlotte, NC
6/08/14 The Masquerade – Atlanta, GA
6/15/14 Workplay Theatre – Birmingham, AL