Babylon A.D. | Lost Sessions/Fresno, CA 93 [EP]
by Alexandra Mrozowska
– Senior Columnist —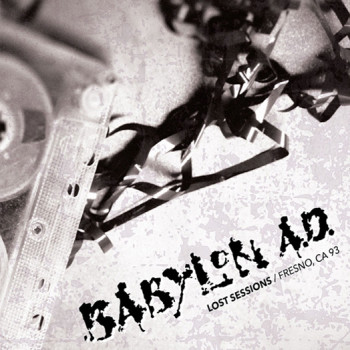 Nostalgic trips down memory lane (or organizing one's old memorabilia) can turn out to be surprisingly fruitful sometimes. Especially if you're a singer of a once successful '80s hard rock act, who happens to find a twenty-year-old reel of the band's long-lost recordings in an old trunk. That's what happened to Derek Davis, a frontman of newly reunited Babylon A.D. a while ago. It was decided the 1993 recordings – thought for many years to be lost – are worth sharing with the listeners. Hence you have an EP entitled Lost Sessions/Fresno, CA 93, now released digitally and on CD.
The material now released as Lost Sessions/Fresno, CA 93 was probably recorded right after the Nothing Sacred recording sessions, the fact which makes a real journey twenty years back out of the listening experience. It's a freeze-frame shot of the late '80s/early '90s music era, a hard-edged piece of guitar rock which was "current" at the time and a throwback to the times when the sweetened glam or AOR tunes were replaced with more abrasive and sleazy music along with successes of bands such as Guns N' Roses or Tesla.
Out of all the goodies this EP is comprised of, the absolute highlight is the second track "While America Sleeps", much in Babylon A.D.'s typical style (of the same kind as the "The Kid Goes Wild," the band's 1989 trailer song for Robo Cop 2). Built on some rough riffing up to the well-crafted chorus, and featuring some great guitar work, "While America Sleeps" could have been put on heavy rotation on MTV's Headbanger's Ball back in the day. Most certainly, it would also fit if included on any of the two first Babylon A.D.'s albums.
"Love Blind" is another groovy and dynamic track with melodic chorus, illustrated with Derek Davis's trademark raw and feisty vocals. The third is a standardized power ballad "Love Is A Mystery" – a melancholic and somber track, slow verses archetypically contrasted with wall-of-sound chorus with the intense, soaring vocals. With more polished production, this track could be a leading tear-jerker – and also a leading chick magnet – in the band's catalog, even though they had a couple of heartbreaking ballads up their sleeve anyway.
And as the wailing guitar coda to this slowly fades, there comes a time for a rendition of a well-known MTV-era hit. The re-recorded version of "Bang Go The Bells," Babylon A.D.'s most popular song, is more raw than its original 1989 version. Nevertheless, that's an enjoyable trip down the memory lane for everyone who discovered Babylon A.D. years ago and now is just about to dig for their well-worn copy of 1989 Babylon A.D. LP to bring these memories back.
The best thing about this compilation of demo tracks, apart from their authenticity, is that they pick up exactly where Babylon A.D.'s 1992 album Nothing Sacred left off. Because of this, it gives a listener a unique sneak peek into what's been held in store for a supposed mid-'90s follow-up to the band's first two releases. Music-wise, it's the same Babylon A.D. which one knows from the first classic albums of theirs, let alone the collectible factor of the EP itself.
The Frisco-based group proves it's worth it to rummage through your old memorabilia sometimes, a thing some bands should really try. And as for Lost Sessions/Fresno, CA 93, Babylon A.D.'s avid fans will treasure the EP anyway; yet, for every '80s hard rock fan who feels like traveling back in time it's also much recommended.
Genre: Hard Rock
Band:
Derek Davis – lead vocals
Dan De LaRosa – guitars
Ron Freschi – guitars
James Pacheco – drums
Robb Reid – bass guitar
Track List:
1. Love Blind
2. When America Sleeps
3. Love Is A Mystery
4. Bang Go The Bells (re-recorded)
Label: Perris Records
Website: https://www.facebook.com/Babylonadband
Hardrock Haven rating: 9.5/10