Blade Killer | Blade Killer
by Justin Gaines
– Senior Columnist/News Editor —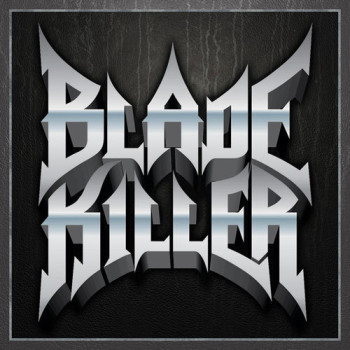 Los Angeles-based traditional heavy metal band Blade Killer made their debut earlier this year with this 4-song, self-titled EP on the Stormspell label. The band is one of the new breed of old school heavy metal bands (along with Night Demon, Borrowed Time, Volture and Visigoth to name a few) who have been injecting some real energy into the US scene.
Blade Killer is definitely making a nod to the early NWOBHM sound here, especially the Iron Maiden debut. It's raw and has a wild energy, with catchy melodies and a great twin lead guitar sound. The vocals jump from a rougher Paul Di'Anno style delivery to a killer high-pitched wail and back again. This is simple, straightforward heavy metal, but that's pretty much the point. Sometimes you don't need to rewrite the playbook, especially when anthems like "On the Attack" and "Raise Your Fist" are so much fun.
It may be a quick listen, but Blade Killer packs a hell of a lot of heavy metal energy into these four songs. If you're a fan of the so-called New Wave of Traditional Metal scene, particularly bands like Night Demon, Axxion, Skull Fist, Volture and the like, Blade Killer is well worth checking out. The EP is available on LP, cassette and CD, all of which are limited pressings.
Genre: Heavy Metal, Traditional Metal
Band:
Carlos Gutierrez (v) (d)
Kelsey Wilson (b)
Jonathan Rubio (g)
Jay Vasquez (g)
Track Listing:
1. On the Attack
2. Don't Hold Back (Break Away)
3. Made of Steel
4. Raise Your Fist
Label: Stormspell Records
Website: www.facebook.com/bladekillerheavymetal
Hardrock Haven rating: 8.25/10