Darkyra Black | Dragon Tears
by Joe Mis
– Senior Columnist —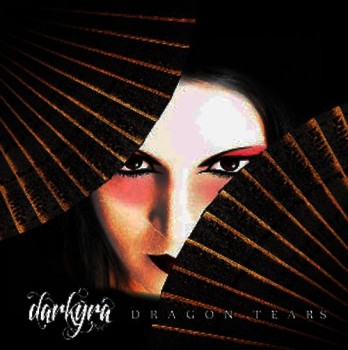 Darkyra Black is a Gothic-symphonic metal singer & songwriter hailing from Down Under. Despite being an Aussie, her music is heavenly influenced by all things Asian – and she's just released her debut album entitled Dragon Tears. Darkyra is not a carbon copy of the great female metal singers – she forges her own path with a unique vocal style in this well-done concept album.
Mostly Gothic metal with symphonic touches, Darkyra Black's Dragon Tears would make an excellent film noir piece as it recounts the dark tale of a Japanese geisha that ends in tragedy. The cinematic scope of the story covers it all – love, loss, betrayal, revenge – and explains things clearly through a few spoken word passages and vivid lyrics (and a full spoken retelling of the story in the final track). She is joined by members of the power metal project Achillea – drummer Garry King (who has also worked with Jeff Beck, Joe Lynn Turner, and Ian Parry), guitarist Paul Jupe, keyboardist Fab Jablonski and bassist Betovani Dinelli. Bassist Colin Haynes was a late addition to the band, but is set to become a regular member.
"Madoka's Lament" kicks off the release as a soft, smooth ballad. Soothing keyboards only highlight the innate softness of Darkyra's vocals, but the song picks up in intensity as the guitars bass and drums join in – allowing her to reach for power. There are numerous layers of vocals and she explores her entire range on this single track – covering the bases from quiet to near operatic, and the band is with her every step of the way. "Lullaby Of Death" allows the guitars and bass to shine, but Darkyra's voice seems buried in the music here, and the song's fade to a synth riff at the end is a bit jarring. Sweeping, cinematic vocals open "Eyes Wide Shut," and passionate guitars make this the standout track. "Japanese Frankenstein" blends in a number of progressive metal elements, but would be equally at home as the keystone piece to an on-stage rock opera. Soft keys, layered vocals, driving guitars and booming bass and drums make this the "everything but the kitchen sink" tune, and again – it is well done and controlled – not over the top, and ends with an ominous ticking clock.
The very prog metal "Slither" follows, opening with haunting operatic vocals, and adding driving guitars and punchy keys. It also weaves in traditional classical elements and orchestration, making it different and memorable. "Before I Wither" is very symphonic, written in a way that allows the true singing ability of Darkyra to come to the fore. Her vocals and delivery here are as close to flawless as can be as the song varies in tone, power and tempo. "Cold Cold Stone" is a guitar and bass track with a flowing groove and a more metal edge. Darkyra pushes to the edge of her range, demonstrating excellent control while conveying a good deal of emotion at the same time. Strong orchestral performances on the keys and strings make "Never Know" interesting, but the mix is a bit off as the vocals seem a bit thin and then dominating, and then thin again.
"Tears By Candlelight" is simply epic metal at its finest – great guitar work here, and the bass & drums are spot on. Wonderful piano and violin is the highlight of "Kiss Of The Dragon," which starts orchestral and quickly becomes a pure progressive metal piece. The drum mix is a bit harsh on this track, as are some of the keyboard riffs, but it is a well-crafted song overall. Guest guitarist Thiago Trinsi lays down some amazing solos as the piece wraps up. "Dragon Tears' gallops strongly to a rocking conclusion, wrapping the album in style. The band provides a dramatic spoken word recap of the story as a separate track at the end, and it fills in any of the gaps the listener may have missed during the musical tale.
Overall, Dragon Tears is a well done album – modern, dark, and edgy. There are a few rough moments engineering-wise, mostly when lead vocals are lost among the noise of the instruments. The strength of the songwriting, excellent arrangement, and fiery delivery more than make up for any weaknesses, and the many moods and tones are handled well not only by Darkyra, but by the entire band. Tackling a concept album as a debut album is a brave move, and Darkyra Black and her bandmates succeed, giving the world a rock opera just begging to be expanded and filmed.
Fans of Gothic metal will definitely enjoy this release, and those who like strong female singers can rejoice in the voice of Darkyra Black – a true singer with a unique style. Melodic, dramatic, symphonic, lush, deep, varied – use any adjective you want – Dragon Tears does it all, and does it well.
Genre: Gothic, Symphonic Metal
Band:
Darkyra Black (vocals)
Betovani Dinelli (bass / guitar)
Paul Jupe (guitar)
Garry King (drums)
Colin Haynes (bass)
Fabinho Jablonski (keyboards)
Additional musicians: George Boussounis (keyboards), Michael Porfyris (cello), Ilias Sdoukos (viola), Laertis Kokolanis (violin), Thiago Trinsi (guitar on 10), Dimitris Barbagalas (acoustic guitar on 3 & 8 )
Track Listing:
1. Madoka's Lament
2. Lullaby of Death
3. Eyes Wide Shut
4. Japanese Frankenstein
5. Slither
6. Before I Wither
7. Cold Cold Stone
8. Never Know
9. Tears By Candlelight
10. Kiss of the Dragon
11. Dragon Tears
12. Dragon Tears Story (spoken word)
Label: Independent, Darkyra Black
Website: http://www.darkyra.com/
Hardrock Haven rating: 8/10