David J. Caron | 9 Singles
by Joe Mis
– Senior Columnist —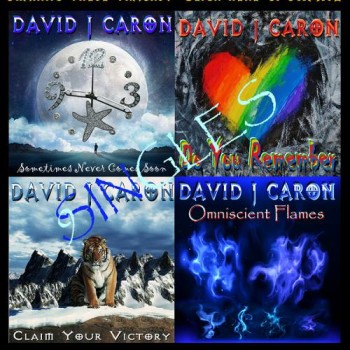 Multi-instrumentalist and singer David J. Caron is back. After dropping a 28-track debut release in 2012, he has release a package called 9 Singles, consisting of four new tracks that will appear on his upcoming album, and five of the most memorable ones pulled from his Thru Ever Ending Black. As on the debut, the Irish/Italian musician continue to play every instrument and handle all vocals on the album, and his deft musical touch and refreshing individuality permeate these nine great songs.
Originally a guitarist, Caron rapidly expanded his musical skills and became a proficient bassist, drummer, singer and keyboard player. He's also developed a keen ear and good instincts behind the mixing board as well. His songwriting skills are top-notch as well, often mixing in some pop-culture references to intelligent, meaningful lyrics on tracks that blend hints of classic AOR, electronica, and progressive rock. As a vocalist, he has a silky smooth delivery without hint of harshness – well suited for the upbeat and radio friendly music he performs. Layered vocal harmonies, complex and thought provoking lyrics, flowing riffs and catchy hooks are DJC's trademarks, and 9 Singles exhibits all of these traits and more, making for a pleasant sonic diversion.
Of the new songs, "Claim Your Victory" is an upbeat and catchy tune – a musical toe-tapper with David's traditional positive lyrics, intricate synths, and superbly laid down vocal tracks. "Sometimes Never Comes Soon" is a reflective, keyboard-centric track with a strong bass line and wonderful lyrics. "Do You Remember" is another fine example of Caron's songwriting abilities, asking the listener to reflect on events and memories, and life in general. Not a moody track, but a simple question that may get you to think a little bit about living. "Omniscient Flames" is about as moody and low key as DJC ever gets – but he puts everything he has into a passionate vocal delivery that could put most singers to shame, and his guitar work on this piece is truly outstanding.
The five tracks culled from Thru Ever Ending Black are the bass and drum-driven "Time Machine," the heavier, riffy, guitar centered "Comin' To Get You," the soaring vocal masterpiece "Unbreakable," the incredibly poppy commercial rocker "Escapin' Back," and the slick, synth driven "This Is Now."
9 Singles is a great introduction to the raw talent that is David J. Caron. He covers all the musical bases and fully demonstrates the breadth of his abilities as a musician, singer, songwriter, and producer. For DJC fans this is a must, and for folks looking for something on the lighter side (without being maudlin or sappy) it will certainly fit the bill. Not as intimidating as his 28-track debut, 9 Singles will bring a smile to fans of the melodic, pop end of the rock spectrum. Light and unpretentious, 9 Singles is music for music's sake.
Genre: Modern Melodic Rock, Metal
Band:
David J. Caron – all vocals and instruments
Track Listing:
1. Claim Your Victory
2. Sometimes Never Comes Soon
3. Time Machine
4. Do You Remember
5. Comin' TO Get You
6. Omniscient Flames
7. Unbreakable
8. Escapin' Back
9. This Is Now
Label: Independent
Website: http://www.davidjcaron.com/
Hardrock Haven rating: 9/10