Edguy | Space Police: Defenders of the Crown
by Derric Miller
– Managing Editor —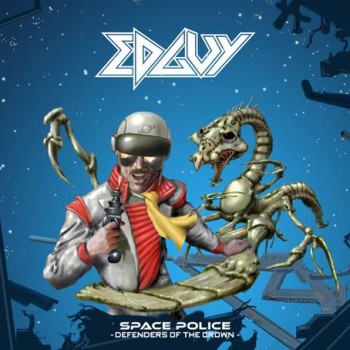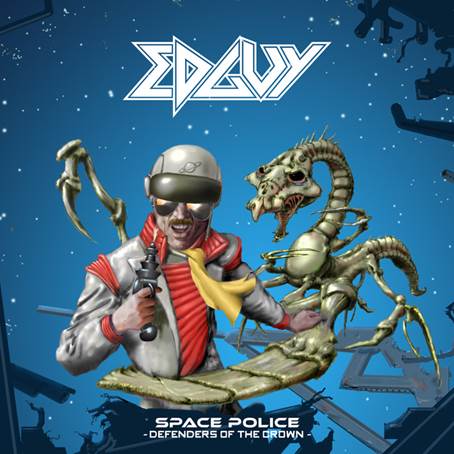 Who else but Edguy could write a song about Baba Yaga, cover a Falco hit and make it flow with the other songs on the album, or turn a tiger more METAL, merely by adding in a "Y?" That's right—no other band in the universe! Thankfully, Edguy somehow turned up their Edguy-ness to 11 on their new release, Space Police: Defenders of the Crown, and it's more fun than going streaking in church during Easter mass. And just as irreverent.
"Sabre & Torch" slashes at you during the opening of the album. The riffs are furious, caustic, and lead singer Tobias Sammet snarls his way through the energetic and majestic verses. You could say this lead track would mean they mean all business on this release … but then again, there's that Falco cover of "Rock Me Amadeus" and a ditty called "Love Tyger," so really, it's Edguy doing whatever the hell they want and doing it with impressive abandon.
The two title tracks are back to back, and "Space Police" takes its foot off the gas just a bit, compared to "Sabre & Torch." This song comes at you with galloping riffs and more melody, while "Defenders of the Crown" turns up the intensity to near Manowar levels, at least during the chanting chorus.
Then things get goofy, in a great way. "Love Tyger" begins with a purring … well, tiger. Sorry, tyger. This sounds like a "hit" song, if those still exist. The chorus is one of the funniest things you'll be forced to sing along too, because it's perfect: "They call me love t-t-t-tyger, I'm gonna save your soul. Nevermind! Love t-t-t-tyger, I'm gonna save your soul. There may be a lot who don't wanna be saved, I'm gonna save them anyway. Tonight, the love tyger's gonna bite, you tonight!" Now, if you don't get the Spinal Tap "Tonight I'm Gonna Rock You Tonight" shout out here, then you just ain't trying. Start trying, would ya?
Things heat up on "The Realms of Baba Yaga." That riff … holy mothballs is that one aggressive riff. While the song would seem to be somewhat flippant, it's actually sort of existential, as Sammet says it is "… finding a metaphor for something tempting, that we know won't do us any good but we heed the call nevertheless." That they can write a song like "Love Tyger" and then wham!, slap us with "The Realms of Baba Yaga" should be applauded. It's hard to choose a favorite on Space Police: Defenders of the Crown, but this just has to be one of the top … five best tracks here. (Yes, it's all THAT good.)
"Rock Me Amadeus" is a clever cover. It's also from so far outta left field, it's obvious. Really, why wouldn't Edguy cover this song? It holds true to the original but is more metallic. Sammet nails the quirky vocal delivery of Falco, while making parts of it heavier and his own.
If t-shirts don't exist that read "Do Me Like a Caveman," some entrepreneur should get on that. Edguy already wrote the song to go along with it. Just the idea of this song existing is a good enough reason to buy the new Edguy, and it helps that the song is another should-be-hit.
The album ends with "The Eternal Wayfarer," a nearly nine-minute epic that morphs into part Led Zeppelin, part Whitesnake, and all awesome. Lyrically, the song is about the eternal soul, but you can get lost in the musical prowess here as all the players shine. There's no better way to end Space Police: Defenders of the Crown, or Edguy would have done it.
It's just a few months into the year, but it's going to take some balls to knock this bad boy out of the Top 5 Best Albums for 2014. You'd have to be a professional troll to say anything negative about this album, and then you'd just be showing off your horrific skills because even you'd know how insincere your criticisms are.
Thank you, Edguy. Thank you …
Genre: Power Metal
Band:
Tobias Sammet – Vocals, Keys
Tobias 'Eggi' Exxel – Bass Guitar
Jens Ludwig – Lead Guitar
Dirk Sauer – Rhythm Guitar
Felix Bohnke – Drums
Track List:
1. Sabre & Torch
2. Space Police
3. Defenders of the Crown
4. Love Tyger
5. The Realms of Baba Yaga
6. Rock Me Amadeus
7. Do Me Like a Caveman
8. Shadow Eaters
9. Alone in Myself
10. The Eternal Wayfarer
Label: Nuclear Blast
Website: www.edguy.net
Hardrock Haven rating: 9.2/10