Helstar | This Wicked Nest
by Deb Rao
– Senior Columnist —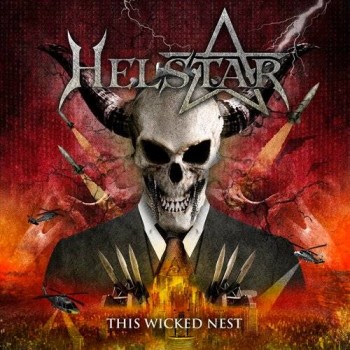 Helstar is gearing up for the release of This Wicked Nest on April 29 via AFM Records. The speed metal band that hails from Texas return to their '80s thrash roots on This Wicked Nest. Singer James Rivera is at the top of his game belting out Spartan vocals. The fast and furious guitar riffs on this album never let up. Giving speed metal a new definition.
Opening track "Fall Of Dominion" is a political song with thrash overtones. What else would you expect from a band from Texas? "Souls Cry" and "Cursed" keep the thrash going. The guitar work on this album is over the top. "It Has Risen" combines the hard driving trepid drums riffs with James heavy vocals. Helstar reclaim their claim to being one of the top thrash bands with stand out title track "This Wicked Nest." The album has early Overkill overtones. James sounds a lot like Blitz. The band first formed in 1982 and take a page out of their past with this intense, guitar blistering release.
Texas is a state known for their killer rock bands and Helstar does the Lone Star State proud with This Wicked Nest. Be sure to catch the band on tour this Spring.
Genre: Heavy Metal, Thrash Metal
Band
James Rivera – Vocals
Larry Barragan – Guitar
Robert Trevino – Guitar
Jerry Abarca – Bass
Mikey Lewis – Drums
Track Listing
1. Fall Of Dominion
2. Eternal Black
3. This Wicked nest
4. Souls Cry
5. Isla De Las Munecas
6. Cursed
7. It Has Risen
8. Defy The Swarm
9. Magormissabib
Label: AFM Records
Website www.facebook.com/helstar.metal
Hardrock Haven rating: 8/10