Humbucker | King Of The World
by Alexandra Mrozowska
– Columnist —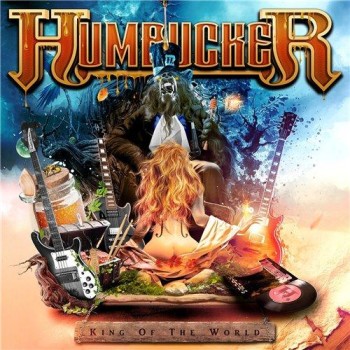 What would have happened if '70s era-KISS jammed with AC/DC at Motörhead's headquarters? And what if to add a modern-day production and sound mastering to this explosive mixture? If you ever wondered about it, or tried to imagine yourself such a collaboration, a Norwegian act Humbucker will make things much easier with their new release King Of The World. What the dynamic Scandi quintet returns with is a solid dose of straight-in-your-face, powerful and guitar-oriented sound that makes one wanna stomp their feet, pump their fists in the air, bang their head and sing at the top of their lungs … and isn't that what rock 'n' roll was all about in the first place? If you think so too, put your biker jacket and get your motor running, while Humbucker leads the cavalcade.
Groovy, powerful guitars, rough sound and raw, raspy vocals delivered in an aggressive manner – that's how King Of The World can be summed up. But beware of dismissing Humbucker as yet another AC/DC clone – there are, of course, songs which might as well supply the vast discography of the Aussie giants ("Self-made Son Of A B***h", "Hey You", "I Did It All (Thank You & Goodnight)" and also the included cover version of Whitesnake's "Wine, Women An` Song" is closer to the possible interpretation of it by the Young brothers, than the bluesy original.
However, there are also touches of contemporary, straightforward hard rock ("One Size Fits All"), sleaze metal flavors ("Gone Fishing"), '70s-era KISS ("King Of The World", "Dirty Nelly") or modern-day Southern Rock ("Lord Have Mercy" with its bluesy riff, possibly inspired by bands such as Blackfoot or Molly Hatchet). There is also a groovy, catchy "Lone Rider" made apparently for the sole purpose of faster-than-light racing down the highway on your bike (or a '65 Chevy, as the Humbucker singer Jan Anders Bøen suggests).
An acoustic, mellow ballad "Harder Being Me" should satisfy fans of Tyketto's or Warrant's ballad moments. And with the last song on the album, "Strongman," Humbucker prove they're not going to slow the ride down and they'll make sure the rest of the cavalcade enjoys it, too – with the track's opening line (a reminder of Black Sabbath's classic "Iron Man" opening) and heavy guitar work, it doesn't allow you to stop headbanging and/or play the air guitar even for a little while until the song ends.
Although Humbucker actually started out years ago as an AC/DC tribute band (hence the clear influences in their latter-day work), there's much more to them than just repeating a worn-out formula. They combine their classic inspirations and heavy rock roughness with contemporary production and their apparently inexhaustible energy. And with King Of The World, you can be sure the beast (the one from the initially cheesy album cover, possibly) is unleashed again, a thing you'll understand as soon as the neck pain reminds you you've been headbanging for the last 40 minutes. It's a dynamic, solid record, recommended for each and every hard rock fan out there.
Genre: Classic Rock
Band:
Jan Anders Bøen – Lead vocals
Lars Stian Havraas – Bass, backing vocals
Vidar Svanheld – Lead guitars, backing vocals
John Petter "No Thanks" Pershaug – Lead guitars, backing vocals
Geir Arne Dale – Drums, backing vocals
Tracklist:
1. Self-made Son Of A B***h
2. One Size Fits All
3. King Of The World
4. Gone Fishing
5. Dirty Nelly
6. Harder Being Me
7. Lone Rider
8. Lord Have Mercy
9. Hey You!
10. I Did It All (Thank You & Goodnight)
11. Wine, Women An` Song
12. Strongman
Label: Humbucker Records
Website: http://www.humbucker-rocks.com/
Hardrock Haven rating: 8/10