by Marija Brettle
– Columnist —
With their debut album, Don't Come Easy, the American melodic rockers Tyketto took everybody by surprise in 1991. After that two more albums followed, but with the onset of Grunge the band faded out quietly.
However in 2004, Tyketto reformed for a reunion tour with the complete original line-up. They did a second set of reunion dates at the end of 2007, which at the same time was announced as their farewell tour. To coincide with those dates, the band released a final album entitled The Last Sunset-Farewell 2007.
While Tyketto never had the success of other bands from the infamous hard rock era, they have continued to enjoy a strong fan following that resulted in a new recording contract with Frontiers Records and release of their fourth studio album, Dig in Deep, followed by lot off touring round the globe.
This year, New York based Tyketto are once again hitting the road with their Forever Young UK tour, to celebrate 25th anniversary of the band that almost made it big!
HARDROCK HAVEN caught up with Tyketto frontman and one of the finest vocalists Danny Vaughn, to discuss about the joy of being back on the road and why Brooke St. James is not with the band on this tour, the challenges of making of the last Tyketto album and why all Tyketto fans should go and buy the band's new DVD …
Wulfrun Hall in Wolverhampton, March, 22. 2014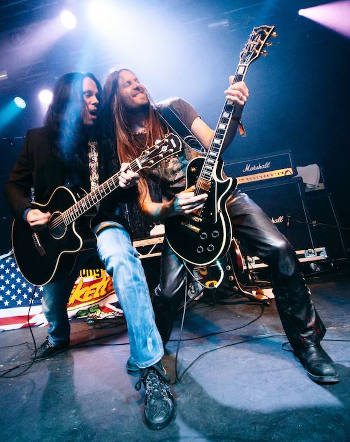 HRH: Hi Danny! Delighted to see you back in UK and with Tyketto again! Is it fair to say that this is one of the busier times for the band, since the last tour with Dig In Deep 2012?
Danny: Yeah, the amount of interest that's come our way on this run is quite impressive! I mean, Classic Rock, Team Rock… all those people popping up again, like; "Oh wait the minute I should go see these guys!" (Laughs) Tyketto is not a full time occupation for us. We're just not that type of band. We go out and play shows, people pay us ten, twenty or thirty grand and we play when we can. We all now have families, jobs … and a new job doesn't let you just take off and run around Europe for a three to four weeks. So that's why this UK tour is five shows. That's about much time Jimi (Kennedy) can give us.
HRH: From what I can see from your first three shows, seems like you all are back in full element?
Danny: Yeah, we have so much fun in UK, so we are planning to come back in November and doing some more shows cross Europe and little bit longer next time. Of course we had Download Festival in the summer after this-coming Monsters of Rock Cruise in US. So yeah, seems to be a little bit more interest in the band!
HRH: From the crowd outside it's obvious that you have very good mix of audience of all ages. I was talking with one of the guys and asked him how did he get hooked on Tyketto, and he said that he wasn't even born when Tyketto were around, but since he heard songs like "Wings'' and "Standing Alone," he came tonight to check you out?
Danny: We got someone that is coming tonight who's been our fan forever and he is bringing his 13 year old daughter for her first Tyketto show! So there is lot of that going on which is really nice! I think we notice that a lot at Hard Rock Hell as well. There were definitely teenagers there, you know, really excited about seeing these legendary men they heard about! (Laughs)
HRH: So how does it feel to celebrate 25th Anniversary of Tyketto?
Danny: Great and we have this awesome cake to celebrate it! You should try it! (Laughs) The thing about Tyketto is, that people think that we are one of the most successful bands in the late '80s and early '90s, which is great. But if you line us up next to the bands like Kip Winger, Poison and FireHouse, the reality is, all those people sold platinum records! We didn't … We didn't sell anything like that! Tyketto's first album maybe sold 120,000 copies and that was it!
HRH: It's hard to believe really, considering that Tyketto were far more talented and original than a whole host of rock bands who made it big around that time?
Danny: I know… what we have is a long standing reputation. (Laughs) Especially since we came to England and to Europe, because the band just works very hard on stage! We're always very conscious of delivering the songs in the best way we know. People are there to have an experience with us, so we work very hard to make this experience enjoyable! The experience they will remember for a long time. I think one of the reasons why we have been successful as live band is because first and foremost, we have to exceed our own expectations and our expectations have always been quite high. We are also music fans as well. I know what I love when I go to concert! I don't wanna walk out and think "Hmmm, that was 20 bucks I could have saved!" So I always made that kind of mission that I never want that to happen in our shows! So yeah, again you need people to feel the same way!
HRH: Can we say this tour is the perfect opportunity for the band and the Tyketto fans to celebrate the best of the old and new?
Danny: Yeah, yeah … I think last time we only did couple of Dig in Deep songs live and you're always worrying that the fans will get restful and they're gonna go quiet. But this time they had a great time, with songs that they don't know, for the first time round… songs like "Sound Off" and "Dig in Deep," "Faithless."
HRH: This tour is also a great opportunity for you all to catch up with your old friends like Michael. Well, these days you all live in different places?
Danny: Oh yeah! It was a very exciting time for all of us! Just getting ready for this and when we started with rehearsals I got all excited. (Laughs) Very happy that we're gonna do it! Then I remember thinking, "I am just really excited to see Mike again!" (Laughs) We know each other so well … that well that we don't even have to tell any jokes anymore. We just kind of lift eye brows … so it's wonderful to maintain not only a friendship but a working relationship! We are so solid and relaxed with each other. We trust and have faith in one another, absolutely!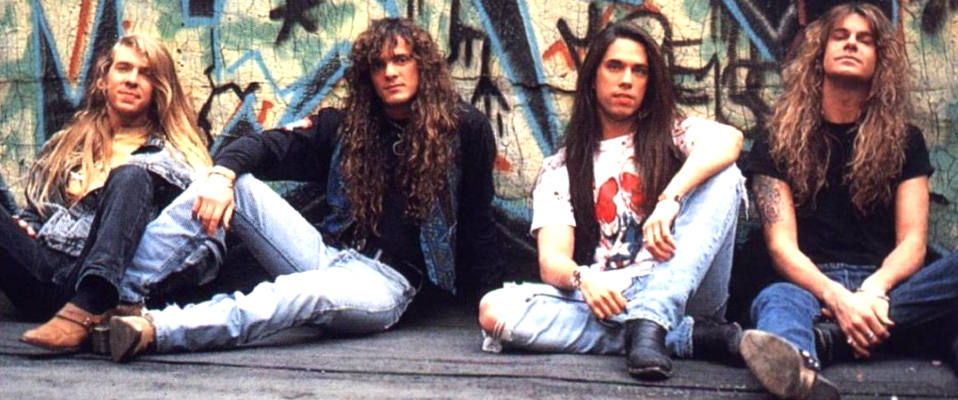 HRH: So despite all this stories we heard it in the past, there is not much animosity left between you and the rest of the band?
Danny: Oh yeah, there always is … definitely! (Laughs) That's part of how Brooke and I work though. One of the reasons songs like "Wings" and "Seasons" exist, is because we don't see things the same way. When I write the stuff I tend to write stuff that almost sounds like country music … you know just me and my acoustic guitar. I play something for Brooke and like "Wings" he kept going "I don't get it! I don't hear it!" So it was like keep trying, keep trying and the next thing you know, it all suddenly falls in place and it started developing riff after riff and then it became a song just like that! So yeah, it works because I don't try to be an electric guitar player and it was only on this last album Dig in Deep, that we kind of crossed each other's territory.
For instance, "Sound Off." I wrote the guitar riff and I said to Brooke, "You play it! You know better and you would change it, if it needs changing." He then said, "No I like it!" And on the "Love to Love" song, he wrote quite a bit of the lyrics, which he's never done before. You know… he said, these are just crap words, you write it, you can write real words. (laughs)
I said, no… these are good words, so we were able to step into each other's territory and there was no ego and no problems!
HRH: In one of his more recent interviews Brooke also mentioned that there is no more ego thing between you two these days?
Danny: Well yeah, back then it was a big pressure for all of us to deliver. Pressure to succeed! We don't have that pressure anymore. Now we're just playing because we know that there are people out there that would like to hear us playing. I mean, that's very liberating for any artist!
HRH: It's a shame that Brooke decided not to join the band on this tour…
Danny: Oh yeah. Unfortunately Brooke is not with us tonight and on this tour. Brooke doesn't have any interest in touring anymore. Fare enough to him. He prefers to be at home with his family and all of that is understandable.
HRH: Was it hard to find replacement for Brooke?
Danny: No doubt there was bit of this "hmmm what we gonna do here?" The guy we got is somebody I had in mind for years but is always just been very busy and you know we've been friends for all this time. So when I told to Michael I know this guy, I thought he'll probably say no, but I'm gonna call him anyway. (Laughs) And Chris was just like, "I would actually love to do this with you!" (Laughs) It was like that! I know Chris like this massive technical burner guitarist. It turn out Tyketto was one of the bands that he learned playing guitar on! He was actually starting off with bit of glam, like Pretty Boy Floyd. Stuff like that. We were one of the bands that brought this to his attention. I mean, even though we've been friends for 10 years I didn't really know that he'd been that aware of us all that long.
HRH: In 2012 many Tyketto fans were surprised to hear that the original band members were not only back touring but planning to release a new album. Was it hard to get back together in the studio and working as a band on your last album Dig in Deep?
Danny: Well the hardest thing of making the album was getting all guys together. That took a lot of organising to get everyone in the same place at the same time, for that long.
HRH: How different was the work dynamic on this album in comparison to your debut Don't Come Easy?
Danny: It's very different and I don't say that in a way saying anything bad about anyone else. As I said earlier, there were other pressures and so I think there was so much tensions in the band and quite often. (Laughs) With Dig in Deep, there was not any tension between us. That's how it is now on this tour. I mean that's the reason Ged is here, that's the reason Chris is here, because there is only few musicians that I think are good enough to do the job. Amongst them you gotta find the ones that you can basically spend the other 23 hours with, when you are not on stage.
You know … if someone wears the underwear for more than a week strait, you don't want them in your band. (Laughs) So it's all part of it. Then again, we're don't kid ourselves. I am 52 years old and I am not gonna be a world famous singer because of this tour or any tour I'm gonna do from now on. (Laughs) I am gonna be what I am! So if I am gonna go out and do all this and it's sometimes very difficult, I wanna have as much enjoyment as possible!
I wanna be relatively comfortable and just soak it in. You know… which is what I am able to do now while on stage. I am able to kind of breathe every now and then and go "Look what's happened to you?! Look where you are now after all those years ago, sitting around playing 'Born to Be Wild' with my buddies when I was 16!" (Laughs)
HRH: You've just released a three-hour DVD, tell us about it.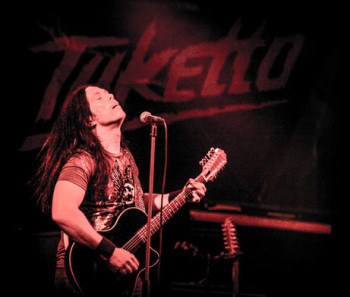 Danny: Well, It's not like three hours all the way through, but is three hours of different material.
HRH: For the people who would like to buy it, what can they expect from this DVD?
Danny: The documentary about the band is about an hour and a half. It started out because people always ask us to do live DVDs. We kind of struggled with the idea but overall we managed to put together some old forgotten clips lying there in Mike's basement. (Laughs) Thing is we all forgot that we spend a lot of time videotaping just, stuff…particularly when we started as a band.
We got the video camera and just walked around being silly with it. I had all these types in my house and when I moved to Europe I said to Mike; 'Look I can't take all of this stuff, but I don't wanna lose it, so you got a big basement… you keep it! Someday we'll all be old and grey, then we can look through it and we can have a laugh. Few years later he started looking through them and was like "Do you realise that we film this….did we…" you know, and then all that stuff turned into some real gems. So he got it all in one tape. I mean it was Michael's project after all.
He spent two years looking through these tapes, editing them, trying to save some stuff that was old. Then we put it out together and it turns out to be a really good story. A real gem! Which is a story of a band that kind of almost made it. (Laughs) It's sort of how we came so close and then when all failed and what really happened. Well, all you see there is a real story. Also it's a story about four guys that enjoyed this ride all the way through! (Laughs) then it turns out to be lot more special than I even thought was possible.
The rest of it … there is live material, something we did as a live online webcast in 2011. It was a full live show, but it was done in kind of controlled conditions. We did a video for "Wings" and there is some stuff we did for "Dig in Deep." It's all there. So there are bits of stuff that people will find a lot more about the band on and off stage. I mean, people can check out the band without having to sit through one long thing.
HRH: I am already tempted to go out and buy it.
Danny: Yeah, great story if you love Tyketto and wanna know more about what really happened to us on stage and behind the stage all these years. A real raw and brutally honest story of the band!
HRH: Before Tyketto you had a great success with Wasted. How was it for you to suddenly open for bands like Iron Maiden?
Danny: Well it was the first real big band in my life. I mean, it's a simple process. One day I was in a band playing an entire set of Iron Maiden cover songs and within a year I was standing on stage opening for Iron Maiden! I mean it's that kind of story! I learned quite a bit from all the things that you should do and even more about all things you shouldn't do. (Laughs)
HRH: You mean hanging around with Pete (Way, bass guitarist of Wasted)
Danny: Well Pete and Paul. It's the circus out there for young kids. (Laughs) There was a lot to go through… the world tours, first videos, first album I ever made. It's all landmarks in your life that you never forget. There's still so many people that I am happy to say, rate that album high! Funnily enough on the Monsters of Rock Cruise I am gonna be seeing drummer Johnny Dee (former member of Wasted) who is now drumming with Doro Pesch. I am seeing Johnny for the first time in at least 15 years! So we are talking about doing a little Wasted jam, while we're on the ship! It ain't over yet! (Laughs)
HRH: When you look back now on all the experience and success with Tyketto, what would be the proudest moment for you?
Danny: I don't think there is a highlight I can easily pull out and say "Yeah this is the best thing I remember about Tyketto!" There are lots and lots of memories that's pop up there. It's just part of your overall experience and doesn't always have to be the obvious one. It doesn't have to be like "Wow, can you remember that concert when we had a 24,000 people." Sometimes you need just one person that is affected by music you happen to make it.
There's always highlights like that! You know, there is plenty of music to choose from and when somebody chooses your music, it doesn't mean you are necessarily special … It just means you are very fortunate, that somebody connected with something you have done.
HRH: In 1991, at the time you released your debut and undoubtedly excellent record, Don't Come Easy, Grunge scene took over almost overnight and pushed aside many great rock bands, like Slaughter, Warrant, Winger, Love/Hate and many more, including Tyketto. Would it be fair to say that if Tyketto came a few years earlier, you would have a different story to tell today?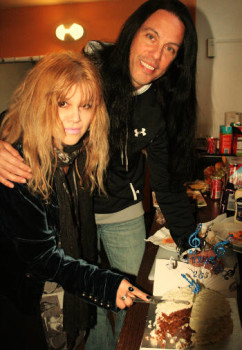 Danny: Yeah. The change was happening, because the audience was tired of all those guys in matching leather suits and big poofy hair. (Laughs) They were tired of watching David Coverdale's girlfriend rolling all-over the Jaguar. And Grunge did destroy us! No question about it! But it wasn't like Nirvana killed Tyketto! The audience made their minds up. They change their minds. Let's make it clear; music is hooked all the way with fashion… popular music. So when fashion changes, you better be ready, because it happens all the time. It's easy to say like, "Ughhh Nirvana, they messed it all up!" Well if it wasn't for Nirvana it would be Pearl Jam, it would be any other grunge band! I mean, it wasn't something drastically different or new. It was just well written stuff that was addressed a little differently and had a slightly different posture and a bit of screaming. (Laughs) Yeah and that was what people wanted!
HRH: So was that the starting point for you to leave Tyketto?
Danny: Well, we fought very hard to save the band until 1996! I left at the beginning of '96 and it was one of those "Zzz ain't coming back" things. It was very hard to watch Tyketto dying. The audience was getting smaller and smaller, so it was reason enough to say "You know I think I'm gonna pack it in, because I don't wanna go and try to make the music that's not real to me." It's not honest to me and I couldn't do it.
Lots of musicians can carry on. They just change the strategy and go and do something else. I write the way I write and sometimes it's more rock n roll or even more metal, but basically I am the acoustic guitar player. So all my songs start from there…
HRH: So, there is no question, it was a very hard decision to make for you and very rough time for the rest of the band?
Danny: it wasn't a good time … that's true enough as a band or personally.
HRH: I read somewhere that you were regretting not being there, when they released the next Tyketto record Shine, with the new singer Steve Augeri?
Danny: Hmmm … maybe in a petty little way. Yeah, just the way human beings are sometimes. You're kind of like "Ok, here is the new record that they did without me…" you know, it's always that little awful voice saying; "I hope it sucks!" (Laughs) But it doesn't suck! It's a good album!
Plus the other side is, Steve Augeri is a friend of mine and someone I respect greatly. So I was looking forward to hearing him sing because I know what a great singer he is. He's never been anything more than gentlemen towards me. I've loved him since Tall Stories. I thought that the first Tall Stories album was one of the best AOR albums ever made! We are still in touch and we talk all the time.
HRH: "Forever Young" is undoubtedly one of the best songs that I can never get tired of listening to! Everything about the song, the video… Definitely for me, one of the best songs, that captures the vibe of the late '80s and early '90s rock music beautifully. Was it true that you had to redo this song so many times, to persuade Geffen to put it on the album?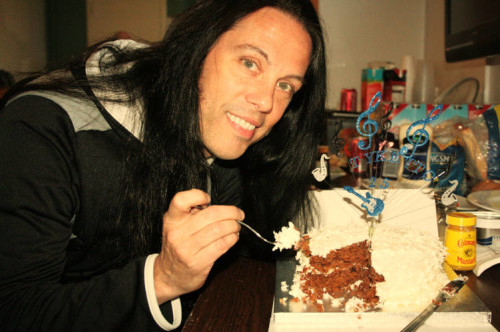 Danny: Ah that… they (Geffen) always know that was a good song! It was all about people from record companies trying to stick their finger in, so they can tell everyone "We'll we show Tyketto how to do it." (Laughs) We had to get that song fixed and we fixed it… that's all that was.
In the end they used the original version we originally facking played! (Laughs) It was just them being arrogant about the whole thing … trying to prove a point. In fact, we were signed because of that song! No question about it! We sat down and said, "We need to write a song for life!"
With Dig in Deep I just wrote them. But back then songs like "Wings," I mean think about it … all those big chords. So "Forever Young" just meant to be a big anthem! It was written for that purpose in the first place!
HRH: Thank you Danny for making the time for this Interview. It's been a real pleasure meeting you! Looking forward to seeing you play back at the legendary Download Festival!
Danny: Yeah, I will be looking for you in the crowd! (Laughs) There is no doubt it will be a big day!
Photos appear courtesy of: Jon Hardcastle and Jadranka Jade