Keith Slack of Mother Road
by Alexandra Mrozowska
– Columnist —
Mother Road, an international band founded by the German guitarist Chris Lyne and the American singer Keith Slack ("with a little help of their friends" – Alessandro Del Vecchio, Zacky Tsoukas and Frank Binke) is soon going to release their first full length release Drive and to deliver their blues-infused vintage hard rock sound to the audience worldwide. In light of this recent news, Keith spent some time chatting to Hardrock Haven about Mother Road and their first album – as well sharing some thoughts on the universality of music, his Texan musical heritage and his early decision about exchanging a drum kit for a microphone.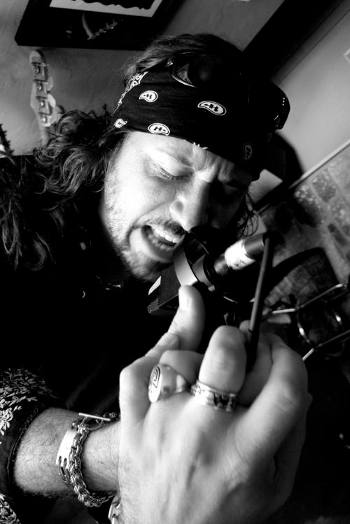 Hardrock Haven: Mother Road was founded by you and the guitarist Chris Lyne. What were the circumstances of your collaboration that led to the band's foundation? How did you hook up with Alessandro and the rest of the guys?
Keith Slack: First off I'd like to take the time to say thank you Alexandra for this interview and for all of your dedication to the music we all live and love so much. Chris and I were introduced via our manager and friend Birgitt Schwanke. Chris was looking for a singer for a new band he wanted to put together and Birgitt mentioned my name to him, as she had known of me from Steelhouse Lane. Chris didn't recognize my name right away until my first band Mudpie came up in the conversation – the one which Chris knew very well. It seems that people have been bootlegging Mudpie since the late 90's all throughout Europe. Mudpie was only supposed to be a demo recording that was never to see the light of day…(laughs) Oh well, I'll just write it off as free press I suppose.. (laughs) Plus it did put me in touch with Chris, so that's a positive.
After Chris and I got together through many Skype and phone conversations (since he's in Berlin and I'm in Texas), we really hit it off great. The chemistry and the ideas were all on the same page, so to speak. I remember that he sent me three songs to write and track vocals on and I had them back almost ready to print in a few days. That kind of writing chemistry is rare nowadays. So many musicians are so caught up in trying to follow the next big thing, or what's making money, that they lose sight of what makes them truly happy. Long story longer, the beginnings of Mother Road were forged that quickly.
From there, Chris and I started exchanging ideas about which musicians would be interested in our new band, and that would also give us an honest and real commitment. We were putting together a 'band' and not another 'project' as so many seem to be doing now days. Chris had played with Frank, Zacky and I knew Ale from the previous bands. So after I listened to their playing and met the guys, I was sold. These were top notch, seriously great musicians and people. The process took a little longer than it seems here, but was well worth it.
Hardrock Haven: The band's moniker is an alternative name for the legendary US Route 66 coined by John Steinbeck. Why did you name the band after the historic highway?
Keith Slack: Well, actually I didn't name the band, Chris did – yes, the guitar player from Berlin knows more about American history than I do… (laughs). Actually I wasn't sold on the name at first because it just didn't sound right to me, but eventually I gave in and it just grew on me. Heck, if you can have Cricket's, Beatles and Zeppelin's, why not a Mother Road…?
Hardrock Haven: Which songs on Drive you'd call your personal favorites?
Keith Slack: My personal favorites would have to be… first of all, "Feather in Your Hat". It's got that soulful swagger and behind the beat feel that I love so much. When I first started singing in '95, a great band called Cry Of Love flew me out to North Carolina to audition for them when their singer left. Had I not been so green at the time it might have worked out, but what I gained in inspiration and influence from the great Audley Freed and Co. was and is priceless to me. That will always be one of the greatest bands that ever was! R.I.P. Kelly Holland. I think of "Feather" as more or less a tribute to the great band Cry Of Love. The second favorite would have to be "These Shoes". Not because it is better than any of the other songs, because it's not. It's just that we had one day of tracking left in Berlin and really needed another song to complete the record. Instead of panicking and forcing things, we just started playing around with a riff that Chris had. It started to turn into something really special when I had some sort of visual that started happening as I was fishing for melodies and lyrics. Almost like a video that played through my head of all the shit that I've been through in the past years of struggling with my love of music and keeping balance with relationships. You try to be a good person and be completely honest with people, but sometimes that doesn't seem to be enough for some reason… The third song of choice is… of course, "The Sun Will Shine Again"! It rocks really hard but also has a good message. Yes it has Zepp/Purple/Free influences, and all that… I don't care who you are in any day and age, you can't deny your influences. That's where we all learned from. All you can do is embrace them and try to find your own voice in it all as well.
You know, I really like all of the songs. When I listen to the record I don't hear one bad song. That's something that's never happened with me before in my entire history of making records.
Hardrock Haven: The album takes the listeners back to the 1970s Hammond organ-driven, guitar-oriented hard rock era. Which particular bands or artists you think inspired you the most during the process of making Drive?
Keith Slack: The process was quite open. We didn't think of any bands during the making of the record. Like I said before, we all learned from our influences growing up while mastering our instruments. Then comes the time to forget everything you know and just let things flow out and happen naturally. It's very obvious when you hear a band or artist that is trying to be something or someone on purpose that they are not. It's just musical immaturity. I played with a young guitar player from my hometown of Beaumont, TX throughout the years that is still struggling with this process. I think it's a matter of truly being comfortable in your own skin and trusting yourself enough to know that the outcome is going to be ok regardless. I LOVE King's X and Doyle Bramhall II, but there comes a time to stand on your own two feet and let your own Freak Flag Fly!
Hardrock Haven: Not so long ago it seemed that Hammond organ sound, so extensively used in rock music forty years ago, has been ousted by the synthesizers for good. Now it enjoys a revival, one example of which is the usage of it on your record. What do you think makes Hammond return to hard rock music?
Keith Slack: Its organic, huge analog sound is undeniably beautiful. A digital synth or even emulated B3 will never sound as good as the real thing or take its place. Ever! You can get down to sample rates and gigabits and all of that bull-crap that studio techies try to feed us… but in the end it is the ears and soul that tell the tale. My ears say real fingers on a real Hammond B3 and Leslie are the ONLY way to go. It works for so many different genres as well. From Stevie Vaughn to Purple to Stevie Wonder, it just works. Ale makes it work very well. He's got the great vintage gear, with the great vintage ear… (laughs)
Hardrock Haven: What is your approach to writing and does it differ from Chris's approach? What does the typical songwriting process look like for you guys?
Keith Slack: It's a little different when we are together in a room versus being across the globe from each other. I prefer being in a room together always, but we just can't feasibly do this all of the time. So to answer your question, usually Chris has the music (or most of it), and I listen to it and try to interpret what the music wants me to say. Sounds silly but it works for me. I have never been the guy that writes a million lyrics and then tries to get the square peg to fit in the round hole. That's just awkward and unnatural to me. Not to say that that way is wrong, because there is no wrong or right way to write a song. Melody is paramount to me and then lyrics, although equally important, are usually to follow.
Hardrock Haven: Who handled the task of the album's production and how do you think it influenced the sound on the album?
Keith Slack: We all worked on this together. However Chris owns the studio, so he had a little more to do with it than the rest of us. We did however go through the tones, mixes etc… and make notes and fixes as a team. As far as influencing the sound, I'm not sure how to answer that question because Chris was really open and listened to what we all wanted in our own personal sounds, and just put it all together nicely. He has a lot of experience in the studio as we all do. So I suppose that after a while you don't worry about it. You just know that it's going to come out sounding decent, so just let it be.
Hardrock Haven: Who's the author of the album's cover art and what was the idea behind the album artwork? What do you think about the importance of the visual elements of the album – the artwork, the cover, the CD booklet etc. – in the mp3 format-dominated, iTunes-driven era?
Keith Slack: The author's name who did all of our artwork for the CD is Ralf Elshoff. Ralph is a good friend of our manager. Ralph was nice enough to do a fantastic job for us and we really appreciate all of his hard work. Chris and I are very picky and want things to be as good as they can be. We bounced ideas back and forth with Ralph for quite some time before we decided on a cover. I think this one is a great first cover for us. It shows our serious conviction as well as our humor. That's me on the bike by the way… (laughs) I still believe the artwork is and will always be important. It represents the band at that given time, and therefore will always remain as a related icon for fans to identify with. How many times have you heard someone trying to remember an album title say; "you know man, the album with the big Eagle on it, and the fire Dude!"… (laughs) I've heard it my whole life. Even been that guy a time or three.
Hardrock Haven: Mother Road is an international band in the strict sense of the word and in spite of the physical distance between the band members' actual locations, your music remains unaffected. Is the extensive traveling a key to this, or rather the usage of technology?
Keith Slack: We all keep in close contact. Chris and I speak almost everyday thanks to free iPhone Apps and Skype. I wish we could spend more time hanging out face to face, but right now that's just not feasible. Hopefully in the near future that will happen. I'm not a fan of the long distance writing thing that so many guys do, but now days you sort of have to incorporate that into the picture. There just isn't the money in music that there use to be. Luckily we have a great chemistry that allows us to easily understand what the other is trying to achieve. Without that we would just be another project.
Hardrock Haven: Do you think the cultural differences between the band members had any distinct influence on your music? Does it matter at all in the multicultural world?
Keith Slack: No, not really. Music has always been the voice and sound of the soul. It's universal. Music speaks its own language, heals and brings people together for whatever their cause. Whether or not it's a middle finger in the face of the powers that be, or an attempt to put an end to war and feed the hungry. Music transcends all boundaries and makes everyone feel just a little bit better. Doesn't it?
Hardrock Haven: You live in Texas, a region very rich in terms of music. Do you think this heritage is reflected in Mother Road and your other projects?
Keith Slack: I'm sure it does. I'm lucky enough to be from an area where ZZ Top, Janis Joplin, Edgar and Johnny Winter, The Big Bopper, etc. all came from. Like I said before, you can't deny your influences. Billy Gibbons and Jimi Hendrix were probably my greatest influences for the longest amount of time. Not just because of their great guitar playing so much, but because of their ability to move you with music and really convey what they were all about and stood for. I love that the most about music. It's not just about being a great musician; it's having something to really say. Even if it's tongue and cheeky.
Hardrock Haven: Speaking about the "other" projects, apart from Mother Road – you also performed with Michael Schenker Group a while ago as well as fronted your own bands Mudpie and my personal favorite Steelhouse Lane. Which of these remains the most important to you and why? Which moment from your musical past you treasure the most?
Keith Slack: Where to start? They all have a special place. There are too many good memories to nail just a few down. Touring with Michael obviously boosted my credibility. Even though that music isn't my personal thing, I have the utmost respect for Michael's talent. He is a great. As is Slamer. Mike Slamer is probably the most underrated guitar player that I have ever known of. He is truly a gifted guitar player/producer as well as a wonderful person. Family has always come first for Mike, and that speaks volumes. Mudpie was like a quick flash in the pan that got me out from behind the drums, to singing and writing songs. Just a fun little quick band that was over as fast as it began. Good times though.
Hardrock Haven: In 2007 you released a solo album Bent, Not Broken. Have you already thought of releasing a follow-up to this?
Keith Slack: Not really. I was going through quite a lot at the time and had actually intended on putting more of a band record together. When I ended up having to finance the whole project and do all of the work myself, like track the drums, track the bass (except the first song that Barry Sparks played bass on of course) arrange the songs, produce the songs, fix half of the guitars and re-record guitar solos (not any of Gerard Garcia's guitar parts, he's amazing) and all of that stuff… I said to myself: "Fuck this!" I'm just going to make it my own damn CD! And so I did.. (laughs) It's not too bad for the first time of doing most everything myself under duress, I suppose.
Hardrock Haven: One question about your early days – you started out as a drummer, not a singer. What were the circumstances of you abandoning the drum kit for the microphone?
Keith Slack: I got tired of carrying all of that shit around… (laughs) No, really, I've always hummed around. I just didn't let too many people hear it. After I started singing seriously, I couldn't put the genie back in the bottle, so to speak. I absolutely became memorized with singing. It's a learning process every time I sing. It never gets monotonous. I am truly grateful for the gift of singing.
Hardrock Haven: Apart from releasing Drive, what other plans do you have music-wise? Do you plan any gigs in support of the record?
Keith Slack: We are in talks about that as we speak. I can't wait to take this band on the road and play!
Hardrock Haven: Thank you very much for the interview! Would you like to pass on any message to the fans and Hardrock Haven readers?
Keith Slack: Thank you Alexandra! The pleasure has been all mine. And as for the message, absolutely! I would truly like to thank each and every person who has supported any and all of our efforts throughout the years! I feel very humbled and thankful to have even a handful of folks who enjoy what I do as a musician. Whether there are three people or 30,000 in the audience when we play, just know that we are grateful and only there because of you. Can't wait to rock your faces off in 2014!… C'ya soon!
Visit the band online: https://www.facebook.com/themotherroad