Nigel Bailey of Three Lions
by Alexandra Mrozowska
– Columnist —
Three Lions are a band which all AOR/Melodic Rock fans should definitely keep on their radar. The English power-trio (featuring members of Dare and Ten) has just released a stellar self-titled album and in less than two weeks from now they're gonna rock the stage at Milan-based Frontiers Rock Festival. To get to know more about the band's unique history, which started at Nottingham's Firefest two years ago, their eponymous debut album and their future plans, Hardrock Haven caught up with Three Lions' lead singer Nigel Bailey. And as for the icing on the cake, Nigel shared some stories prior to Three Lions' foundation as well.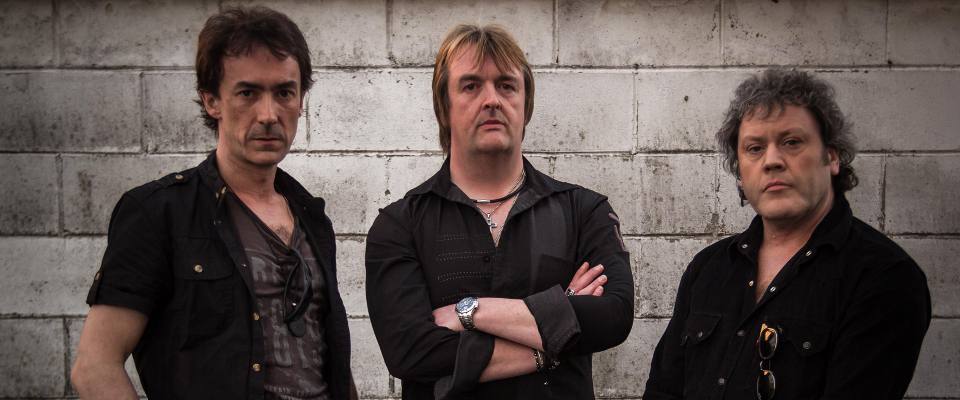 Hardrock Haven: Firstly, a bit of history… Please tell us about the circumstances of Three Lions' formation. Wasn't it Firefest 2012 when the things got started?
Nigel Bailey: That's correct, I was introduced to Vinny by Serafino (Frontiers Records President) and Alessandro (Del Vecchio) with the intention of writing together but it soon became apparent that what we had was going to be a band and Greg was our first choice. The first time that three of us got together was at Firefest and we hit it off straight away.
Hardrock Haven: How did you come up with the band's name and how do you interpret it?
Nigel Bailey: We are three English guys so the Three Lions seemed appropriate. A good friend of ours, Paul Smailes, designed the logo and we loved it! It doesn't have anything to do with football although Vinny and I are huge Liverpool FC fans.
Hardrock Haven: A well-known Italian musician and producer Alessandro Del Vecchio has been an important figure in Three Lions' history since the very beginning and eventually he was the one to produce your debut album. Did you have other candidates, or was Ale the obvious choice from the very start?
Nigel Bailey: Ale was the obvious choice. He is an amazing producer and a fantastic guy. He was instrumental in getting the three of us together and has such a great passion for music. He also was a major factor in me signing for Frontiers and he produced my solo album.
Hardrock Haven: Can you take us through your personal highlights of the band's self-titled album?
Nigel Bailey: We are all really proud of the songs that made the record, My personal favourite is "Holy Water" as that one really evolved during the writing process. I'm very fond of "Don't Let Me Fall" also as that's quite a personal song.
Hardrock Haven: How does your approach to songwriting differ from the approach of your bandmates? Was the songwriting process smooth and easy, or were there any difficulties along the way?
Nigel Bailey: It was a fairly smooth process. We would have ideas and bounce them off each other. I usually start a song with a melody or hook that I get in my head and expand from there. Vinny would send me ideas and I would send to him and then we will work on the songs together with Greg until we are all happy with them.
Hardrock Haven: Two songs you wrote in collaboration with Ale Del Vecchio. Which ones? Can you tell us more about this songwriting collaboration between you guys?
Nigel Bailey: Ale co-wrote "Just A Man" and "Two Hearts (Beat As One)". Vinny had the written the music and Ale instantly heard a melody and wrote the lyrics. I think they both came out great. He also has a great way as a producer, of letting you get on with the job. He directs you and pushes you when needed but also gives you the freedom to express your ideas.
Hardrock Haven: "Trouble In A Red Dress" was chosen as the first single off the album. Is there any particular reason for this?
Nigel Bailey: We felt it was one of the strongest songs on the album, it has a really instant hook so it was always gonna be in contention as the first single
Hardrock Haven: Whose was the idea of "Sicilian Kiss," a stunning instrumental coda to the album?
Nigel Bailey: The credit for that has to go to Vinny. It really shows the emotion and feel in his playing and the melody gets into your head.
Hardrock Haven: One of the highlights of the album is the oriental sound of the eastern-influenced "Kathmandu". What was the inspiration for the song?
Nigel Bailey: Vinny wrote the music and sent it to me with a title "Kathmandu." At first I thought I would have to change it! But I did some research on Nepal and the city's history and wrote the lyrics and melody from that. I had the idea of a guy traveling through the country and experiencing the history and sights.
Hardrock Haven: Talking about inspirations, what were you inspired with lyric- and music-wise while making the record? Any 'behind-the-songs' stories you'd like to share?
Nigel Bailey: There are no behind-the-song stories really… well, not that we can share (laughs). Seriously though, I always try to tell a story with my lyrics or at least have lyrics that make sense. As I said earlier, sometimes it's a simple hook line or title that you expand on, for me it's all about the melody and the hook.
Hardrock Haven: A 'power trio' band formula is said to be a particularly demanding one. What do you think about it?
Nigel Bailey: I don't think that it is any more or less demanding than any other format. I play bass and guitar as well as being a vocalist so it made sense that I play the bass on the record. Live we have a friend of ours James (Screaton) who plays the keyboards and second guitar as well as backing vocals.
Hardrock Haven: Would you call Three Lions a super group? What is your approach towards the comparison of the band's sound or style with these of Dare or Ten because of the musical origin of your band-mates?
Nigel Bailey: Supergroup? I don't think so, Vinny and Greg have been in some amazing bands over the years but it was never our intention to try to replicate the sound of any of them. There will obviously be similarities to the music of Dare and Ten of course, but, we didn't set out to either replicate or distance ourselves from those bands, we wrote the songs with the only criteria being that we all liked the finished article, and that they sound like the Three Lions.
Hardrock Haven: Apart from Three Lions, you're also a solo artist. Your solo album is due to be released later this year – how different is it going to be from Three Lions? Can you unveil any details?
Nigel Bailey: It's gonna be a little different, the songs were all written by myself, but not too different. There are a few heavier tracks but the same ethos of melodies, hooks and just songs I really like continues.
Hardrock Haven: There's also an interesting story of how were you offered a contact with Frontiers Records in the first place. Please, tell us about it.
Nigel Bailey: I have played with various covers bands in the pubs and clubs around the North of England for the past 20 odd years. I uploaded a couple of my original songs to YouTube that generated interest and the rough demos were played by Steve Price on ARFM and also Paul Nicholls on Firebrand Radio. From there I sent the demos to Serafino and he put me in contact with Ale and we went from there. It has been amazing couple of years!
Hardrock Haven: Prior to a record deal with Frontiers and further collaboration with Greg and Vinny, how did your music life look like? What is your musical background?
Nigel Bailey: I have played Bass, Guitar and been a vocalist for a long time. My whole family are musical, my mother had a hit record in the Sixties, my father and her played together in bands, Andy, my brother has a great voice and plays keyboards and my eldest son is a drummer. Music has always been a huge part of my life and rock music in particular is one of my greatest passions.
Hardrock Haven: Back to Three Lions, do you have any plans concerning gigs, maybe a tour, in the near future?
Nigel Bailey: We are playing at the Frontiers Rock Festival on May 1st in Milan. That will be our first international gig and we are really looking forward to it. Hopefully we will be able to announce some more dates in the near future.
Hardrock Haven: Speculating a little bit – do you think the next Three Lions album will be more or less a follow-up to this one, or maybe, you'll take a drastically different direction musically?
Nigel Bailey: We have started working on some new material and the songs are sounding great. We will approach it the same way we did for this album, with no set agenda or style in mind. I'm sure it will be riff driven, melodic rock with plenty of hooks and sound like the Three Lions.
Hardrock Haven: Thank you very much for the interview! Is there anything you'd like to add in the end? Any message for the fans?
Nigel Bailey: The support and encouragement we have received so far has been amazing. Thanks to everyone who has sent messages, saw our debut show and bought the album, we really do appreciate it! Hope to see you on the road soon.
Visit the band online: https://www.facebook.com/threelionsuk