Raziel Quiroz (aka Raziel Dead)
by Christophe Pauly
– Senior Photojournalist —
Raziel Quiroz (aka Raziel Dead) is a tattoo artist in Mexico City. He is best known for his artwork done within the hard rock and metal community which includes working with John 5 who is famous for performing and recording with Rob Zombies and Marilyn Manson. Raziel Quiroz took time out from his busy schedule to talk about his art, from his beginnings to his current projects.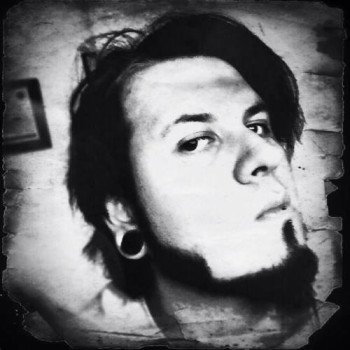 Hardrock Haven: Why did you want to be a tattoo artist?
Raziel Quiroz: First of all for the art that can be made, since I was a kid it was always very interesting for me, I love the way to have a human canvas.
Hardrock Haven: How did it begin?
Raziel Quiroz: Joined my friends for their tattoos, and then they asked me to make some designs for them. With this I made a good friendship with (Lalo Silva) a great tattoo artist in Mexico, because of him I had a great opportunity to join the Tattoo world, and work in my first tattoo studio.
Hardrock Haven: Who are the artists who inspired you?
Raziel Quiroz: Basil Gogos, Todd McFarlane, Joe Capobianco, Nick Baxter, Dirty Donny, Alex Pardee, Floria Sigismondi. Just for name some Illustrators and Tattoo artists that have inspired me, as well as some records art work and horror pictures.
Hardrock Haven: You regularly use some horror characters in your artwork. Why did you choose that theme?
Raziel Quiroz: Since I was a kid I was very fan of horror films, the first time I saw the Frankenstein movie changed the way I saw life, this made me fall in love of the horror world and to create stuff for this. All the Universal Studios horror films, Funhouse, Stephen King (It – Pet Cemetery 1 & 2), Ghostbusters, Freddy Krueger, Jason, Halloween, Hellraiser, Braindead and much more.
Hardrock Haven: There's also folklore with death in Mexican tradition. Do you sometimes refer to it in your work?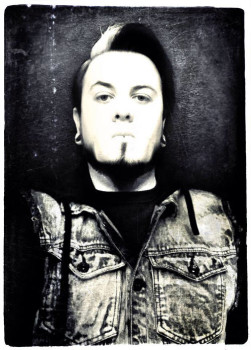 Raziel Quiroz: Yes. Making many (Dia de muertos) designs. In Mexico, this theme is always very important. This folklore is always part of my life because I grew up surrounded by it.
Hardrock Haven: You worked with John 5, how did this partnership began?
Raziel Quiroz: Everything started as I made an illustration series as a fan of his actual band "Rob Zombie," someone that works with him saw one of them and posted in their social networks, he liked it very much and made guitar picks with my design.
Hardrock Haven: What did you realized for him?
Raziel Quiroz: He used my art work for guitar picks & shirts, and then he asked me to make some stuff for his new solo record.
Hardrock Haven: Do you plan to work for other artists?
Raziel Quiroz: Of course, I´m always open to work with new artists, now I´m making art for many Mexican and international bands & DJs.
Hardrock Haven: What's the craziest thing you have drawn?
Raziel Quiroz: I have my own shirts brand (Zombits wear) for this I design monsters in a very crazy way, many colors and forms, by the way I´m designing a skateboard for a Creature Skateboards contest, it´s very crazy to explore new ways to show my art.
Hardrock Haven: What do you like listening to when you're drawing or tattooing? Which artists? Kind of music?
Raziel Quiroz: When I draw I like to listen Marilyn Manson, NIN, Faith no More, Rob Zombie, APC, Tool. When I'm tattooing, Rockabilly. Elvis, Johnny Cash, Wanda Jackson, Stray Cats for example.
Hardrock Haven: Where some of your drawings refused sometimes or censured?
Raziel Quiroz: No, never I´ve been very lucky.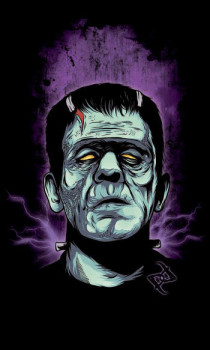 Hardrock Haven: What is life like for an artist in Mexico? Do you have many opportunities? Exhibitions offers? Or do you need to promote your work anywhere else to be recognized and appreciated?
Raziel Quiroz: In Mexico we are just a few artists in my mood, this makes it very complicated, we don´t have many spaces for this kind of art. As well, this doesn´t affect me, because in many countries my art is very well accepted, I´m working here to create my own space to show my art.
Hardrock Haven: Do you have any projects?
Raziel Quiroz: Yes, I´m working in many projects as I mention it before, my shirts brand, the contest of Creature Skateboards, bands art and many, many tattoos.
Visit Raziel Quiroz online: https://twitter.com/Raziel009 – https://facebook.com/raziel.quiroz