by Joe Mis
– Senior Columnist —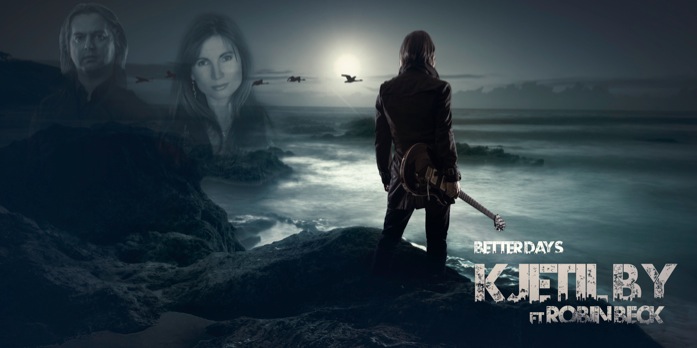 Norwegian guitarist Kjetil By, with the help of some very well respected friends, has just released his fourth solo album entitled Better Days. Fans of commercial rock will truly appreciate this long awaited release thanks to the fine work of Kjetil's guests – singer Robin Beck, vocalist (and producer) James Christian (House Of Lords), bassist Morten Skaget (TNT), drummer Steinar Krokstad (Stage Dolls), and keyboard player Dag Selbosakar (Da Vinci).
For those no familiar with By's work, he has a discography extending back to his first release No Protection in 1996, followed up by 2001's Natural High, and 2008's Unrequited Love. The guitarist has taken his time between releases, honing his skills and learning much from the musicians he met along the way. In 2012 he teamed up with lyricist Claudia Scott to write Better Days, and reached out to Robin Beck and James Christian for support, resulting in the melodic rock masterpiece that is Better Days. Well crafted songs, simple and flowing rhythms, an upbeat tone, and good performances combine to make this a radio-friendly album that will have broad appeal – and Robin Beck once again proves herself to be one of the best in the business.
"Better Days" sets the bar high, featuring not only Robin Beck's superb voice, but strong performances from the band. A neat rolling bass line, slick keys, strong backing vocals and tidy guitars has this track ready for radio. Beck's vocals are spot on as she sings with enthusiasm about her home town in "New York Rain," an upbeat and toe tapping tribute to the Big Apple. Kjetil's guitar work is at its best on this track as well, making it arguably the best on the album. "Everything Has a Price" is another upbeat toe-tapper driven by bass, keys and drums. "Carry On" is a bittersweet piano tune made better by Beck's passionate delivery.
Think guitars and a dance-able bass driven rhythm line are the highlights of "Dancers," a radio ready track if there ever was one. Nicely done layers of vocals make "Only Myself To Blame" a fine example of the art of vocal mixing. "White Nights" has a bit of a dance feel to it as well, and Beck softens the edge on her voice just enough to make this one a great mid-tempo rocker. Strong backing vocals and upbeat guitars carry this one. Crisp guitars and the little bit of grit in Beck's voice are perfect tone setters for the rocking "Superseded" and "Autumn Winds." "Guide You On Your Way" is a soft ballad with fine delicate guitars and a heartfelt performance by Beck. Nicely done remixes of "Better Days" and "Dancers" are included as bonus tracks.
Fans of commercial rock, AOR, or Robin Beck will enjoy Kjetil By's Better Days. Hopefully this will be the start of better days for the talented Kjetil By – and with friends like his, he should go far. The only truly noticeable flaw is with the mix. At times it is spot on, and at others the instruments – particularly the drums, seem to lack a little punch. Better Days is simply a pleasant listen, a great sonic journey, and a refreshingly light melodic rock release. Highly recommended!
Genre: Melodic Hard Rock
Band:
Robin Beck (vocals)
Kjetil By (guitar)
James Christian (backing vocals)
Morten Skaget (bass)
Steinar Krokstad (percussion)
Dag Selbosakar (keyboards)
Track Listing:
1. Better Days
2. New York Rain
3. Everything Has a Price
4. Carry On
5. Dancers
6. Only Myself To Blame
7. White Nights
8. Superseded
9. Autumn Winds
10. Guide You On Your Way
11. Better Days [Alternate Version]
12. Dancers [Alternate Version]
Label: Hit Music
Website: http://www.kjetilby.com
Hardrock Haven rating: 8/10