LIVE! | Mindless Self Indulgence
by Anabel Dflux
– Senior Photojournalist —
April 15th, 2014 at House of Blues in West Hollywood, CA. —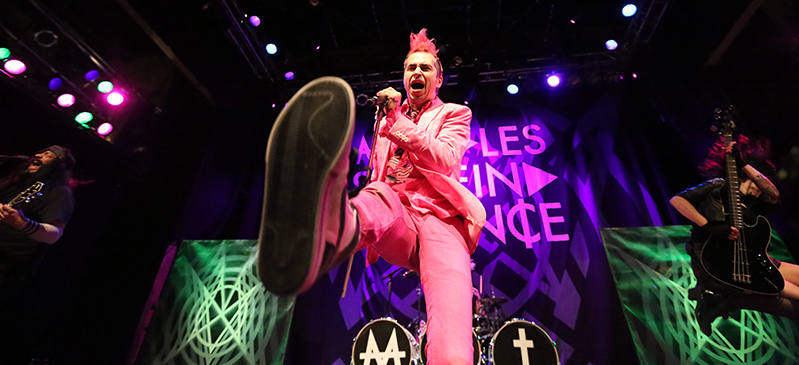 One of the most original and energetic bands to hit the House of Blues stage was Mindless Self Indulgence this past Tuesday! With music that would be blasphemous not to dance to and hilarious, clever lyrics, MSI (as the fans endearingly call them) is a sight to see. Anyone who missed this show lost a night of pure energy and fun. Stylistic for MSI, the stage was brightly lit with hypnotic colors, and each band member wore their unique personalities right on their sleeves. The audience was an elaborate mix of punks, bright colors, and distinctive makeup!
Vocalist Jimmy Urine came out on stage dressed in a full pink suit, complete with punk underwear to match! His eccentric dance moves, drum leaps, and constant movement definitely made the night. In between songs, Jimmy's stand-up like comedies and comments is something this band is known very well for – and made the evening a hilarious night out. Steve, Righ? on guitar adorned one of the most contagious smiles, having an absolute blast on the left hand side of the stage. Lyn-Z, the schoolgirl dressed rocker, played the bass guitar with the wildest fervor most have ever seen. She often did her infamous back bend, which elicited a loud applause from the crowd. Quirky and cute drummer Kitty bopped around with her pony-tailed hair, playing some wonderful beats! The interaction between the band members border lined theatrical, but certainly not any less amusing!
A band that would be a disservice to miss, Mindless Self Indulgence has been showing balls and kicking ass for years- they're here for good reason!
Members:
• Jimmy Urine – vocals, synthesizer, programming
• Steve, Righ? – guitar, backing vocals
• Kitty – drums
• Lyn-Z – bass guitar
LIVE! | Mindless Self Indulgence Concert Photo Gallery