LIVE! | Saliva and 3 Years Hollow
by Deb Rao
– Senior Columnist —
April 19th, 2014 at the Las Vegas Country Saloon in Las Vegas, NV. —
Easter weekend and the heart of downtown Vegas on Fremont Street was alive with a great bill of music at the Las Vegas Country Saloon featuring Saliva and 3 Years Hollow. Don't let the name of the venue fool you. The night featured a heavy metal onslaught of music.
It was great to see 3 Years Hollow land the opening slot for Saliva. Earlier this year, Hardrock Haven brought you an interview with the band. 3 Years Hollow latest release The Cracks on Imagen Records is doing great. The single "Hungry" almost has cracked Active Rock Radio at #30. The band got all the rock fans on their feet and drew them up close for their hard rocking performance. Singer Jose UrQuiza has a melodic voice that blends so well with the bands razor sharp melodies. The band was excited to be playing in Las Vegas for the first time. They are dedicated musicians who have recently quit their jobs to pursue their dreams. 3 Years Hollow kind of sound like a young Sevendust. Actually Clint Lowery of Sevendust produced their latest CD The Cracks. This speaks volumes for the band.
Highlights of the set included "Hungry" and "Remember." They only had a 30-minute set but that was long enough to prove the band is ready for prime time!
Visit the band online: www.facebook.com/3yearshollow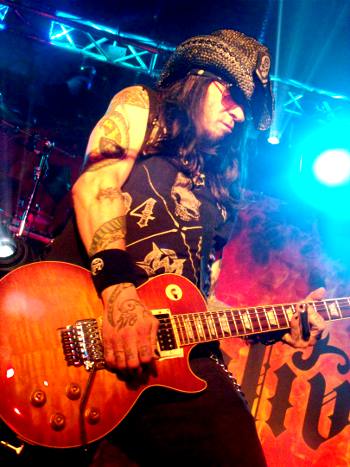 Next Up Saliva was ready to destroy the Las Vegas Country Saloon. Earlier this month I had the pleasure of interviewing Bobby Amaru for Hardrock Haven. This was my first time seeing the band and I was deeply impressed.
Saliva lit up the stage with their bright strobe lights. The band played a lot of their hits including "Superstar" and "Click Click Boom." Bobby has an amazing voice and is the perfect new front man. In concert he is a ball of energy. Guitarist Wayne Swinny unleashed his powerful fury. The set was energized and pulverizing.
Saliva also performed two covers including "TNT" and Alice In Chains cover "Nutshell." The band ended the set with their new song "Rise Up." The new album Rise Up will be in stores on April 29. Perfect ending as all the fists in the air did indeed "Rise Up." This was an amazing bill of music with 3 Years Hollow and Saliva. Be sure to check out the tour.
Saliva Set List:
Black Sheep
Ladies and Gentlemen
Army
Superstar
She Can Sure Hide Crazy
Lust
Survival Of The Sickest
TNT
Click Click Boom
Nutshell
Rise Up
Visit the band online: www.facebook.com/saliva