L.R.S. | Down To The Core
by Alexandra Mrozowska
– Columnist —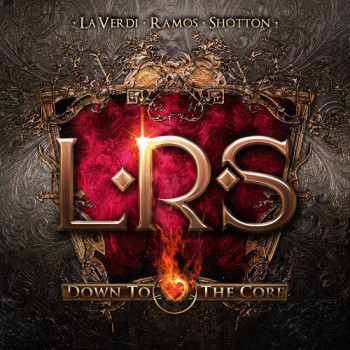 Frontiers Records melodic rock explosion continues! And so does, it seems, the present tendency for super-groups to spring up — in recent months several more appeared, one of them being L.R.S. Their newly released Down To The Core album is a unique combination of some of the most polished and practiced talents of melodic hard rock genre; there goes the great Tommy La Verdi (of 21 Guns) on lead vocals, with Josh Ramos (The Storm, Hardline) on guitars and no one else but Michael Shotton (Von Groove, Airtime) behind the drum kit. As for the additional musicians engaged in this project, there are three bass players: the Italian musicians Nicola Mazzucconi (Moonstone Project) and Anna Portalupi (Tarja Turnen, Hardline), plus Jamie Browne. And if you happened to wonder who could be the person responsible for the tinkly keyboard sound (occasionally exchanged for the vintage-sounding Hammond organ), the powerful backing vocals, production and songwriting collaboration altogether … you would end up thinking about Alessandro Del Vecchio anyway, wouldn't you? It couldn't have been anyone else but him, and it's the Italian melodic rock genius indeed that is largely responsible for Down To The Core.
The album is very cohesive and coherent sound-wise — and at the same time, absolutely stellar. With his emotionally laden vocals, Tommy La Verdi proves it's good to have him back on board, and as for the instruments, every note and every chord is in its right place. Down To The Core is a combination of all the elements AOR avid fans treasure the most in music; melodic choruses made for singing along, "wall to wall" harmony of vocals and interesting dialogues between tinkly keyboards and ringing, clean guitar sound.
It continues like this throughout the entire album, from more dynamic tracks ("Our Love To Stay", "Livin' 4 A Dream", "Down To The Core", "Waiting For Love") to melodic mid-tempos ("Never Surrender," "Universal Cry," "Shadow Of A Man"). At times, L.R.S can go mellow and soft too, such as in "Almost Over You," a charming acoustic ballad with a wailing guitar solo, or dramatic tone of "Not One Way To Give." Song after song, this musical unit combines their obvious experience, great songwriting ideas and brilliant production into one — and it's the experience of the musicians involved which is the actual strength of the band, their perfect sense of melody and harmony as well as their outstanding musicianship.
With Down To The Core, it's relatively easy. If you're much into sweetened AOR/melodic rock sound and used to buying Frontiers-labeled releases sight unseen, you're gonna love this one. It's one of these extremely polished and well-performed pieces of music which continue the heritage of bands such as Journey, Boston, Foreigner and other classics of the genre, bringing it further into the 21st century.
And apart from the obvious talents of La Verdi, Ramos and Shotton (as well as the additional musicians, each of them participating in the internationally-renowned bands) it's Del Vecchio's clean production and focus on melodies and vocal harmonies that make Down To The Core such a pleasant listening. For '80s melodic rock aficionados, it's another must-have of 2014; for everyone else, it's at least recommended.
Genre: AOR, Melodic Rock
Band:
Tommy La Verdi – lead vocals
Josh Ramos – guitars
Michael Shotton – drums, backing vocals
With:
Alessandro Del Vecchio – keyboards, Hammond organ, backing vocals
Nicola Mazzucconi – bass, fretless bass
Anna Portalupi – bass, fretless bass
Jamie Browne – bass
Track List:
1. Our Love To Stay
2. Livin 4 A Dream
3. I Can Take You There
4. Never Surrender
5. Almost Over You
6. Shadow Of A Man
7. Universal Cry
8. To Be Your Man
9. Down To The Core
10. I Will Find My Way
11.Waiting For Love
12. Not One Way To Give
Label: Frontiers Records
Hardrock Haven rating: 9.5/10