by Alexandra Mrozowska
– Columnist —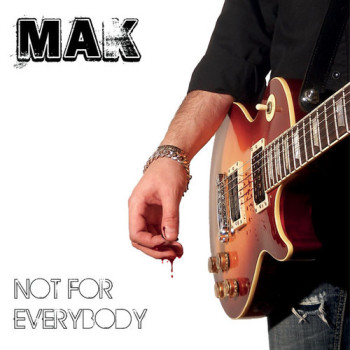 If a regular member of a currently existing band goes solo, there are two possible explanations to such a move. As it often happens, there are some personal tensions within a band and most likely it's going to split up faster than one can say its name. However, sometimes it's just about a particular musician's need to try out something new and re-define themselves as an artist, as in the case of Mak, the axeman of the Italian hard rock act Beverly Killz. A talented guitarist decided to try his hand in independent music recording and – armed with his Gibson Les Paul Standard and a computer – recorded Not For Everybody. And although the release is as "indie" as it could only be and, as the man behind the project claims himself, not equal to the professional works in terms of recording quality – the results of Mak's work are pretty interesting.
The opener is "Scream For The Future," a piece of dynamic hard rock shredding (initially composed as a theme song for a radio broadcast years ago). The next one is "Inside Of Me", which can be easily dubbed as one of the album's highlights – what the first sounds of the track bring to mind is some forgotten, yet soothing melody from the music box one used to have in their childhood. Then, some more disturbing and sinister sounds start to creep in with a little bit of Cooper-esque vibe to it, intensifying as the song develops. Thick and tense, with its eerie, gloomy atmosphere, "Inside Of Me" is certainly not the track one wants to listen to through the headphones while walking through the empty street at night – as a sudden break out of goose bumps is more than possible. Mak himself admits the song was partly inspired by him having a soft spot for the horror movies, and this certainly could become a suitable theme song to one of them. "Rock'n'Roll Song" is exactly what its title could possibly suggest; it's the dynamic, powerful gallop which might as well have ended on any regular album of Mak's band Beverly Killz.
Very melodic, "Harley Style," featuring a brilliant usage of talk-box (a guitar effect seemingly forgotten as for now) gravitates towards blues rock; no doubt it would (and probably will) be appreciated the most by the motorbike brethren. There is also six minutes-long "Escape" with the interesting changes of pace and Spanish music-influenced "Vieja Guitarra"; the latter, based on mellow, sensual sounds of classical guitar, is a real masterpiece and proves Mak's artistic sensitivity, let alone his technical prowess. And yet, this is not the end of the album – a bonus track is the sound base of "Rock 'n' Roll Song" with the intention to encourage some of the listeners to improvise a little bit and develop the song their way. A guitar karaoke? Sounds good!
One of the best things about Not For Everybody, apart from the great musicianship, is that Mak avoids monotony by the surprising diversity to this record. He skillfully sets a balance between hard rock shredding and more sublime playing, adding a little bit of different guitar flavor here and there. And while the overall number of only six songs and the album being home-based, low-budget recording doesn't really allow him a real showcase of skill and talent, what Mak manages to present on Not For Everybody is his fresh approach to instrumental hard rock and variety of inspirations, which – combined – can bring an interesting final effect. And it doesn't matter if the next release under the moniker of Mak's solo project is a set of dire-sounding horror themes or a classical Spanish guitar-influenced ballads. What really matters is that not only the avid guitar-oriented album lovers should look forward to it. Recommended.
Genre: Instrumental Hard Rock
Band:
Mak (all instruments)
Track List:
1. Scream For The Future
2. Inside Of Me
3. Rock'n'Roll Song
4. Harley Style
5. Escape
6. Vieja Guitarra
7. Rock'n'Roll Song (base)
Label: Independent
Website: www.mak-music.com
Hardrock Haven rating: 8.5/10