by Justin Gaines
– Senior Columnist/News Editor —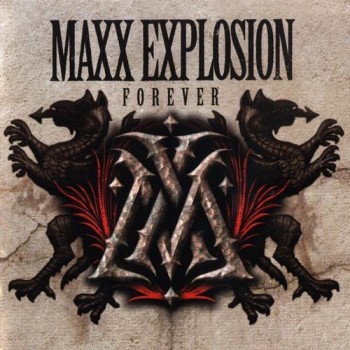 Here's another debut release on the Kivel Records roster that slipped by us last year. Forever is the first album by Maxx Explosion, a U.S.-based melodic hard rock band consisting of Chris McCarvill (vocals, bass, keyboards), Jimi Bell (guitar) and BJ Zampa (drums). It's essentially the current House of Lords lineup minus James Christian, and that's a very promising foundation for a new band to start with.
Despite the band's odd name choice, which suggests either an over the top Hollywood hair band or a '90s era comic book character, Maxx Explosion actually plays a very polished, classic sounding brand of melodic hard rock. This should come as no surprise to those familiar with this trio's work with House of Lords. In fact, Forever sounds, in places at least, like a House of Lords album, albeit a somewhat heavier and more rocking affair. The album has plenty of catchy hooks, memorable melodies and some of the best backing vocal work you're likely to find, adding depth to each song. For his part, McCarvill proves to be a more than competent frontman, to the point where you start to wonder if his voice is the best kept secret in melodic rock.
Forever boasts 13 new songs, nearly all of which (sorry, but only bass players are going to love the bass solo "Demon Wheel") are winners. Highlights include "Falling Away," "Rise," "Can't Stop Falling In Love" and the title track. The album lags a bit towards the end, but for the most part Forever is very well written, well executed and well produced (by none other than Don Dokken) melodic rock.
It may be a debut album, but Forever sounds more like what it really is: an album by seasoned veterans with a great chemistry. Obviously fans of the recent House of Lords albums are going to have a special interest in checking out Maxx Explosion, but Forever is such a strong release that just about any fan of melodic hard rock – whether that's classic bands like Dokken and King Kobra or newer bands like Eclipse and (newer) Eden's Curse – would do well to give this album a try.
Genre: Melodic Hard Rock
Lineup
Chris McCarvill (v) (b) (k)
Jimi Bell (g) (v)
BJ Zampa (d) (v)
Track Listing
1. Devil's Locomotive
2. Falling Away
3. Cross Your Heart
4. Don't Wanna Break
5. Love Is a Nightmare
6. Rise
7. End of the Line
8. Demon Wheel
9. Can't Stop Falling In Love
10. Beat Around the Bush
11. Famous
12. Suicide Door
13. Forever
Website: www.facebook.com/maxxexplosion
Hardrock Haven Rating: 8.75/10