by Alexandra Mrozowska
– Columnist —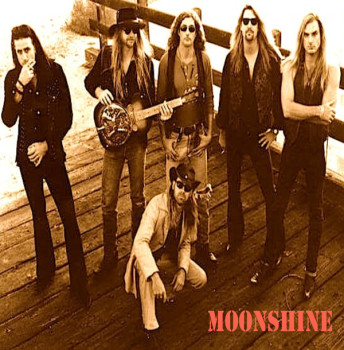 Do you feel like having a trip down the U.S. South, cruising from one smoky joint to another, where the whiskey flows and the rich bluesy tones fill the air? If you do, Moonshine's eponymous debut album might be just what you were looking for. Brought up on the old Skynyrd and The Allman Brothers Band tunes, six band members – backed by a few additional musicians and singers, the most notable of them being Michael Anthony (ex-Van Halen) – bring the traditional Southern Rock legacy back. And if Derek Davis's name somehow rings a bell… yes, it's the hard rock act Babylon A.D.'s frontman who now puts his Gamblers hat on and delivers his powerful bluesy vocals against the background of the juicy guitar riffs and boogie rhythms. After all, whoever says the "southern" in Southern Rock is about geography must have never heard San Francisco-based Davis singing the bluesy tunes as convincingly as he does so here.
This whiskey-soaked, slide guitar laden musical journey down the Dixie land has more than a few highlights, be it the groovy, bluesy opener "Mississippi Delta Blues", the maudlin melodic road song "The Devil's Road" or the blues, Skynyrd-infused ballad "The Last Song." Outstanding is the rendition of Creedence Clearwater Revival's 1969 classic "Fortunate Song," featuring some blistering lead guitar work. "Mams Kitchen Brew" and "Warm Beer Catfish Stew" are dynamic pieces of hard-hitting roadhouse blues with well-crafted choruses against the groovy instrumental background.
Also, there is a slow, twangy guitar laden track "Southern Blood", as "blooze" and "Southern" as a song can possibly get, and a real centerpiece of the album. "Turn Me Around" features an elaborate solo which, at times, gravitates towards Jimi Hendrix's psychedelic style, a very intense song overall. The next to last "Fade Away" is a tasty country-ish ballad, and the gritty blues rock piece "The American Train" ends the album tremendously well and on a high note.
Moonshine's album is full of now-forgotten rock and blues flavors, smoky harmonica sounds, bottle-neck slide guitar's weeping, contrasting guitar tones and boogie woogie piano-based melodies. It's a real throwback to the mid-1970s, when Southern Rock was pure, authentic, of, by and for the American rebels. From their fiery blues rockers to schmaltzy ballads, Moonshine not only pays homage to the swampy Americana sounds of the Mississippi Delta, but also presents the exceptional musicianship throughout the entire album. This said, their debut album Moonshine recommended to every rock and blues fan out there, and Southern Rock listeners in particular – let's hope all the Skynyrd and the Allmans successors will be equally up to the mark.
Genre: Southern Blues Rock
Band:
Derek Davis- Vocals, Buzzy James – Slide guitar,
Creg DeFalco – Guitar, Mike Malone – Piano, Harmonica,
Brian Fox – Drums, Michael Norton – Bass
Extended Family Players: Jane Child – Piano, Background Vocals
Michael Anthony – Background Vocals, Kevin Hill – Bass
Drums – David Lauser
Track List:
1. Mississippi Delta Blues
2. Warm Beer Catfish Stew
3. The Devils Road
4. Fortunate Son
5. The Last Song
6. Mams Kitchen Brew
7. Southern Blood
8. Turn Me Around
9. Fade Away
10. The American Train
Label: Perris Records
Website: http://www.derekdavismusic.com/
Hardrock Haven rating: 10/10