My Chemical Romance | May Death Never Stop You – The Greatest Hits 2001-2013)
by Justin Gaines
– Senior Columnist/News Editor —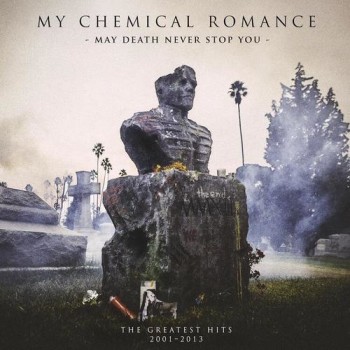 One year after announcing their breakup to the world, American rock band My Chemical Romance has delivered their own proper eulogy in the form of May Death Never Stop You, a 19-track greatest hits set that spans their 12-year career and offers a few treats for long-time fans.
My Chemical Romance was always an easy band for people to dismiss as "emo" or not cool enough, what with their Hot Topic popularity and legions of teenage girl fans, but a collection like May Death Never Stop You really brings home just how talented and creative this band was. Yes, they've always had a pop-punk aspect, but by the time Three Cheers For Sweet Revenge and especially The Black Parade came out, they were as arena rocking as any band out there.
May Death Never Stop You chronicles My Chemical Romance's development, from their earliest indie days through their final recordings. It starts with the new song "Fake Your Death," which has a Black Parade/Danger Days sound and will be the main draw for those of us who already own the band's studio albums. After that we get a pair of songs from 2002's I Brought You My Bullets, You Brought Me Your Love and four from 2004's Three Cheers For Sweet Revenge. They didn't mess around, grabbing the main video hits from both albums. 2006's The Black Parade gets the most attention, which is appropriate given how successful it was. You can quibble with the absence of album highlights like "How I Disappear," "The Sharpest Knives" and "I Don't Love You," but they did a good job covering the album's main singles. The final MCR album, 2010's Danger Days: The True Lives of the Fabulous Killjoys gets four songs, which is probably twice what it deserves. They skip the Conventional Weapons releases entirely and close out the set with three very old, very raw demo recordings that may shock those who only know the band's later work.
May Death Never Stop You is an ideal collection for those who are either unfamiliar with My Chemical Romance or are only interested in the band's hits, though either group really ought to grab The Black Parade to go with it. Long-time fans will enjoy the new song and demos, but in a digital era it's just as easy for them to download just those songs (legally, of course). What would really have sealed the deal for collectors/completists is a version with a second disc full of all the cool b-sides the band has released over the years.
Genre: Emo, Pop Punk, Post-hardcore
Lineup
Bob Bryar (d, tracks 8-12)
James Dewees (k, tracks 8-12)
Frank Lero (g, tracks 1, 8-12) (v)
Matt Pelissier (d, tracks 2-7, 17-19)
Ray Toro (g, tracks 3, 17-19) (b, track 9) (v)
Gerard Way (v)
Mikey Way (b)
Track Listing
1. Fake Your Death
2. Honey, This Mirror Isn't Big Enough For the Two Of Us
3. Vampires Will Never Hurt You
4. Helena
5. You Know What They Do To Guys Like Us In Prison
6. I'm Not Okay (I Promise)
7. The Ghost of You
8. Welcome To the Black Parade
9. Cancer
10. Mama
11. Teenagers
12. Famous Last Words
13. Na Na Na (Na Na Na Na Na Na Na Na Na)
14. Sing
15. Planetary (Go!)
16. The Kids From Yesterday
17. Skylines and Turnstiles (demo)
18. Knives/Sorrow (demo)
19. Cubicles (demo)
Label: Reprise Records
Website: www.mychemicalromance.com
Hardrock Haven Rating: 8.5/10