Outloud | Let's Get Serious
by Alexandra Mrozowska
– Columnist —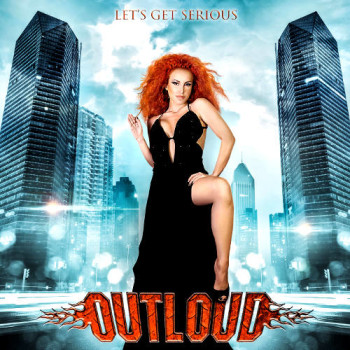 For the majority of bands, raw and inexperienced at first, it takes much longer than just a few years and two albums to carve out their trademark sound. And yet, even with their 2009 debut album the Greek/American melodic rock act Outloud knew it was the right direction they were heading in. Now they're back with their third release Let's Get Serious, which music-wise picks up exactly where its predecessor Love Catastrophe left off. And if anything's certain about this album, it's that listeners enamored with Outloud — or melodic rock in general — have been anticipating it for far too long. But as proven by Let's Get Serious, it was definitely worth waiting.
It takes only to hear a straight-in-your-face, dynamic opening riff to the first track "Death Rock" to realize no one who loved the two previous Outloud releases would be disappointed by this one. "We're gonna rock you, we're gonna rock you to death!" is what the band promises in the hard-edged, punchy opener. And with brilliant Chandler Mogel delivering some really feisty vocals, you know you're gonna believe them.
More catchy are the next two songs, "I Was So Blind" and "One More Time," a well-crafted pieces of guitar driven melodic hard rock enriched with tinkling keyboards. The traces of what was best in previous Outloud releases resonate especially in the latter. "Bury The Knife" is one of the highlights of the whole album. The track starts as the stellar AOR-ish keyboard/guitar duel with a huge, irresistibly catchy chorus — and yet, in the interlude before the guitar solo the band gets unexpectedly heavy, with Chandler aggressively belting out the subsequent lines.
Another melodic gem is "Like A Dream", which features some outstanding vocal harmonies, followed up by a mellow, acoustic ballad "It Really Doesn't Matter." Things get somber and reflective only for a little while, however, next are a big arena rocker "All In Vain" and a bit more feisty "A While To Go," both tracks heavily guitar-laden and fast-paced.
There's also a keyboard-driven mid-tempo "Another Kind Of Angel", which certainly reminds one that Outloud is primarily about great hooks and catchy melodies. It precedes "Let's Get Serious." a speedy and dynamic instrumental duel — a real showcase of the band's skill and prowess. "Toy Soldier" is perhaps the heaviest song ever recorded by Outloud – based on modern rock riffs, aggressive and straightforward, with the guest contribution by Adrenaline Mob's guitarist Mike Orlando.
And as for the icing on the cake, here's OMD's "Enola Gay" … with a twist! Outloud's rendition of this vintage anti-war classic is no drastic alteration in comparison with 1980 original, but nevertheless remains fresh and powerful — and clearly affected by the band's trademark style.
Let's Get Serious portrays Outloud as the band cultivates and perfects their trademarked sound they've invented and continued throughout the two previous albums (We'll Rock You To Hell and Back Again and Love Catastrophe, 2009 and 2011, respectively). There is no question of breaking new ground here, and no experiments music-wise; the Greek/American band returns with almost exactly what one could expect from them. But what counts is that Let's Get Serious is a perfectly crafted melodic rock album — comprised of big hooks, bewitching melodies and brilliant songwriting, a showcase to the band's outstanding musicianship and Chandler Mogel's excellent vocal performance. For every melodic hard rock/AOR fan, this is a must-have.
Genre: Melodic Hard Rock
Band:
Chandler Mogel – vocals
Bob Katsionis – guitars, Keyboards
Sverd – bass
Kostas Milonas – drums
Jim Scordilis – guitar
Special Guest: George Kollias (Nile) – all drums on album
Special Guest: Mike Orlando (Adrenaline Mob) – guitar solo on "Toy Soldiers"
Track List:
1. Death Rock!
2. I Was So Blind
3. One More Time
4. Bury The Knife
5. Like A Dream
6. It Really Doesn't Matter
7. A While To Go
8. All In Vain
9. Another Kind of Angel
10. Let's Get Serious
11. Toy Soldiers
12. Enola Gay
Label: AOR Heaven
Website: http://www.outloud-rock.com – http://www.facebook.com/outloudtheband
Hardrock Haven rating: 9.5/10