Picture | Diamond Dreamer/Picture 1
by Justin Gaines
– Senior Columnist/News Editor —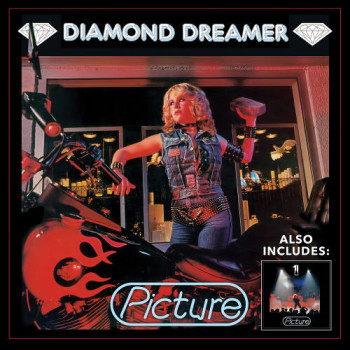 The New Wave of British Heavy Metal (NWOBHM) scene may have gotten most of the attention from fans and the press (and rightly so) back in the early '80s, but the heavy metal sound and spirit were certainly not confined to the UK. Sweden, Germany, Denmark and even France got in on the act, and in the Netherlands it was the band Picture that carried the heavy metal banner. Picture was in many ways the Dutch answer to Saxon, starting with a simple hard-charging sound and developing a more anthemic, more melodic metal approach over the course of their early career.
Originally released in 1982, Diamond Dreamer was Picture's third full-length album, and their first (and only) album to feature vocalist Shmoulik Avigal, who brought an added measure of power to the band. It marked a big step forward for the band in terms of overall style as well as developing their own identity. The hard charging guitar riffs are still driving the album, but there was an increased emphasis on melody. They also had more shout-along metal anthem type numbers on Diamond Dreamer (see "Give Me Rock and Roll"). "Message From Hell," "The Hangman" and especially the title track are also great examples of the new (and now classic) Picture sound.
The Picture back catalog was reissued back in 2001 on the Pseudonym label, but those reissues disappeared quickly and have become very expensive in recent years. The reissue specialists at Divebomb Records remedied that earlier this year when they reissued the first four Picture albums on a pair of deluxe 2-on-1 releases. The Diamond Dreamer reissue also features the band's 1981 debut album Picture 1. Picture 1 is a very raw, very rough album that owes more to Motorhead than it does the later Picture albums. It's still a really solid hard rocking album though, and it's hard to resist the streetwise charm of songs like "Dirty Street Fighter" and "One Way Street."
Both Diamond Dreamer and Picture 1 have been remastered, and the booklet features original cover art for both albums, as well as lyrics, vintage photos and an informative band history essay. It's a nicely put-together reissue all around, and it gets this cult classic album back in fans' hands.
Now that the early Picture albums have been reissued, there's no excuse for fans of classic heavy metal not owning these vintage gems. If your tastes run to bands like Iron Maiden, Diamond Head, Overdrive, Mad Max, Pretty Maids and Saxon, you need to have some Picture in your collection!
Genre: New Wave of British Heavy Metal (NWOBHM)
Lineup:
Rinus Vreugdenhill (b)
Laurens Bakker (d)
Jan Bechtum (g)
Shmoulik Avigal (v. tracks 1-10)
Ronald Van Prooijen (v, tracks, 11-20)
Track Listing
1. Lady Lightning
2. Nighthunter
3. Hot Lovin'
4. Diamond Dreamer
5. Message From Hell
6. You're All Alone
7. Lousy Lady
8. The Hangman
9. Get Me Rock and Roll
10. You're Touching Me
11. Dirty Street Fighter
12. You Can Go
13. Bombers
14. No More
15. One Way Street
16. You're a Fool
17. Get Back or You Fall
18. Rockin' In Your Brains
19. He's a Player
20. Fear
Label: Divebomb Records
Website: www.pictureofficial.com 
Hardrock Haven Rating: 9.5/10