Scream Maker | Livin' In The Past
by Alexandra Mrozowska
– Columnist —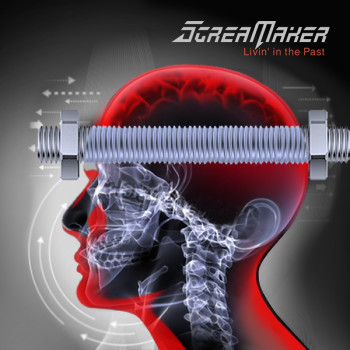 After having the audience introduced to their classic heavy metal sound with their EP We Are Not The Same, this year Scream Maker returns with the full length album Livin In The Past. The cover artwork was designed by Rosław Szaybo (a Polish artist and cover designer known as the author of Judas Priest British Steel album cover, among the others) and the guru behind the recording console was no one else but Alessandro Del Vecchio. In addition to this, the young Polish metal act was supported in the studio by the two guest musicians – a legendary Polish axeman Wojciech Hoffmann (Turbo, ex-Non Iron) and the virtuoso keyboardist Jordan Rudess (Dream Theater, Liquid Tension Experiment).
Livin' In The Past starts with a monumental piano intro, composed and performed by no one else but Dream Theater's Jordan Rudess – a classic prelude to what Scream Maker delivers on their first full length album. And what they do is still one hundred per cent classic heavy metal with certain '80s vibes and modern-day production; apparently, Livin' In The Past is not an accidental title by any means, as it perfectly captures what Scream Maker was always all about.
High-pitched, clean vocals, old school heavy metal riffs, punchy rhythm section? Listen to the second track "In The Nest Of Serpents" to realize Scream Maker has it all. Heavy but melodic, it precedes "Glory For The Fools" – one of these rarer power metal-infused moments on the album, with the track's raw, fast-paced riffs and powerful, but melodic choruses. This stylistic 'two-timing' adds more variety to the record's entirety as well as proves the band's versatility. It's also the track featuring the guest solo played by Wojciech Hoffmann of Turbo.
As for "Livin' In The Past," it's a mid-tempo with dynamic choruses, the one to feature really exceptional and much emotionally laden vocal performance of the lead singer Sebastian Stodolak, showing his wide vocal range as well as the undeniable power of his voice, all this against the background of the meaty, old school metal riffs. Don't be misled by the opening wailing guitar sound of "Fever" – despite it having slow-ish and ballad-esque verses, the band goes full on in the track's powerful chorus.
With "All My Life," it's more than obvious that the track should have the audience screaming and dancing at each and every Scream Maker's gig. In this potential fan-favourite, Stodolak sounds raw and feisty throughout the verses to get carried away with the stellar melody of the '80s-infused choruses; there's a place for some extraordinary shredding within the song as well. The mid-tempo "Angel" – although still does border on the old school hard rock – sounds slightly more modern (and lighter) than the rest of the material. Opened by simple yet catchy drumline, "Spacestone" blends more contemporary sound with Purple-esque 1970s undertones. The gloomy and wistful opening of "Stand Together" suggests a ballad and so it is; a monumental, majestic piece of slow-ish, lumbering metal enriched with a blistering guitar solo and ending with a mellow instrumental coda. It's certainly one of the album's highlights.
Lyric-wise, the next track "Confessions" might be as well recorded by Alice Cooper or W.A.S.P. – it's a dark song with the creepy horror-like intro. With "Never Say Never" one should get one's lighter out – here comes a soaring power-ballad, a tearjerker obligatory in every hard rock/heavy metal band's catalogue. The last is the anthem-like "Metalheads" with raw, abrasive riffs and some flavors of power metal. "… No remorse and no regrets, yes, we are the metalheads," Stodolak sings and you have to believe him, since throughout the entire record Scream Maker proves they know well what heavy metal stands for.
Although music-wise there is no drastic change from what Scream Maker introduced the audience to on their EP, one certain thing about their first full-length album is that it marks another huge step in development of their own style. Some songs off We Are Not The Same at times bore a slight resemblance to the sound and style of Iron Maiden, Dio or Judas Priest. Here, however, the band's influences blend into a cohesive and coherent musical unit rather than resembling any of the above bands in particular. Having added to this the great, clean production and Scream Maker's much-praised musicianship as well as their great songwriting ideas, Livin' In The Past is a brilliant album altogether – remember, Jordan Rudess couldn't be wrong! Much recommended to all hard rock and heavy metal fans out there.
Genre: Hard Rock, Heavy Metal
Band:
Sebastian Stodolak – vocals
Ajronmajk – lead guitar
Marek Stanisz – rhythm guitar
Adam "Radził" Radziłowski – bass
Tomasz Nachyła – drums
Track List:
1. Intro
2. In The Nest of Serpents
3. Glory for the Fools
4. Livin' in the Past
5. Fever
6. All My Life
7. Angel
8. Spacestone
9. Stand Together
10. Confessions
11. Never Say Never
12. Metalheads
Label: Perris Records
Website: https://www.facebook.com/screammaker
Hardrock Haven rating: 9.5/10