Steel Panther | All You can Eat
by Deb Rao
– Senior Columnist —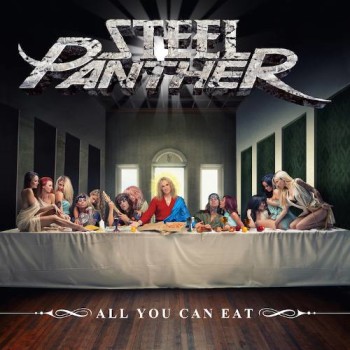 L.A. rock band Steel Panther return to the mix with their latest release All You Can Eat. The '80s were a time of excessive partying and groupies. Steel Panther have the tongue in cheek humorous lyrics down to a science. The band is currently on tour in the U.S. in support of the CD. It is good to see the band break out of LA.
Let's get this party started. Steel Panther take a page out of the '80s genre on this album. First song "Pussywhipped" starts out with a blistering acoustic intro then slams into the speed riffs of Satchel. This song is about a guy who lets his girlfriend rule him and wears the pants in the family. The album is full of party anthems including "Party Like Tomorrow Is The End Of The World." This song is fun with driving riffs.
One of the most fun party anthems is "Gang Bang At The Old Folks Home." This song is about a pizza delivery guy who delivers a pizza to the old folks home only to find them engaging in extra sexual activities. Only the Panther could write this song!
Singer Michael Starr (Ralph Saenz) sounds a lot of David Lee Roth with this vocal style. Songs "Ten Strikes Your Out" is a perfect example of the Van Halen vibe. "The Burden Of Being Wonderful" has a Def Leppard kind of vibe. Steel Panther keep the parody going with "You're Beautiful When You Don't Talk."
The album also has some tender moments with great acoustic licks on "Bukkake Tears." The boys get their wings on "She's On The Rag." The entire album is '80s oriented with Van Halen hooks and humorous lyrics. The '80s were a fun time and the band surely knows how to keep the party vibe going. Perhaps that is what is missing in today's music. Fun. Actually Steel Panther put the fun back in music. The band has been kicking around the scene for a while and it is finally good to see them getting national recognition. If you love the '80s, you will love this album. It is meant to be played at ten with the top down.
Genre: 80's Metal
Band:
Michael Starr – Singer
Satchel – Guitar
Lexxi – Bass
Stix – Drums
Track Listing:
1. Pussywhipped
2. Party Like Tomorrow Is The End Of The World
3. Glory Hole
4. Bukkake Tears
5. Gang Bang At The Old Folks Home
6. Ten Strikes Your Out
7. The Burden Of Being Wonderful
8. Fucking My Heart In The Ass
9. B.V.S.
10. You're Beautiful When You Don't Talk
11. If I Was King
12. She's On The Rag
Label: Open E Music Label
Website: www.facebook.com/steelpantherkicksass
Hardrock Haven Rating 8/10