Teramaze | Esoteric Symbolism
by Alexandra Mrozowska
– Columnist —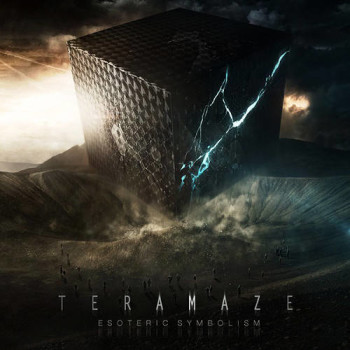 Gone are the thrashier days of Teramaze? Yes and no. The Australian act, labeled not-so-precisely as "melodic thrash," returns with their new release Esoteric Symbolism. Two years after their previous, critically acclaimed Anhedonia album saw the light of day, the broad-minded metalheads from the land down under continue on their cross-genre metal crusade. And with their newly released fifth album, as it seems, they're as consequential as ever in joining the melodic and the rough in metal.
The strength of the album lies in the stunning variety of shades and flavors Teramaze blends into a unique and consistent musical entity. Opened with a three minute-long all-instrumental intro "All Seeing Eye," Esoteric Symbolism balances between the majestic power metal and the sublime progressive genre, enriching the fusion of styles with the raw echoes of their trashier musical past ("Punishment By Design," "Dust Of Martyrs"). Every track on the record is a guitar laden piece of instrumental wizardry, with focus on both heavy, groovy riffs and powerful (but at the same time, astoundingly melodic) solo parts, skillfully balanced with the dynamic performance of the band's rhythm section.
Rough thrash influences intermingle here with subtle symphonic and progressive overtones, the overall tone of the record being atmospheric, brooding and somewhat darkling. The strength and aggressiveness of the vocals don't rule out neither their vibrant tone, nor their melodiousness; the performance Teramaze's lead singer Brett Rerekura gives with each and every song is a very convincing one, so to speak. From a punchy, fast-paced and aggressive "Transhumanist" and extremely melodic, power metal-influenced "Line Of Symmetry" to the progressive-infused title track, the Australian metal crew blurs the borders between genres and styles, exploring the diverse musical territories inch by inch and chord by chord.
Although, as mentioned above, Teramaze are often labeled "melodic thrash" and commonly associated with thrash genre, Esoteric Symbolism is a proof there's much more to the group's style than "just" this. What's more, their cross-genre endeavors are outstanding music-wise, leaving no doubt about the Aussies' musicianship as well as their songwriting skills. And although thrash metal fans will certainly enjoy their new album, so will power metal and progressive metal aficionados. Overall, Esoteric Symbolism is recommended to most metal-oriented listeners out there.
Genre: Thrash, Prog-Power Metal
Band:
Dean Wells – lead/rhythm guitars, backing vocals
Brett Rerekura – vocals
John Zambelis – guitar
Dean Kennedy – drums
Track List:
1. All Seeing Eye
2. Line of Symmetry
3. Transhumanist
4. Bodies of Betrayal
5. Parallels / Dual Reality
6. Spawn
7. Punishment by Design
8. Dust of Martyrs
9. The Divulgence Act
10. Esoteric Symbolism
11. vi Order Out of Chaos
12. vii Darkest Days of Symphony
13. viii In Vitro
Label: Nightmare Records
Website: https://www.facebook.com/teramaze
Hardrock Haven rating: 8/10