Twilight Messenger | The World Below
by Justin Gaines
– Senior Columnist/News Editor —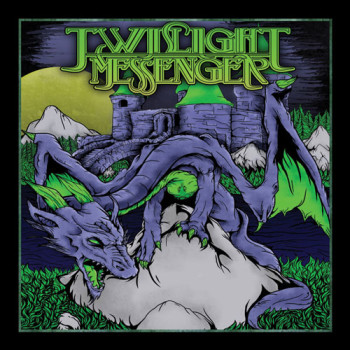 The World Below is the debut album from Twilight Messenger, a new traditional/power metal project put together by vocalist Juan "The Beast" Rodriguez and guitarist/bassist Andy "CloudRunner" Feehan. The two are probably best known for their metal covers of fantasy songs on YouTube (see "The Rains of Castamere"), but alongside drummer Chris Johnson have turned their attention to writing and recording their own songs.
The World Below is a concept album, largely about dragons (warriors and battles too, but mostly dragons). It's understandable if that conjures up images of Rhapsody or similar hyper-melodic, over-orchestrated power metal bands, but Twilight Messenger gives us the rare power metal that's not overly cheesy and one that has reel teeth. The World Below owes more to traditional metal acts like Accept and Judas Priest than the typical Helloween and Rhapsody influences, and that's a point in their favor. There are still some symphonic elements, plenty of melodic moments and of course the storyline to keep it in power metal territory though. The thrashing riffs and pounding rhythms keep the blood pumping and heads banging, and Rodriguez's screaming vocals bring real power to these songs. The occasional harsh vocals bring to mind 3 Inches of Blood, which may or may not be a good thing, depending on your tolerance for that sound, and the guest female vocalists are nicely done.
"Twilight Messenger," "Sword & Steel (By My Axe the Beast Shall Fall)" and "The Power of Dragonfire" are all highlights of The World Below, but it's the nearly nine-minute "Redemption (Rise of the Golden Dragon)" that really seals the deal, bringing the best of the band's power and traditional metal sides together in one glorious epic.
If years of shiny, happy, overblown albums have soured you on the power metal genre, or if you just prefer your power metal to sound like, well, metal, you'd do well to pick up The World Below. Twilight Messenger will especially appeal to fans of bands like Cage, Wolf, Death Dealer and Three Inches of Blood, but ought to win over fans of classic heavy metal bands like Judas Priest and Accept as well.
Genre: Heavy Metal, Traditional Metal, Power Metal
Band:
Andrew Feehan (g) (b)
Juan Rodriguez (v)
Chris Johnson (d)
Track Listing:
1. Twilight Messenger
2. Sword & Steel (By My Axe the Beast Shall Fall)
3. The Archer, The Battlefield & The Silhouette
4. Fireball
5. The World Below
6. Embers of a New Day
7. The Power of Dragonfire
8. By Wings of Destiny
9. Redemption (Rise of the Golden Dragon)
10. Lord of the Dragons
Label: Stormspell Records
Website: www.facebook.com/twilightmessenger
Hardrock Haven rating: 8.5/10