Adavant | A Light Cut Through the Void
by Justin Gaines
– Senior Columnist/News Editor —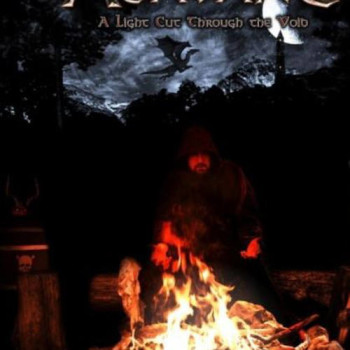 When you think of hotspots for pagan and folk metal bands, Arizona probably doesn't spring to mind. It's not exactly prime territory for landing Viking long-ships after all. Hell, America in general doesn't have the same kind of ancestral claim to this kind of music that the Europeans do. Still, bands like Lunarium and Hammer Horde have proven that American bands can hold their own, and so has Arizona's own Adavant, whose second album A Light Cut Through the Void was released at the very end of last year.
The band photo suggests that Turisas is a major influence on Adavant, and that's confirmed by the music. Adavant's brand of folk metal is very melodic, very heavy, and pairs growled male vocals with operatic female vocals. Instead of extolling the virtues of Odin or recounting glorious Viking battles, Adavant sticks to themes that are a bit more universal, like drinking, and more drinking (so they have that much in common with Alestorm). Traditional folk instruments are in short supply here, but the melodies are definitely folk-inspired.
As American bands playing European-style folk metal go, Adavant is actually pretty good. They have two better than average vocalists, the musicianship is solid, and the songs – while not terribly original – are a lot of fun. It's hard not to hear songs like "The Refill," "The Black Barrel Ale" and "The Drunken Monks of Halamathunk" and not get into the spirit. Even the more serious songs like "The Beast of Oakenstone" and the 13-minute "On Crimson Wings" are memorable.
They may not be operating in the same league as Turisas or Korpiklaani, but you have to give Adavant credit for pulling off this kind of metal so successfully. A Light Cut Through the Void is a completely enjoyable album, and proof that an American band can play this kind of folk music. If you're looking for a new batch of drinking songs, raise a few pints with Adavant!
Genre: Folk Metal
Band:
Andy the Cunning (k)
Justin the Fierce (g)
Charlotte the Alluring (v)
Nathan the Ravenous (v)
Jake the Thunderous (d)
Corey the Vigorous (b)
Track Listing:
1. Prologue – A Light Cut Through the Void
2. The Battle of Maelstrom Valley
3. The Drunken Monks of Halamathunk
4. The Beast of Oakenstone
5. A Captain's Eulogy
6. The Refill
7. The Black Barrel Ale
8. The Ballad of Abigail McCree
9. On Crimson Wings
10. Epilogue – Back Into the World
11. Pints For the Fallen
Label: Self-released
Website: www.facebook.com/adavantofficial
Hardrock Haven rating: 7.5/10