by Craig Newman
– Columnist —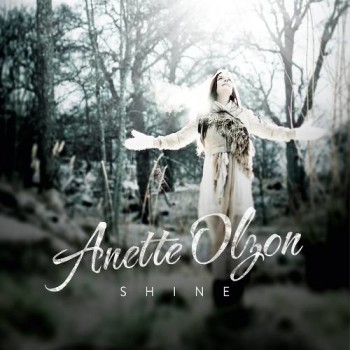 Swedish singer Anette Olzon has her first album released this year, titled Shine, with 10 songs and the first single teaser is "Lies." It's on her Facebook page along with the official lyric video "Falling" on her website.
She is known for being the second singer with the successful symphonic metal band Nightwish from 2007-2012 when original singer Tarja left the group. Since leaving the band, Anette has been working on music for her first solo album with Scandinavian music producer Stefan Örn (songwriter and producer of the 2011 Eurovision Song Contest winning track "Running Scared") with Johan Glössner and co-produced by Anette Olzon and Johan Kronlund. The album was mixed by Kronlund, Nicklas Flykt and Ronny Lahti (known for his work with Loreen and Roxette) and features Rickard Bonde Trumeel (keyboards/acoustic) and Patrik (drums).
For this album the first song for digital download is "Falling." The sound can be labeled as "symphonic pop rock" or "symphonic pop metal." The album starts with the slow-paced song "Like a Show Inside In My Head." Other ear catching songs are "Floating" where she sings high notes, and "Invincible," "Hear Me," "Watching Me From Afar" and "Moving Away."
The theme of the songs is being positive regardless what you are going through — hardship, sadness, and pain — and that you learn from the experiences and be stronger from it.
While being proud of the songs she sang with Nightwish, the songs on this album are not heavy sounding and are really good. Her singing does shine while starting a new chapter for her musical path.
Genre: Alternative rock, Soft Rock, Folk Rock
Band:
Anette Olzon (vocals)
Rickard Bonde Trumeel (keyboards/acoustic)
Patrik (drums).
Track list:
1.Like a Show Inside My Head
2. Shine
3. Floating
4. Lies
5. Invincible
6. Hear Me
7. Falling
8. Moving Away
9. One Million Faces
10. Watching Me from Afar
Label: earMUSIC
Website: http://www.anette-olzon.com/
Hardrock Haven rating: 9/10