Clawfinger | Deafer Dumber Blinder – 20 Years Anniversary Box Set 1993-2013
by Justin Gaines
– Senior Columnist/News Editor —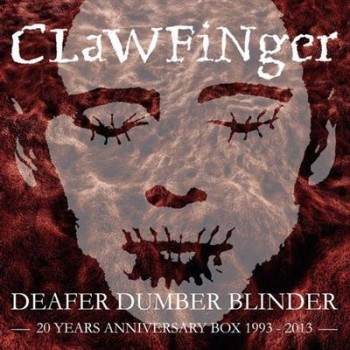 There's nothing like the idea of 20 year anniversary for a rap metal album to make you feel really, really old. Isn't rap metal the new thing we're supposed to hate? As hard as it is to believe, Swedish rap metal pioneers Clawfinger are marking the 20th anniversary of their debut album Deaf Dumb Blind, and they're doing it big. Deafer Dumber Blinder: 20 Years Anniversary Box Set 1993-2013 is a hefty, 4-disc set that not only celebrates the Deaf Dumb Blind album, but gives fans a lot of extras to enjoy. Here's what you get:
Disc 1 is titled The Best of Demos, and you get exactly what that implies. There are 20 demos here, dating from 1992 all the way to 2006. Normally demo tracks are about the least interesting thing in the world, but on Deafer Dumber Blinder they may actually be the main selling point. They showcase the band at their rawest and most creative, and really take you through their evolution of styles and sounds.
Disc 2 is titled The Best of B-Sides, and that again tells you what you need to know. It includes 17 b-sides from throughout Clawfinger's career, and will probably make a lot of longtime fans very happy having them all in one place.
Disc 3 is the original Deaf Dumb Blind album. It doesn't explicitly say that it's been remastered, but it sure sounds like that's the case. As to the album itself, Deaf Dumb Blind is about as good a hybrid of rap and metal as you're likely to find. We're not talking about some silly Limp Bizkit posturing here. Clawfinger had a full-on heavy metal sound – thick and grooving, but still undeniably metal – and a strong MC-style delivery that was somewhere between Chuck D and Grandmaster Flash. Both elements were strong and in your face, and they came together surprisingly well, especially when you consider where and when this band came from.
Disc 4 is a DVD featuring the band's full performance at the 2009 Woodstock Poland Festival as well as additional live footage and other clips.
With the recent announcement that the band has called it quits, Deafer Dumber Blinder serves a dual role, celebrating a remarkable debut as well as providing an endpoint and retrospective on Clawfinger's career. Speaking of which, the booklet is loaded with vintage photos and a lengthy, eye-opening band history/essay by Zak Tell. If you're a Clawfinger fan, this deluxe set is nothing short of a must-have release.
Genre: Rap Metal
Lineup:
Zak Tell (v)
Jocke Skog (k) (v)
Bard Torstensen (g)
Andre Skaug (b)
Erlend Ottem (g)
Morten Skaug (d)
Track Listing:
Disc 1 – The Best of Demos
1. PMRC
2. Money Is
3. If You Don't Know Me
4. Tell Me What You Want From Me
5. You Gave Me Something to Think About
6. Here We Go Again
7. The Choice is Yours
8. Master of Celebrity
9. I Don't Know
10. Ain't No Turning Back
11. Are You Man Enough
12. Fear Itself
13. Take What You Can Get
14. In a Mad World
15. My Dirty Mind
16. When Everything Crumbles (alternate demo)
17. Still Don't Know
18. Turn It Off
19. All the Way
20. Back to the Basics (unreleased demo)
Disc 2 – The Best of B-Sides
1. Get It
2. Profit Preacher
3. Stars & Stripes
4. Love
5. Better Than This
6. Three Good Riffs
7. Armageddon Down
8. RealiTV
9. Runnerboy
10. Eat the Hand That Feeds Me
11. Braindead
12. Megalomania
13. I Love To Hate Myself
14. Are You Talking To Me
15. Where Are You Now
16. Point of No Return
17. All My Greatest Fear
Disc 3 – Deaf Dumb Blind (Original Version)
1. Nigger
2. The Truth
3. Rosegrove
4. Don't Get Me Wrong
5. I Need You
6. Catch Me
7. Warfair
8. Wonderful World
9. Sad To See Your Sorrow
10. I Don't Care
Disc 4 (DVD)
Label: AFM Records
Website: www.clawfinger.net
Hardrock Haven Rating: 8.5/10