David Readman | David Readman
by Justin Gaines
– Senior Columnist/News Editor —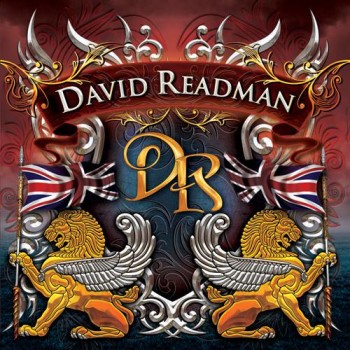 Melodic rock/metal vocalist David Readman, best known as the frontman for both Pink Cream 69 and Voodoo Circle, released his debut solo album in 2007. It came at a time when the Frontiers label was licensing some – but not all – of their current releases to the now defunct Blistering Records, so unless they grabbed the European import, most U.S.-based fans missed this album entirely. Now Readman has the rights to the album again, and late last year issued a new and improved version that fans can buy directly from him online.
As to the album itself, if Readman's work in Pink Cream 69 doesn't tell you what to expect, the list of guest musicians ought to. Readman is joined by bassist Paul Logue (Eden's Curse), drummers Dirk Bruinenberg (Elegy) and Chris Schmidt (who later joined PC69), keyboardists Eric Ragno (way too many credits to list) and Gunter Werno (Vanden Plas), and guitarists Alex Beyrodt (Primal Fear, Voodoo Circle), Gerald Sanger, Tommy Denander (again, way too many to list) and Uwe Reitenauer (PC69). Readman handles most of the songwriting.
The David Readman debut bears a strong similarity to his work in Pink Cream 69, but with less emphasis on the metallic sound and more of a melodic rock focus. It's not full-on AOR – there's a hard rock backbone to these songs – but you can see how this album fit so snugly into the Frontiers lineup. Readman's vocals are the high point, which is true of just about every album he appears on, and the musicianship is top notch as well. His songwriting is above average as well, and has a similar overall feel to what Eric Martenssen has released in the last few years: melodic rock with a classic foundation and plenty of energy. Think Whitesnake meets Journey meets Eclipse.
The 2013 reissue of the David Readman album features brand new cover artwork and three bonus tracks, including the previously unreleased "Deadman's Mile" (which ends up being one of the strongest songs on the album), the alternate version of "Take These Tears" that was originally only available on the Japanese import, and a demo version of "Without You." The main thing is that this out of print (and very pricey) album is back in fans' hands, but there are enough bonus tracks to make it a worthwhile upgrade for those who actually caught this gem the first time around.
Obviously fans of Pink Cream 69 and Voodoo Circle will get a lot out of the self-titled David Readman album, but just about anyone who's into the European melodic rock sound ought to love this release, especially now that such a nicely put-together reissue is available.
Genre: Melodic Rock
Lineup
David Readman (v) (g) (k)
Paul Logue (b)
Dirk Bruinenberg (d)
Chris Schmidt (d)
Eric Ragno (k)
Gunter Werno (k)
Alex Beyrodt (g)
Gerald Sanger (g)
Tommy Denander (g)
Uwe Reitenauer (g)
Track Listing
1. Don't Let It Slip Away
2. Evil Combination
3. Take These Tears
4. Without You
5. No Peace For the Wicked
6. Long Way To Heaven
7. Wild In the City
8. Gentle Touch
9. Deadman's Mile
10. Prisoner of Shame
11. New Messiah
12. Over the Ocean
13. Love in Vain
14. Without You (demo version)
15. Take These Tears (piano version)
Label: Self-released
Website: www.davidreadman.com
Hardrock Haven Rating: 9/10