Denied release new video "Three Degrees of Evil"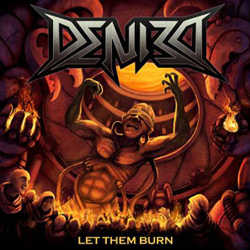 The brand new video by Denied, their latest single, "Three Degrees of Evil" was co-produced, mixed and mastered by Fredrik Folkare of Unleashed at Chrome Studio in Stockholm, Sweden. "Three Degrees of Evil 2014," will be available exclusively digital on each and every download and streaming platform worldwide, available starting May the 19th.
Denied will be celebrating their 10 year career in their hometown Upplands Vasby on May the 24th … a show not to miss!
Denied | Three degrees of evil [New video]
Featuring Johan Fahlberg of Jaded Heart and former members of Opeth, Therion, Grave.
Latest release:
Denied // Let them burn // CD and Digital
Online:
www.sliptrickrecords.com
www.deniedworld.com
www.facebook.com/deniedworld
www.facebook.com/pages/Sliptrick-Records/197022947007235