Eden's Curse returns with original lead vocalist, frontman Michael Eden in an all new lineup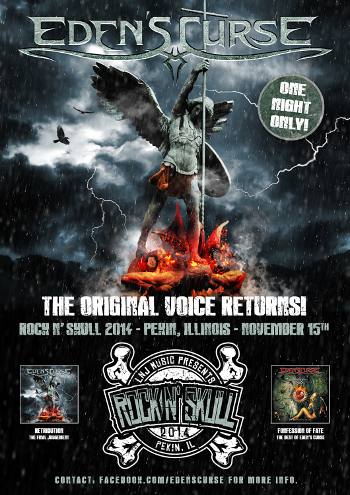 Multinational Melodic Metallers Eden's Curse returns with the band's original voice.
"You can't get more authentic than the original voice in any band. The positive energy in this new band is great. I searched worldwide and sifted through dozens of players to get it right. These guys are superb and the nicest guys I've ever dealt with. We will be letting the music do the talking," Eden said.
Eden's Curse is:
Michael Eden – Vocals
Eric Stadler – Lead Guitar
Angelo Mazza – Guitar (Farcry)
Richard Kendrick – Guitar (Lillian Axe/Liberty & Justice/Near Life Experience)
Timothy Polzin – Bass (Yngwie Malmsteen/Vinnie Moore/Gino Vanelli)
Scott Berry – Keyboards (Systematic Chaos)
Marco Bicca – Drums (LoNERO/The Element/Stigma Project
Eden's Curse will play a 60-minute set Nov. 15 during the three-day Rock N' Skull 2014 event, which runs from Nov. 14 – 16, 2014, in Pekin, Ill., just outside of Peoria, Ill. Other acts include Danger Danger, Black N' Blue, Babylon A.D. and dozens of others.
The band's set will include songs taken from its previous three albums, 'Eden's Curse', 'The Second Coming' and 'Trinity.'
Eden's Curse also will begin work on a new studio release in 2015