by Justin Gaines
– Senior Columnist/News Editor —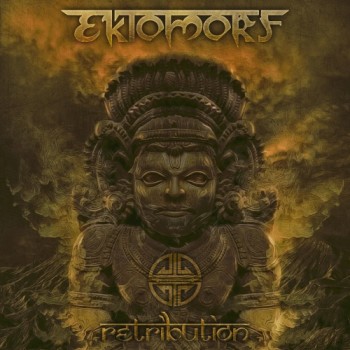 Hungarian groove merchants Ektomorf are back with a new studio album, their ninth overall, titled Retribution. Once again the band has enlisted producer/engineer Tue Madsen, and once again they've delivered a thick, grooving, angry slab of modern metal.
It's tempting to write off Ektomorf as simply Soulfly/Sepultura worship, and there's absolutely no denying the influence those bands play in Ektomorf's sound, but with each new album they carve out a bit more of their own identity. And they do play this kind of thrash meets groove meets nu-metal quite well, working elements of Hatebreed, Slayer, old Korn (particularly in Szabolcs Murvai's thick bass notes) and Ill Nino (literally in this case, as Cristian Machado provides guest vocals on "Numb and Sick") into Retribution's overall sound. Vocalist/guitarist/main songwriter Zoltan Farkas is a huge presence here, screaming his hate throughout the album and serving up massive, grooving guitar riffs.
The whole album is really consistent. Perhaps too consistent at times, as the songs (and lyrics) get a bit repetitive, but Retribution is still a solid album overall. Farkas does drop down to a clean vocal style and even some acoustic guitar parts here and there, which is a cool touch especially on "Save Me" where the transition between chill and angry is so stark. If you're looking for other good examples of the band/album's sound, "You Can't Control Me," "Watch Me" and "I Hate You" (a Verbal Abuse cover) ought to give you a good overview.
There really aren't any surprises here. If you like the previous Ektomorf albums, Retribution is not likely to disappoint. It's music to get angry and mosh to. If you're new to the band, but like your metal heavy, grooving and angry, and you have a tolerance for the nu-metal sound, Ektomorf may be your new favorite band.
Edition Notes: The CD version of Retribution comes in a digipack and includes the bonus track "Collapsed Bridge."
Genre: Heavy metal, groove metal, nu-metal
Lineup:
Zoltan Farkas (v) (g)
Szabolcs Murvai (b)
Tamas Schrottner (g)
Robert Jaska (d)
Track Listing:
1. You Can't Control Me
2. Ten Plagues
3. Face Your Fear
4. Escape
5. Who the F___ Are You
6. Numb and Sick
7. Lost and Destroyed
8. Souls of Fire
9. I Hate You
10. Watch Me
11. Mass Ignorance
12. Save Me
13. Whisper
14. Collapsed Bridge
Label: AFM Records
Website: www.ektomorf.com
Hardrock Haven Rating: 7.5/10