Guns 'n' Roses Caps Day One at America's Largest Rock Festival
by Chris A.
– Senior Photojournalist —
May 16th, 2014 at Columbus Crew Stadium in Columbus, OH. —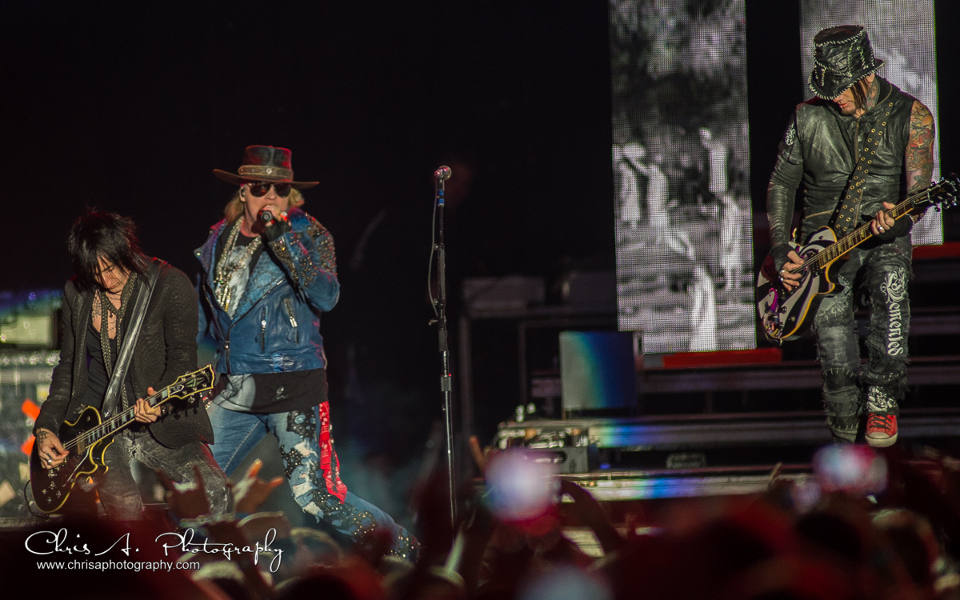 It was perhaps the most anticipated performance of the 2014 Rock On The Range; Guns 'N' Roses whose frontman, W. Axl Rose, is known for his proclivity to being fashionably late to his own gigs. However, precisely on schedule, the lights dropped on a packed Columbus Crew Stadium and a roar went up from the crowd.
With a burst of sparkler-shooting pyro and and explosive licks from guitarist Bumblefoot , the Howard Hughes of rock n' roll, Axl Rose shuffled onto the stage, swaying and sashaying as his band opened the show with the title track to the bands newest album, "Chinese Democracy".
The stage was packed with musicians in Axl's current rendition of Guns. Axl was in good voice as the band transitioned into its second tune, "Welcome To The Jungle." For the next several hours, Gun's and Roses treated the attendees at America's largest rock festival, to a greatest-hits presentation of GnR classics.
In addition, the band performed an assortment of cover tunes and solos from almost every performer. All it all it was around 30 tunes and a great way to close the evening of a stellar opening day to Rock on The Range.
For more information on Guns and Roses visit: http://www.gunsnroses.com
LIVE! | Guns 'n' Roses Concert Photo Gallery