by Alexandra Mrozowska
– Columnist —
Five years after their critically acclaimed debut Pale Sister Of Light saw the light of day, Free Spirit return with their sophomore effort, entitled All The Shadows Of Darkened Lights. Two singles off the album – "Living Tattoo" and "Hysteria" – are enough to evoke a literal hysteria among the band's avid listeners!
The band's singer Sami Alho has pull back the curtain on the newest Free Spirit release in an edited interview in the #63 issue of UK Fireworks Magazine (http://rocktopia.co.uk). Hardrock Haven exclusively presents the full uncut interview with Sami Alho talking in detail about All The Shadows Of Darkened Lights and the group's broad plans for the future.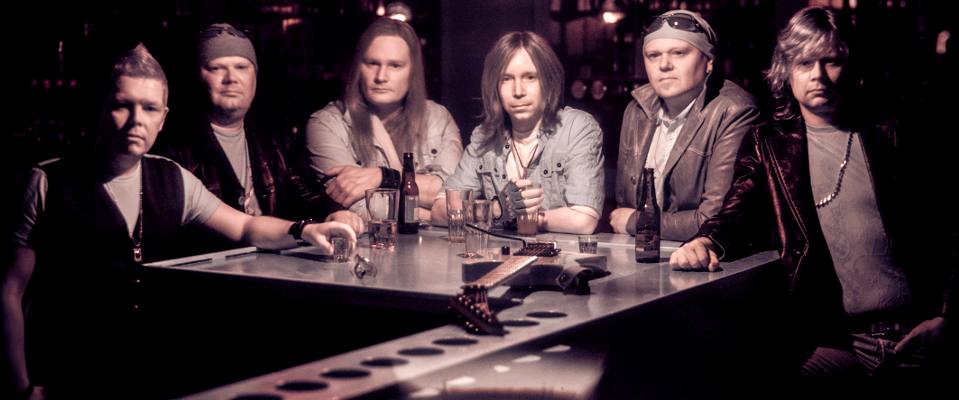 Hardrock Haven: All The Shades Of Darkened Light is a follow-up to the 2009 Pale Sister of Light release. Any similarities or differences between these two records?
Sami Alho: We still love big melodies and the adrenaline of rock music. So, the fundamental reasons to make music and this new record were quite similar in the case of both records. We wanted to continue from where we left with the first album, both song- and sound-wise. I think that now we know each other better as musicians and human beings, hence we managed to focus on what we do best. All the songs were written for this one album only, so the end result is more coherent than with the previous album. Even though the songs changed quite a lot during the sessions, most of the basic ideas for the songs were written in a relatively short period of time. During the Pale Sister of Light sessions we kind of rewrote the material to match the new sound we were aiming for, while this time we knew quite well what the Free Spirit sound is and how this new album should sound like. And maybe the most important thing is that because of all the positive feedback related to Pale Sister of Light, we were more self-confident and ambitious with this new album and that's something people sense instinctively.
Hardrock Haven: What's the idea behind your sophomore effort's title?
Sami Alho: Every song in this new album is like a chapter in a book, a song in a musical or a movie. For me, it's much easier to write lyrics when I have a big picture in my mind and I know where to place events and characters. The story is about a summer when high-octane parties seems to go on forever, but the price to be paid can get way too high for some of the people involved. The title perhaps describes best the story of this album. It's a part of a line of the song 'Fever' and the whole sentence goes: "And now the night is open 24/7, in All The Shades Of Darkened Light." During "Fever" things in the story aren't looking too good anymore for one of the main characters and there is the price to be paid. The story itself is a fantasy; it's mainly about people falling in love with each other for all the wrong reasons. It's also a story of the contrasts between good and bad intentions and gambling with them. The title may refer to the use of intoxicating substances, but in this case it's more about fantasy characters who are sensitive to the sunlight. As we all know, if the parties go on for too long, there might be necessity to use sunglasses day and night for many different reasons and then you're looking at things through the darkened light. I guess this also explains the cover art of the album.
The idea for the title, for quite a long time, was that we should choose a title song and name the album after it, just like we did with the previous album. All The Shades Of Darkened Light was first only a demo name or a placeholder which we gave to our cover art designer when he asked what would be the title of the album. When he sent different versions of the album cover using the All The Shades Of Darkened Light title, it began to look more and more like a cool way to name an album. Especially if you think about the story of the album and how the title refers to it.
Hardrock Haven: Weren't you tempted to experiment with some different musical aesthetics this time, with All The Shades Of Darkened Light?
Sami Alho: With the previous album we defined the sound of Free Spirit and it was obvious that with these new songs we just wanted to push the envelope and see how many steps we can take further. The original ideas and inspirations for these new songs came out quite naturally, so the actual experiment was testing the boundaries of our imagination. The main experiments we did concerned basically how we can combine different influences of ours. The genre is actually quite standardized and traditional, it's loud and clear what it's expected to be – and the challenge was how to find the new ways to combine things, still managing not to sound awkward or purposeful. We scrambled different kinds of influences open-mindedly also outside the genre, and mixed them together, letting our instincts tell us when we've got it right. During the sessions we learned how to control these different structures of sounds, adding details and knitting things together with melody lines and rhythm elements.
Hardrock Haven: The first single off the record is "Living Tattoo" and the second is "Hysteria," are there any reasons for such choices?
Sami Alho: With "Hysteria" it was obvious for a long time that the song will be single number two and it will be released in sync with a Finnish werewolf movie 'Anselmi, nuori ihmissusi.' The video of the song is based on a movie and the song is also on the soundtrack of the movie. When Matti Pekkanen, the director of the movie, asked if Free Spirit would have a song to be placed in the movie, we sent him a few of the unfinished songs and he fell in love with "Hysteria" right away. The lyrics and the mood of the song fits the movie like a glove, though it's not originally written for it. So there were many reasons to schedule "Hysteria" and the premiere of the movie close to each other and this co-operation with the movie also helped us to find dates for the single and the album release.
"Living Tattoo" is one of the favorite songs on this album for all of us, perhaps because it was the last one we recorded for the album and it still sounds exciting and new to us. The song is a good example of how we mixed different elements like that heavy, a bit country-ish guitar riff, vibes from '70s arena rock and even some elements of funk or disco, combined with that big '80s vocal sound. We also performed a little experiment playing some of the songs from the album to our friends and asked them to give rank order for the songs and "Living Tattoo" was in TOP 3 in everyone's list, making it an easy choice for the first single.
Hardrock Haven: Yet about "Hysteria" – its official video is based on the Finnish werewolf movie. Could you tell anything more about the movie and the concept of the video?
Sami Alho: I have a role in the movie. I play a youth pastor. The youth pastor is the leader of the confirmation summer camp and summer school. Confirmation school is an old tradition of Finnish Lutheran state church for teens during the summer of the year they turn 15. Many kids still participate in these summer schools because after the confirmation there is a big party and they get presents from their relatives. There is a humorous side to my role, especially in the beginning of the movie, but basically I'm the villain in the story.
Back to the point: It was an easy choice to sync things with 'Anselmi' because "Hysteria" is on the soundtrack of the movie and I knew that the footage of this film would look great. During the shooting sessions, when Matti (director of the movie) asked if "Hysteria" could be used on the soundtrack, my only condition was that Matti would also direct a music video of "Hysteria" based on the movie. The concept of the video is basically presenting my role as a lead singer of the band but also as a rival of Anselmi, as in the movie. The band footage is filmed with the very same camera that 'Anselmi' was shot with and one small scene in the film is actually taken from a clip that was shot on the evening we shot the footage for the video.
Hardrock Haven: Once music videos on MTV guaranteed rock bands their popularity. Since the glory days of music videos and MTV as we knew it appear to be gone now, how important the medium of the music video is for a young band like Free Spirit?
Sami Alho: The music video has become again an important medium for bands and artists. The game is of course different than in the heyday of MTV, when basically one company decided what kind of music and which music videos were allowed to be exposed to and to draw attention of major audiences. Now social media and video sharing websites make it possible that any video can be found on the internet, but the problem is how to get the attention among those millions of videos – especially when quality is not always the factor that guarantees exposure. On the other hand, nowadays it's much more inexpensive to produce a music video than during the MTV era. All the members of Free Spirit grew up watching MTV, so the music video is a very important and dear art form for all of us. Our idols and musical heroes are all known by their legendary videos and we believe that a good music video can make a song even better, giving a new view on it. Making music videos is also great fun, especially when you have the privilege to work with talented people from the film industry like we have had. These new songs are quite video-friendly and we already have a bunch of ideas for new videos. There will be several video releases from the new album during the next months. One of the new videos is coming pretty soon, so keep your eyes on Free Spirit's Facebook and YouTube channels.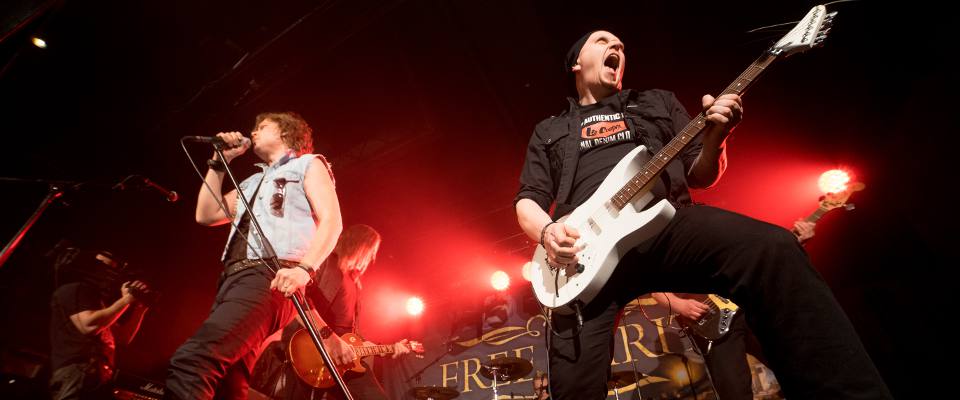 Hardrock Haven: The choices for promotional singles aside, what are your personal favorites on the album?
Sami Alho: Our bass player Nasu likes "Turn on the Night" very much and I have to agree with him. The song is a very peaceful and beautiful ballad, but at the same time it has this dangerous feeling to it. It's obvious that Nasu likes the song because of that cool bass line written by our guitarist Vesa – although this song is a ballad, the key riff of the song is played on bass. That actually gave us a whole different approach to the song, compared to how ballads are traditionally arranged. It may sound a bit weird when I try to explain it like this, but you just have to listen to the song and check it out yourself. There are many songs on this album that deserve to be mentioned as our favorites; still, the answer to this question depends on the day you're asking (laughs). "Nights of Paradise," "Fever" and "The Dew of the Rose" – these are the songs that reviewers have already mentioned as our best besides "Living Tattoo" and "Hysteria".
I also have to mention that one of my personal favorites is "Ever Come True" – it may not be the most obvious instant hit song, but I have a feeling that this song has a rich life ahead and is a very fun song to play live. And of course I have to pick one more song, which is "Silence" – another beautiful ballad with great guitar work by Marko, Vesa and our former guitar player Markku. He visited the studio during those last overdub sessions and played a few absolutely brilliant guitar licks to some of the songs, "Silence" being one of them.
Hardrock Haven: The usage of talk-box effect in "Burning Love" or "Ever Come True" brings to mind Bon Jovi's trademark sound. Was that deliberate or not?
Sami Alho: Talk-box has a cool sound and it hasn't been used much since those legendary '80s songs. During the sessions Vesa built himself this talk-box configuration and tested it with some of the guitar riffs; the sound seemed to fit perfectly for some of the songs. Perhaps Vesa was actually inspired by Bon Jovi's talk-box sound, but he probably also by Scorpions guitarist Matthias Jabs, who is also famous for the same thing. Because talk-box is used very seldom in rock music nowadays, it's a good thing to bring in that cool apparatus in a new context.
Hardrock Haven: What were your overall inspirations during the process of making the new record?
Sami Alho: The main inspiration was perhaps the positive feedback of Pale Sister of Light. It gave us a lot of self-confidence and kind of a permission or authorization to be ambitious and aim high with this new album. It's very important to know that there are people who like to listen your music and can't wait to hear more. That's the biggest inspiration a band or an artist can have.
Of course we were inspired by many different artists and genres during the sessions. We realized that we're combining things that are not usually presented in the same context and that inspired us even more. So, most of the time we were in this positive loop. Even though I have to admit that there were few occasions when we seemed to have ran out of ideas, during these moments you just have to believe in yourself and not give up or make any hasty decisions. And every time the solution to a certain block was figured out, it was the most obvious one; it was easy to see that giving yourself some time to see things from a different angle is sometimes the best solution. And of course, a source of new inspiration.
Perhaps one of the most important things to all of us was to make the sound bigger and bigger. We love breathtaking melody lines with huge backing vocals and when we learned how to create those numerous layers of harmony lines and make them sound good, it kind of showed us that we are on the right track. Especially that we wanted really bad to prove to ourselves that we can improve our sound and create a convincing, big-sounding, modern rock album.
Hardrock Haven: Who produced and mixed the album?
Sami Alho: From the beginning it was quite clear that we'd continue to work with the same method which was used with the previous album. We have this luxury to use our own studio facilities whenever we want and because of that we decided to record and produce the album by ourselves. I have studied music production at the university of applied sciences from where I graduated in 2008. Actually, the previous album Pale Sister of Light was my diploma work for the university.
Hiring a producer from the outside might have been a good idea… but to be honest, we were pretty sure that we can improve our self-produced sound created during the 'Pale Sister of Light' sessions – so the decision to rely on our own capabilities was quite easy. Perhaps I can call myself the executive producer of this album. I also recorded and mixed the songs, but I have to say that both Vesa and Pasi played a much bigger part in the production and recording processes than it was during the 'Pale Sister of Light' sessions. Without their contribution this album would have never sounded like it does now.
Also Timo did a lot of work when we were doing the final mixes. The final polish for the sound of this new album was done in Timo's home studio and his technical and artistic hand-print can be heard throughout the album. The only part where we used outward help was the mastering of the album, which was done by Henkka Niemistö of Chartmakers.
Hardrock Haven: Is the name of the band really inspired with a Nietzschean concept? Any further comment on it?
Sami Alho: Yes, the name was originally found from the book called Antichrist by Friedrich Nietzsche, where he (in chapter 13) describes a person who is not bound to any religion, politics or -isms, as a free spirit. Of course the idiom free spirit means lots of other things, too, but basically to us it means a person who is willing to think and act independently.
I remember back in the day when we were about to release our first demo tape – we didn't have a name for the band yet. Free Spirit and the logo based on that name looked quite nice on the cover, so we didn't have to consider any other names. The logo looked very different than it does today, but it was a good start.
Hardrock Haven: The 'Hysteria' video begins with a sequence of an audio cassette put into the tape player – making one think about the album format's triumph and demise. Now the "album era" is proclaimed to be over. Why is it so? Will MP3s and music streaming services replace the album as we knew it?
Sami Alho: I like to think that the album is still quite a good art form. It's true that nowadays music is consumed in a very different way than a few decades back, but I don't believe the medium itself changes the basic concept of an album. Especially in rock music it's still a good idea to give your listeners a kind of "snapshot" of a certain era of your career and very good way to do that is to record 10 – 12 songs and put them out in a certain context.
As a consumer I think music streaming is a good way to check out new music and I'm happy to pay a few euros per month if that guarantees me access to all that back catalogue. More ways to consume music means new possibilities to artists and bands, but during these developing processes it's very important to make sure that people who actually make the music get their fair share. Writing music hasn't changed much. It's still a craftsmen' job and hopefully these new ways of consuming music not only maintain the concept of an album, but also open new avenues for expressing music.
Hardrock Haven: Thinking about you, Brother Firetribe, Reckless Love… your motherland seems to be exploding with young melodic rock outfits now. Are there any new, relatively unknown Finnish (or, in general, Scandi) bands you'd like to recommend to the readers?
Sami Alho: Finland does have a rich culture in rock and pop music at the moment. During these last few years all kinds and forms of making music have become more acceptable. We're not just a promised land for heavy metal anymore and for example new names in melodic rock have been discovered. To mention some – Santa Cruz is doing a great job in the UK. Sunrise Avenue is perhaps more pop-rock than melodic rock band, but I like them; they're huge in Germany. One more band I'd like to mention is Softengine – these guys come from my hometown and they are only 18 – 19 years old, but having won a national song competition they'll represent Finland in the Eurovision Song Contest this year. They are more like an indie-rock group, but I love the song and hope it does the trick in this year's Eurovision Song Contest.
Hardrock Haven: If you allowed your imagination to run wild – who would you like Free Spirit to share the stage with in the future? Any great names coming to your mind?
Sami Alho: I know many of us would like to share the stage with bands like Van Halen or Scorpions. I would like to see what it would be like to tour with U2 or some of those huge names whose live productions are larger than life.
The summer is getting near and we look forward to doing festival gigs 'cause these events always have an atmosphere of their own. Most of all we can't wait to get on the road and get in contact with the audience. These few gigs we've already had prove that the new material works great in front of a live crowd.
Hardrock Haven: How do you see the future of Free Spirit and similar contemporary melodic rock acts?
Sami Alho: We are very optimistic. People still love big strong melodies and so do we. Even if you listen to new mainstream music, it's obvious that big songs and sounds are coming back. Perhaps the golden era of rock music, where most of our influences also come from, suddenly gets more contemporary than we even expected.
Hardrock Haven: What are your next plans? Any further promotion for All The Shades Of Darkened Light?
Sami Alho: The next video from the album is coming out soon, so be ready for that! Of course more interviews and promo for the album and new video shooting sessions are scheduled for the next weeks. Hopefully soon we'll be able to announce tour dates.
Hardrock Haven: Is there anything you'd like to add in the end?
Sami Alho: Many thanks to all our friends and fans for your support – I hope to see you all on the road soon! Go and get your copy of All The Shades Of Darkened Light and be sure you'll be entertained – so don't forget to tell all your friends about Free Spirit. Peace, love and rock 'n' roll!
Read the Hardrock Haven review of All The Shades Of Darkened Light
Visit the band online: http://freespiritrock.com/
(An edited version of this interview was published in #63 issue of Fireworks Magazine – http://rocktopia.co.uk)