Sebastian Stodolak of Scream Maker
by Alexandra Mrozowska
– Columnist —
In spite of the majority of their musical counterparts going for odd fusions of genres and experiments that go out of hand more often than not, Scream Maker remains faithful to the traditional heavy metal sound and their classic roots. Having just released their debut full length album Livin' In The Past, the talented Polish band is determined to revive the genre – and, if to paraphrase the lead singer Sebastian Stodolak, to "kick our metal ass."
With the album out, the position of the rhythm guitarist currently vacant and the growing international fan base after the recently completed Chinese tour, there's much going on at Scream Maker's headquarters. That's why Hardrock Haven caught up with the voice of the band, Sebastian Stodolak, to talk the new album and the big names of the music industry who contributed to it, but also to get to know the band behind Livin' In The Past and whose plans for the future is to "conquer the world" – as simple as that!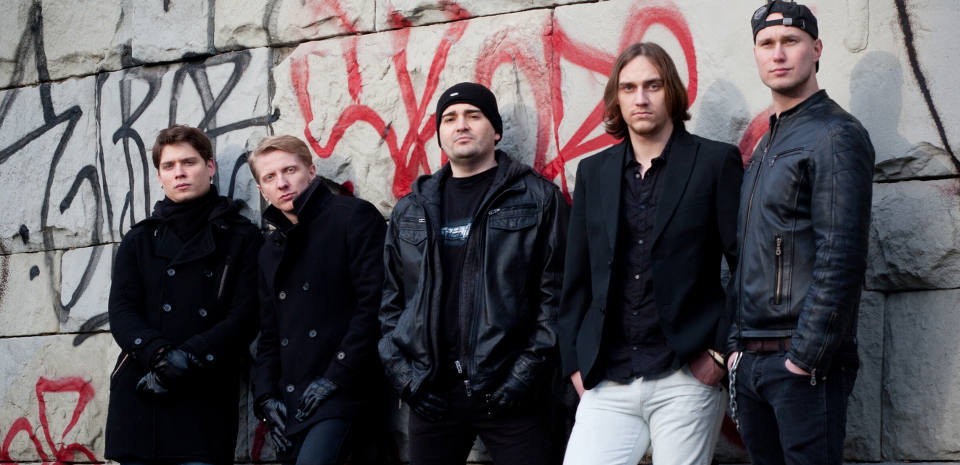 Hardrock Haven: To make a good start, please introduce yourselves to Hardrock Haven readers. What is the current line-up of Scream Maker?
Sebastian Stodolak: Hmm … that's a really hard question, because we're just finishing our co-operation with Marek Stanisz who replaced Michał Korbacz four month ago. And actually, now there's only four of us: Adam Radzil Radzilowski, Michał Wrona, Tomasz Nachyla and me – Sebastian Stodolak.
Hardrock Haven: What were the band's beginnings?
Sebastian Stodolak: We were born at the forge of heavy metal … (laughs). But seriously speaking, there's nothing really interesting in the beginnings of our band. We've been active since 2010, often changing line-up due to some private, non-musical reasons, trying to thrive among all those great metal bands … But wait – there's actually a story behind every one of us joining the band. For example I was found by Michal Wrona at the karaoke … I was a karaoke host trying to entertain the audience with one of the Dio songs … and when Michal heard my poor performance, he approached me with an offer to sing in his band.
Hardrock Haven: Now let's move on – the next topic is the upcoming release of Scream Maker's full-length release, Livin' In The Past (via Perris Records). How would you recommend the album to our readers? What can they find on it?
Sebastian Stodolak: If you're tired of listening to clones of Helloween or soul less, technical power metal, we're here for you. We play an old school heavy metal in fashion of the American and British bands from the '80s. We sound modern but don't let it mislead you! So, on our latest release you can find dynamic, heavy metal songs with memorable choruses as well as the atmospheric ballads.
Hardrock Haven: What it your personal interpretation of the album's title? Are you guys living in the past indeed?
Sebastian Stodolak: Yeah… Who isn't? You know… we're all made of our memories. Actually, when we plan something, when we want to achieve something, we are always motivated by our past experiences. The album title is, though, a reference to the kind of music we play. The fashion is going in circles in every respect, music not being an exception. We believe that heavy metal can become the music for the masses again as it used to be in the '80s. We are indeed "livin' in the past" but we want it to become present. That is completely different from the original meaning of the title track, which is about a man who lost his love but literally (she died, I assume, in some car accident or was murdered… doesn't matter, she died and he just can't live normally anymore).
Hardrock Haven: Which songs of the album are your favorites and why?
Sebastian Stodolak: Hard to favor one… but let's think for a while. I guess that "Spacestone" is a great song … a little underrated, if you ask me. This song's interesting not only music-wise, but also in terms of lyrics. The end is coming and what are you gonna do about that? Better pray. It'll remind you of one of the Iron Maiden songs. The single – "In The Nest Of Serpents" – is also a killer. What do you think?
Hardrock Haven: My personal favorites are "All My Life" and the final "Metalheads," but the choice is very difficult to make! Back to the topic of album, "In The Nest Of Serpents" is set to be the first single off the record. Are there any reasons for such a choice?
Sebastian Stodolak: Like I said before, it's a killer track with a great chorus and dynamic, heavy riff. People like it, it's a track you can fall in love with instantly.
Hardrock Haven: With Livin' In The Past, you deliver a varied mixture of hard rock, NWOBHM-inspired heavy metal, power metal flavors and soaring ballads. Did your musical inspirations change throughout the process of making the album?
Sebastian Stodolak: I don't think so. Our music tastes are fixed and we only add new bands to the catalog. The core stays the same – we love NWOBHM, but we also do love the American way of playing heavy metal – Dokken, Ratt, Van Halen … Actually we think that the latter is something European bands don't address too much. We decided to do it.
Hardrock Haven: How did the songwriting process for the album look like? What's inspired the album in terms of lyrics?
Sebastian Stodolak: Actually due to the frequent line-up rotation the process of composing the songs was limited to me and Michal Wrona. Michal composed all the songs himself and I added the vocals. It was a difficult process, because sometimes it was hard to convince Michal to my ideas and vice versa. In terms of lyrics … I don't need to experience anything special to get inspired, I don't need to take the long walks or to go through any life difficulties. It's easy for me to write, I just need a while to figure out the subject. I do it in, let's say, out-of-thin-air manner – but I need to focus. Sometimes Michal was helping me, as in "Spacestone" which is about the comet heading towards the Earth, an idea that came from Michal. I need to add that the drums on the album are arranged and recorded by Maciek Tarapacz, a drummer and … cinematographer responsible for our first video.
Hardrock Haven: One of the biggest names engaged in the process of making the album is your producer, the one and only – Alessandro Del Vecchio. How did you hook up with Ale? How did he influence the album?
Sebastian Stodolak: Grande Ale was supervising the recording process and then mixing and mastering its results. So we can easily say that you can blame him for the album's sound (laughs). But seriously speaking, the final effect is very, very good. We searched for something fresh and we really got it. We didn't want to go for this schematic digitalized power metal sound all the bands go for these days. Ale cooperates with the greatest and he knows how to do something that is universal. Let me add that without our Polish sound engineer Radek Kordowski from Hearstudio – who cooperated with Ale so smoothly – it would be impossible to make it. But how did we hook up with Ale? Let's make the long story short: we were flooding all the best European and American bands with e-mails in search for the support opportunities. Since Ale is a member and a manager of Hardline, he replied us very nicely. I didn't know him then but we started to chat via Facebook… and step by step I started to realize who he was and what he was capable of.
Hardrock Haven: The intro to the album is a stunning classical-infused composition written and performed by Jordan Rudess of Dream Theater. Please, tell us about the circumstances of this collaboration.
Sebastian Stodolak: I have known Jordan since 2008. I met him in Warsaw when he was walking down the Krakowskie Przedmiescie Street. Every time Dream Theater comes to Poland we see each other, eat a dinner or something. So it was pretty natural to ask him for the co-operation. Initially he was only to record a solo to one of the songs but he himself decided to record an intro track, too. It's the best track on the album (laughs).
Hardrock Haven: Another important guest on the album is Wojciech Hoffmann – a legendary Polish guitarist, the mastermind of the heavy metal band Turbo (also ex-Non Iron, solo). Any comment on his contribution to the album?
Sebastian Stodolak: Amazing guitar solo in "Glory For The Fools" He proves his shredding abilities, but also his feeling there. It fits the song so well … Michaeł is a great fan of Turbo and Wojtek and it was an amazing experience for him. Dreams come true!
Hardrock Haven: Another interesting aspect of Livin' In The Past is the cover artwork. It's designed by Rosław Szaybo (who designed over 2000 album covers, Judas Priest's British Steel among them). How did you get in touch with him?
Sebastian Stodolak: We called him. It was really that easy. But … sorry, guys from the other bands, I won't give you his number (laughs) So we called him, explained him what we wanted and he said: alright, send me music, send me info about your band, let me think … Finally he wrote to us that he's impressed with the music and he was ready to start the work … Can you imagine – the Judas Priest artwork designer designs a cover for a Polish heavy metal band? That was like; uh, that is not happening! But, thank God, it was!
Hardrock Haven: The intriguing album artwork may be interpreted in thousand possible ways – what are your personal interpretations of it?
Sebastian Stodolak: Actually Roslaw explained it himself very clearly. He was thinking how to interpret the album's title, so an idea came to his mind that the past is something we want to get rid of but we just cannot do it. It's inside us, it frets into our souls. It's just the screw in the head. As simple as that. Maybe we should be called Screw Maker now? Hmm … no. That would have also some other, very naughty meaning … (laughs).
Hardrock Haven: Throughout the years, Scream Maker shared the stage with many notable rock and metal acts, such as Primal Fear, Tim "Ripper" Owens (ex-Judas Priest), Blaze Bayley (ex-Iron Maiden) or, the most recently, Paul Di'Anno (ex-Iron Maiden). What are your memories of these gigs?
Sebastian Stodolak: The most memorable Polish gigs are the ones we played with Paul Di'Anno as the co-headliner of Doładowanie Festival. Paul is a legend, a voice of two classic Iron Maiden albums, much better by the way than the recent albums of the group. Paul is also a man of a very interesting character, if you know what I mean … And you know what? He's a tough guy with a really big heart. We liked him a lot and spent hours drinking and talking about music, women and alcohol.
Hardrock Haven: You've also supported many Polish rock/metal acts. Are there any you'd recommend our international group of readers to see live?
Sebastian Stodolak: Turbo. Yeah. And our friends from a great power metal band Night Mistress. I don't see any other really interesting stuff here in Poland … with no offense, of course. Our metal scene is still quite small.
Hardrock Haven: If to let your imagination run wild, which band would you like to share the stage with in the future?
Sebastian Stodolak: Depends on who you ask. Michal Wrona would say: Iron Maiden and Judas Priest. Tomek Nachyla would be in heaven if he got the chance to open for … Avenged Sevenfold. Adam Radzilowski … hard to tell … I don't think he has a band he dreams of opening for. If you ask me, I would give you one name: DIO. But he's dead now so I have to wait for another life. Still got the chance to perform with him in front of the Almighty, right?
Hardrock Haven: I certainly think so! Another curio about the band's current activity is that you've just came back from … China. A pretty exotic place for a heavy metal band, if you ask me …
Sebastian Stodolak: The China Tour was like a dream for us. We played at festivals we can only dream to perform at in Europe and we met thousands of people hungry for metal. We were treated like stars – it's like you put somebody in James Hetfield's shoes for two weeks … and now we're again in the Scream Maker Polish shoes and we're a little afraid of the reality of small venues and not very heavy metal audience! You know, China is the place we want to go to once again, to make our success there even bigger. There's 1,4 billion people there, so the market is potentially twice as big as the European… Get it? It's amazing thing to imagine the Chinese people getting finally rich and opening their minds and borders for the Western music. That moment has to come and the pioneers will get their premiums. Any stories I'd like to share? Hmm… So many of them… The one which is not very nice goes like this: I lost my voice on the third day of the tour after eating too much spicy food, breathing too much polluted air and drinking too much 46 per cent alcohol… due to that, my voice lowered and we had to detune our guitars! (laughs)
Hardrock Haven: Another special date in Scream Maker's calendar is May the 15th, when the band and the very special guests (including Alessandro Del Vecchio) are gonna perform together on Ronnie James Dio tribute concert in Warsaw, Poland. How did you come up with such an idea? Was it difficult to gather such an impressive list of guests in one place?
Sebastian Stodolak: We all love DIO and it's a shame he died. Somebody has to keep the flame burning and it was so uplifting that all those honorable guests agreed to perform in memory of DIO with no objections at all. That proves DIO was truly not only the best singer but also the greatest metal artist of all time – and I am pretty serious right now.
Hardrock Haven: What are the other plans for the future?
Sebastian Stodolak: To conquer the world, play at the big venues, have the millions of fans. What else can a heavy metal band dream of and plan to do? But when many bands just dream about it but are not determined enough to do it, we really, really mean it. We're here to kick your metal ass, guys!
Hardrock Haven: Is there anything you'd like to add in the end?
Sebastian Stodolak: Guys, heavy metal is the way. Remember – no modern experiments or math-metal rhythmic noise for nerds. So go to the music store, but the CDs, buy the tickets, let it develop, let the word be spread!
Visit the band online: https://www.facebook.com/screammaker