by Joe Mis
– Senior Columnist —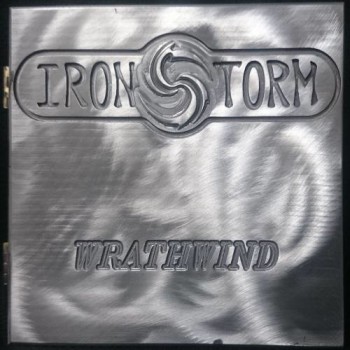 Canadian rock is much more than Rush, Helix, and Harem Scarem. Edmonton's own Ironstorm is new to the scene, and brings female frontier metal into the mainstream of the Great White North. Formed in 2012, Ironstorm (in the band's own words) was forged from "molten lava, mead, bacon, and moose droppings…" – all that's missing seems to be whale blubber and beer. All kidding aside, the members of Ironstorm are serious musicians and the band shows a good deal of potential.
Wrathwind is the band's first official release – a six song EP, although one is a short intro-style instrumental. The five remaining tracks are diverse and interesting despite being a little rough around the edges. They blend elements of speed metal and death metal together and add a dash of beauty and the beast vocals to make a fairly unique sonic footprint. Fronted by vocalist Karli Romyn, backed by growls and snarls by guitarist Diego Fernandez, Ironstorm seems at times to pay tribute to progressive metal through varying tempo changes and complex progressions. The careful listener will pick up hints of Fates Warning (of the John Arch era), and maybe a little Anthrax thrown it for good measure. Romyn has a decent range, good clarity and a lot of power, while Fernadez is surprisingly easy to understand despite a massive growl. Guitarist Luke Barry, bassist Dave Pollock, and drummer Tyson Travnik are musically solid, and are probably likely to drop from exhaustion at the end of a set. The energy these guys put out makes up for any shortcomings.
The album opens with "Wrathwind," a 2 minute long and unfortunately tedious keyboard instrumental with a few drums tossed in at the close that seems to go nowhere. "Take The Wheel" is definitely a better song, but the mix and engineering are rough filling this take-no-prisoners speed metal song with distractions. "Revenant" has a much better mix, and the opening bars and bass line are almost vintage Iron Maiden. The vocal back and forth is complex and entertaining, and more progressive and thrash elements are folded in as the song develops. "The Watcher" is easily the band's best and most mature track. A slower, more mellow intro and superb bass work throughout allow Romyn to truly stretch her vocal chords over the big double bass drums. This track would lyrically and stylistically would have fit on Fates Warning's Awaken The Guardian. "Dreamons" is filled with amazingly tight guitars, massive rhythms and strong vocals. "As a nice bonus, you get to hear ho great Ironstom sounds live thanks to the very martial, recorded in concert "Come Back In Glory."
Overall, Ironstorm's Wrathwind is a very solid first release. There are a number of rough spots that a bit more seasoning will iron our, and the band's enthusiasm and energy more than compensate for any shortcomings. If you are into speed, thrash, or light death metal, check out Ironstorm. No matter the style or track, the band sounds like they are loving every minute of it! Good fun for fans of the genre!
Genre: Power Metal, Speed Metal
Band:
Karli Romyn (vocals)
Diego Fernandez (guitars, vocals)
Luke Barry (guitars)
Dave Pollock (bass)
Tyson Travnik (drums)
Track Listing:
1. Wrathwind
2. Take The Wheel
3. Revenant
4. The Watcher
5. Dreamons
6. Come Back In Glory (Live)
Label: HPGD Productions
Website: https://www.facebook.com/IronstormOfficial
Hardrock Haven rating: 7/10