LIVE! | Leatherwolf in Las Vegas
by Deb Rao
– Senior Columnist —
May 10th, 2014 at the Las Vegas Country Saloon in Las Vegas, NV. —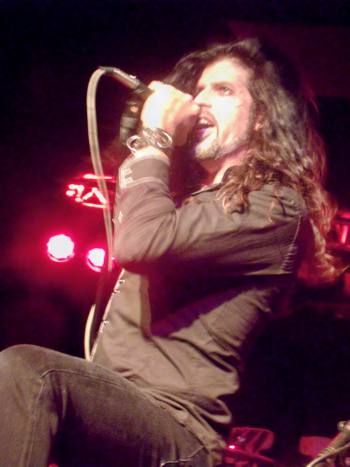 '80s metal band Leatherwolf made a rare Las Vegas appearance May 10 at the Las Vegas Country Saloon. During the '80s heyday, I never had the opportunity to see the band and I was looking forward to their performance tonight.
It was a windy night on Fremont Street and only the brave ventured out to see the band. As winds battered the desert city at 45 miles per hour, people ran for cover from the ugly winds battering the city. One of the bad aspects of going to see a band at the Last Vegas Country Saloon is that you have to sit through six local bands before the national act takes to the stage. The club is a great venue but you can only listen to metal for so long! By the time Leatherwolf took the stage at 1:15 A.M. most of the patrons had left the venue. Due to the inclement weather and late stage time this was disheartening.
Leatherwolf took the stage in the wee hours of the morning. The band sounded great. The triple axe attack was definitely worth the wait. The band opened with "Rise Or Fall." Leatherwolf played a vast selection of songs from 1982 to the now. Highlights of the set included "Wicked Ways." The band kicked into full gear, as if they were performing in an arena. The eerie dark night proved the perfect setting for their hit" Alone In The Night." Michael commented this song was in the Return Of The Living Dead Part ll. This song was perfect for the creepy windy ambiance.
Michael also commented that the band would be on the Monsters Of Rock Cruise in 2015. So that will be great. Hopefully more people will get to see the band perform. Leatherwolf did not disappoint. Hopefully they will return to Vegas for a longer set.
Visit the band online: www.facebook.com/leatherwolfmetal