Mindcage | Our Own Devices
by Justin Gaines
– Senior Columnist/News Editor —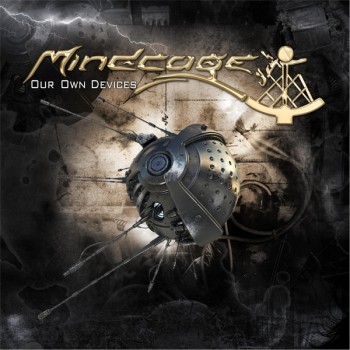 2013's Our Own Devices is the debut full-length album from American progressive/power metal band Mindcage, one of the more promising bands to hit the scene in recent years. Mindcage's sound is clearly influenced by classic Queensryche and early Fates Warning, and there are similarities to Nevermore as well.
Our Own Devices is a concept album with a dystopian/sci-fi storyline, which, along with Jeff Hignite's piercing voice (like Geoff Tate used to sound) and the guest female vocals only solidifies the Queensryche comparison. Factor in the heaviness and crunch of the guitars and the overall pace of the album and you really do get a Nevermore doing Operation: MindCrime vibe here. This is a really well put together progressive metal album. The conceptual elements are interesting, there's a good deal of technicality in the musicianship, the vocals are strong, there's a real heaviness and power on display, and the songwriting is quite solid. Sure, it's familiar territory, but Mindcage does play this kind of music very well.
Obviously being a concept album, Our Own Devices works best as a cohesive whole, but it does have a few tracks that stand out, like "The Human Race" (with guest vocals by Hydrogen's Julie Westlake), "Firefly" and the two-part "Renaissance" suite – "The Serenity Sequence" and "The Grand Restoration" – that close the album in such a grand fashion.
This is a very impressive debut from a band with a lot of potential. Mindcage has the technical chops to appeal to progressive metal fans, the melodies, powerful vocals and storyline that power metal fans should appreciate, and they put it all together very well. If you're a fan of classic Queensryche, Fates Warning, and Crimson Glory, as well as more recent releases by Nevermore, Artizan and Pharaoh, Our Own Devices is an album that's well worth picking up.
Genre: Progressive Metal, Power Metal
Band:
Dietrick Hardwick (g)
Jeff Hignite (v)
Craig Nudo (d)
Brian Howell (b)
Track Listing:
1. Cadence March
2. For All Mankind (The Dark Design)
3. Our Own Devices
4. The Human Race
5. At Full Steam
6. Firefly
7. The One Constant
8. Arabella's Arc
9. The Serenity Sequence (Renaissance Pt. I)
10. The Grand Restoration (Renaissance Pt. II)
Label: Kinematic
Website: www.mindcagemusic.com
Hardrock Haven rating: 8.5/10