Miracle Master | Tattooed Woman
by Justin Gaines
– Senior Columnist/News Editor —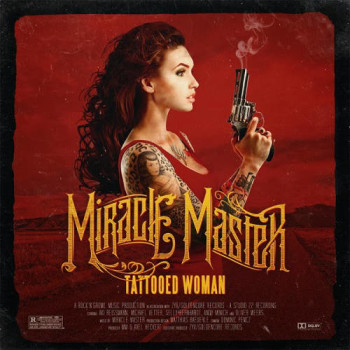 Tattooed Woman is the debut album from Miracle Master, the new German melodic hard rock band formed from the ashes of Pump. Pump didn't exactly set the melodic rock world on fire, but now that they've hooked up with Danish vocalist Oliver Weers (who has a couple of solo albums under his belt), they have a new energy to go with the new band name.
It's hard to hear a melodic hard rock band out of Germany and not think about bands like Pink Cream 69 and Voodoo Circle, and there are definitely some similarities to those bands in Miracle Master's sound. They've got a grittier, harder rocking approach at times though; one that's similar to Red Dragon Cartel and even Pretty Maids' more metal moments. Part of that is Weers's powerful vocal performance, but the riffs also get really heavy when they need to (see "Why Religion" and "Miracle Masters"). Regardless of how heavy the songs get, the band never loses that melodic focus. There are some really catchy hooks here, and of course the vocal melodies are fantastic.
Tattooed Woman is a really solid album throughout, but there are a few tracks that stand out right from the start. Leadoff track "Come Alive" starts things off with a bang, and is a perfect example of the Miracle Master sound. The title track is another winner, and may be the catchiest song on the album (seriously, just try and resist rocking out and singing along to that one). "Tear Down the Walls" has a great modern hard rock vibe that wouldn't be out of place on mainstream rock radio.
Once again, the Europeans show the rest of the world how melodic hard rock should be done. With a sound rooted in the '80s hard rock bands and reflective of the current European melodic rock scene, Miracle Master is a band that ought to appeal to a wide array of rock n' roll fans. If you're a fan of Pink Cream 69, The Ragged Saints, Red Dragon Cartel and Hardcore Superstar in particular, you need to get your hands on a copy of Tattooed Woman.
Genre: Hard Rock, Melodic Hard Rock
Band:
Oliver Weers (v)
Marcel Bernhardt (g)
Michael Vetter (b)
Axel Reissmann (g)
Andreas Minich (d)
Track Listing:
1. Come Alive
2. Fly Away
3. Stay With Me
4. Forgive Yourself
5. Miracle Master
6. Will To Survive
7. Why Religion
8. Tattooed Woman
9. Highway To Heaven
10. Tear Down the Walls
11. We All Touch Evil
Label: GoldenCore
Website: www.miracle-master.com
Hardrock Haven rating: 8/10