Nothing More | Nothing More
by Deb Rao
– Senior Columnist —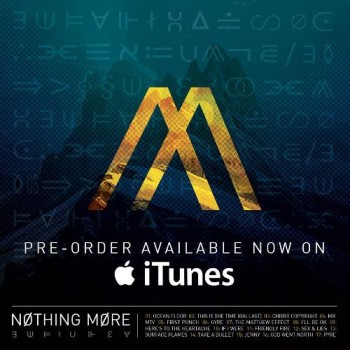 San Antonio rock band Nothing More is gearing up for their self-titled release June 24 via Eleven Seven Music. They say Texas does everything bigger and Nothing More proved that cliché' ever so true.
The San Antonio band really proves who they are on this self-titled release. Nothing More is a mix of Pantera meets Incubus meets System Of A Down. The band sings about real life situations and drags you into the mix hanging on to every word with their heartfelt lyrics.
The album starts off with religion overtones on "Christ Copyright." They wouldn't be a band from Texas, if they didn't share their beliefs right? Singer Jonny Hawkins has a powerful voice and unleashes his raw energy on "First Punch." The band also visits the MTV era on "Mr. MTV."
Drummer Paul O'Brien is a ferocious drummer that steps up to the plate and changes every up-tempo beat on every song. Actually it sounds as if Jonny and Paul take turns with their powerful vocal and drum leads. The musicianship is over the top.
The band also has its tender moments with songs "I'll Be Ok" and "Here's To The Heartache." Those two songs actually sound like Thirty Seconds To Mars. But even when the band takes it down a few notches, they still rock hard. "Friendly Fire" and "Sex & Lies" kicks Nothing More back into high gear. The exciting aspect of this CD is that there are no filler tracks. Every song stands on its own. Nothing More unleashes their powerful beast and makes Texas proud. This is going to be an exciting year for the band as they join Finger Fiver Death Punch, Volbeat, and Hellyeah this Fall on one of the hottest tours of the Fall.
Genre: Heavy Metal
Band: Jonny Hawkins – Vocals
Paul O'Brien – Drums
Mark Volhelunga – Guitar
Daniel Oliver – Bass
Track Listing
1. Ocean Floor
2. This Is The Time
3. Christ Copyright
4. Mr. MTV
5. First Punch
6. Gyre
7. The Matthew Effect
8. I'll Be OK
9. Here's To The Heartache
10. If I Were
11. Friendly Fire
12. Sex & Lies
13. Jenny
14. God Went North
15. Pyre
Label: Eleven Seven Music
Website: www.nothingmore.net
HRH Rating 9/10