Old Man's Cellar | Damaged Pearls
by Joe Mis
– Senior Columnist —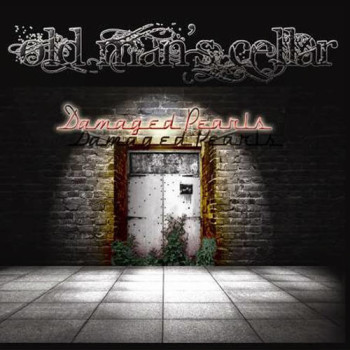 Once again, the Italian metal scene has given the world another gem of a band. Old Man's Cellar, a five-piece hailing from Modena, has successfully blended modern techniques and old school hair metal influences into a lively and enjoyable debut album entitled Damaged Pearls. Together since 2009, Damaged Pearls is OMC's debut full-length album, and well worth the wait.
OMC's music is probably best described as melodic hard rock. The band spans genres from rock to metal, from 80's glam to modern progressive – a little bit of everything – and does it well. The songs are distinct in tone and tempo, and the band doesn't dump too many influences into the same song – thus giving each track a unique feel and showcasing the band's musical depth. Fronted by Ricky DC, OMC brings it with guitarist Freddy Veratti, keyboard man Max Boni, bassist Angelo Scollo, and drummer Andrea Fedrezzoni. Veratti has very big guitar chops and easily handles a number of musical styles – in may ways reminiscent of a young Ken Hammer (Pretty Maids). He is matched note for note almost by Ricky DC's massive vocal range, power, and enthusiasm.
The opening track "Damaged Pearls" is a real rocker, setting the bar high for the rest of the album. Kicky rhythms, big hooks, and well delivered vocals are the trademark of the band – and their penchant for laying down catchy grooves is apparent, thanks in particular to the excellent interplay between guitars and keys. "Amber Lights" is an awesome upbeat modern rocker with big guitar hooks and a vocal line designed to allow Ricky DC to fully explore his massive range. Veratti lays down some incredible guitar fills and a jaw dropping solo on the kicky, commercial rocker "Hyperlove." "Don't Care What's Next" is borderline electronica, built around intricate layers of vocals and interesting keyboard progressions. "The Years We Challenge" has a very late-80s/early 90's feel – think Winger.
"Rain Talk" also has a 90s vibe to it, more in the guitar hero vein. The whole band hits it perfectly here, making this a memorable toe-tapper, while strong piano and fine vocals highlight the ballad "Is This the Highest Wave?" Blues rock makes a strong appearance in the slow rocker "Knees On The Straw", a track that would suit Bon Jovi fans nicely, while fans of Extreme would enjoy the gritty groove of "Soul Exercise." "Still At Heart" is a wonderful acoustic exercise, with the simple guitars and bass mated with well-done layered vocals. "Summer Of The White Tiger" is a reflective progressive rocker, yet it has a bit of 80s pop rolled into the guitar and keyboard lines – and dare we say it – even a touch of sleaze rock shows up in the finale, "Undress Me Fast."
If you want something upbeat and cheerful, pick up Damaged Pearls. Old Man's Cellar proves itself to be a band to watch. Diverse in style and tone, the group fires on all cylinders no matter the tone. Refreshingly new sounding while tipping a hat to the greats of the past, OMC's Damaged Pearls is one of the better debut releases in recent memory. Well crafted songs, enthusiastic performances, and technical precision make Damaged Pearls a real treat for rock fans. More than good balsamic vinegar comes from Modena! Very highly recommended!
Genre: Melodic Hard Rock
Band:
Riccardo Dalla Costa (aka. Ricky DC) (vocals)
Freddy Veratti (guitars)
Andrea Fedrezzoni (drums)
Max Boni (keyboards)
Angelo Scollo (bass)
Track Listing:
1. Damaged Pearls
2. Amber Lights
3. Hyperlove
4. Don't Care What's Next
5. The Years We Challenge
6. Rain Talk
7. Is This The Highest Wave
8. Knees On The Straw
9. Soul Exercise
10. Still At Heart
11. Summer Of The White Tiger
12. Undress Me Fast
Label: Valery Records
Website: http://www.oldmanscellar.com/en
Hardrock Haven rating: 8.5/10