Orange Goblin | Healing Through Fire
by Justin Gaines
– Senior Columnist/News Editor —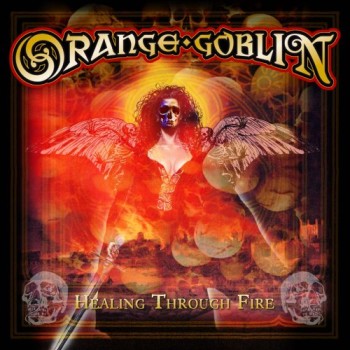 Originally released in 2007, Healing Through Fire was the sixth album from long-running UK stoner/doom metal band Orange Goblin. It was released by the now-defunct Sanctuary label, so it's been out of fans' hands for several years. Given the success of the Rise Above box set reissuing the first five Orange Goblin albums as well as their latest release Eulogy For the Damned, Candlelight is making the album available again.
How best to describe Orange Goblin? They're almost too up-tempo and grooving to be doom metal, but Healing Through Fire is heavier than the average stoner rock album too. Obviously there's a huge Black Sabbath influence here, mainly in the riffs, which are beyond catchy, and the very heavy rhythms that the band pounds out. There's also a gritty Motorhead vibe on these songs, thanks in large part to Ben Ward's gravelly vocal delivery. The lyrics on Healing Through Fire are based on London's Great Plague and Great Fire, so it's somewhat darker and more somber than their other releases. It's still a totally rocking, totally enjoyable listen though, and one that gets into your head from the very start.
Healing Through Fire is another fantastic album from Orange Goblin. Sure, these retro rocking bands are all the rage now, but Orange Goblin has been delivering the riffs since long before it became a trend, and they're still one of the best bands in the scene. If heavy rock with groove and killer riffs is your thing – whether that's classic bands like Black Sabbath, Bloodrock and Atomic Rooster or more recent bands like Graveyard and The Sword – Healing Through Fire is an album you don't want to miss.
Edition Notes: Candlelight's reissue of Healing Through Fire includes a pair of live bonus tracks – "The Ballad of Solomon Eagle" and "They Come Back (Harvest of Skulls)." It hasn't been remastered, but the album probably didn't need remastering in the first place. It's not worth buying twice if you already own a copy (especially since the Sanctuary version came with a bonus live DVD), but for recent fans unable to score the original pressing, this reissue definitely gets the job done.
Genre: Stoner Metal
Band:
Martyn Millard (b)
Chris Turner (d)
Joe Hoare (g)
Ben Ward (v)
Pete O'Malley (g)
Track Listing:
1. The Ballad of Solomon Eagle
2. Vagrant Stomp
3. The Ale House Braves
4. Cities of Frost
5. Hot Knives and Open Sores
6. Hounds Ditch
7. Mortlake (Dead Water)
8. They Come Back (Harvest of Skulls)
9. Beginner's Guide To Suicide
10. The Ballad of Solomon Eagle (live)
11. They Come Back (Harvest of Skulls) (live)
Label: Candlelight Records
Website: www.orange-goblin.com
Hardrock Haven rating: 8.75/10