The Pretty Reckless | Going to Hell
by Jenn Carbaugh
– Columnist —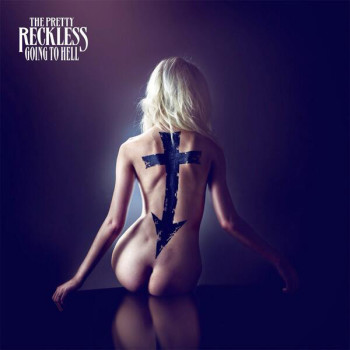 There is so much doubt thrown in the direction of the sinfully sexy Taylor Momsen. Fronting The Pretty Reckless has caused opinion to swirl involving the talent of the former actress. Going to Hell is the second studio offering from the band. Admittedly, this band just keeps getting better and better. The opener on the album makes eyes widen and ears perk to attention. The sounds are something like simulated sex paired with rebellious attitude. Whether the album is an attempt at Momsen detaching from her adolescent acting days or not she is extremely convincing in her bad-girl premise.
The title track, "Going to Hell" is equipped with dense percussion and has amazing riffs and an erotic, angry growl for support. "Heaven Knows" is one of the best songs on the album, because it showcases all of the band's full skill level. The tambourine beat and classic guitar sound lend a '70s feeling with the chorus and clapping. There are also more vulnerable moments shown from Momsen's voice. The band isn't all grunge and sacrilegious lyrics. "Dear Sister" and "Waiting for a Friend" are both raw and display talent that some didn't realize the band had. "Burn" is another song that catches attention, because it is a short acoustic balled. For straying away from the typical sound, it does a great job at showcases Momsen's vocal abilities.
The Pretty Reckless is actually more than a band that creates cringe-worthy songs and music videos. This album fully captures the trademark gruff in the vocals, the alternative attitude, and the mass of well written lyrics. This album gives variety as well. Many expect The Pretty Reckless to be full of angry twenty somethings fronted by that girl who played on Gossip Girl. This is a band that is actually cohesive and performs with passion. They work well together and sound even better together. Be open minded, and listen to the entirety of the album. There is real skill here.
Genre: Alternative Rock, Hard Rock
Band:
Taylor Momsen – vocals
Ben Phillips – guitar, backing vocals
Mark Damon – bass
Jamie Perkins – drums
Track Listing:
01. Follow me Down
02. Going to Hell
03. Heaven Knows
04. House on a Hill
05. Sweet Things
06. Dear Sister
07. Absolution
08. Blame Me
09. Burn
10. Why'd You Bring a Shotgun to the Party
11. Fucked up World
12. Waiting for a Friend
Label: Razor and Tie
Website: http://goingtohell.me/hell/
Hardrock Haven Rating: 10/10