by Justin Gaines
– Senior Columnist/News Editor —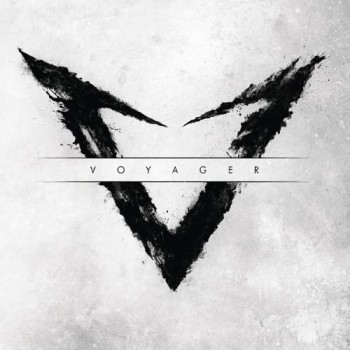 Australian melodic progressive metal band Voyager is back with a new album, their fifth overall, appropriately titled V. The band has generated a fair amount of buzz in the last couple of years, appearing at both the ProgPower Europe and ProgPower USA events and releasing one of 2011's best progressive metal albums in The Meaning of I. Needless to say, V comes highly anticipated and with high expectations.
If you're unfamiliar with Voyager's sound (and if you are, you're in for a real treat), they play a very melodic, almost synth-pop infused brand of progressive metal. Like Depeche Mode doing prog metal, but even more fun. It's the kind of infectious, accessible music that after legions of Dream Theater clones and "technical for technicality's sake" progressive bands just puts a huge smile on your face. To be sure, the guys (and gal) in Voyager have serious chops, and there's never any doubt how they earned the progressive metal tag, but melody is definitely at the forefront of their sound.
Vocalist Daniel Estrin (who also plays a mean keytar) delivers another standout performance here. His unique tone and powerful range alone would make V an incredibly melodic album. Pair that with Simone Dow's melodic lead guitar work (not to mention some truly dazzling solos) and this album is impossible to resist. Bassist Alex Canion and drummer Ashley Doodkorte set the perfect pace for the album, and rhythm guitarist Scott Kay's technical but hypnotic riffs combined with Estrin's keyboards give the album the atmosphere that holds all of the songs together.
With V, Voyager picks takes the overall sound from The Meaning of I and moves in a more atmospheric direction. Where the previous album felt like a collection of individual songs, V seems much more cohesive. There are still individual songs – like "Hyperventilating," "The Domination Game" and especially "Breaking Down" – that work very well as singles, but even they are so much more effective in the context of the larger album. V just seems to shine the most as a whole album experience, and is the kind of album where you want to block off the outside world so you can take everything in…over and over again. The first spin hooks you with the heavy grooves and catchy melodies. The second spin is when the technicality and progressive elements shine through. The third time through you pick up on all the little nuances, atmospheric highlights, and how well the occasional growled or female vocals fit in. At that point you're in love, and honestly, how often does that happen anymore? And somehow Voyager keeps doing it with every new album.
The band works in a nice surprise on V with a new version of "The Morning Light," which originally appeared back on the band's 2003 debut Element V. This song fits seamlessly into the larger V experience, and makes you wonder what other gems from the debut might benefit from a second go-around.
Once again Voyager has proven that progressive metal can be fun, and once again they've delivered an album that is simply impossible to resist. V is the rare progressive metal album that's going to have a good crossover appeal, as fans of melodic rock and metal in general ought to love what the band has going on here. It's easily the most exciting and enjoyable progressive metal album 2014 has to offer, and is bound to make (if not top) a lot of year-end "Top Ten" lists. Now if we could just get them back stateside to play some of these songs live!
Genre: Progressive Metal
Band:
Daniel Estrin (v) (k)
Simone Dow (g)
Scott Kay (g)
Alex Canion (b)
Ashley Doodkorte (d)
Track Listing:
1. Hyperventilating
2. Breaking Down
3. A Beautiful Mistake
4. Fortune Favors the Blind
5. You the Shallow
6. Embrace the Limitless
7. Orpheus
8. The Domination Game
9. Peacekeeper
10. It's a Wonder
11. The Morning Light
12. Summer Always Comes Again
13. Seasons of Age
Label: IAV
Website: www.voyager-australia.com
Hardrock Haven rating: 10/10