Words of Farewell | The Black Wild Yonder
by Justin Gaines
– Senior Columnist/News Editor —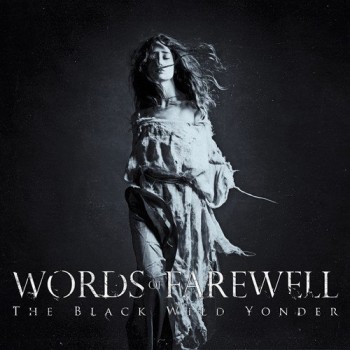 Just when you thought there weren't any bands making good, classic-style melodic death metal anymore, here comes Words of Farewell with their second album, titled The Black Wild Yonder, to make you remember everything you loved about this kind of music in the first place. The German band is coming straight outta' Gothenburg with this one!
The Black Wild Yonder draws heavily from the late '90s and early 2000s Swedish melodic death metal sound, not reinventing the wheel, but certainly dusting it off and making it shine again. Wicked riffs, catchy melodies and breakneck rhythms dominate the album, and Alexander Otto sticks with a good, harsh death metal vocal style throughout the album. Words of Farewell does incorporate a fair amount of keyboards, but in a classic Dark Tranquillity kind of way, never overblown or overly atmospheric. Actually, The Black Wild Yonder also sounds a great deal like the last two James LaBrie albums, minus of course the clean vocals.
There's an awful lot to like here. The musicianship is super tight, the vocals bring the perfect amount of aggression, the melodies and ambient keyboards keep things accessible and hold your attention, and at the end of the day it's just good to hear this kind of music from a new band, especially one that executes it as superbly as Words of Farewell does. Sample "Continuum Shift," "Temporary Loss of Reason" and "Damaged Beyond Repair" if you're skeptical. That ought to be more than enough to win over most melodic death metal fans.
With the original Gothenburg crew off in different creative directions and the Finns keeping things atmospheric and moody, why not let the Germans have a go at the classic melodic death metal sound? Night in Gales pulled it off, way back when, and Words of Farewell does too. The Wild Black Yonder is highly recommended to fans of Insomnium, Dark Tranquillity, Ominum Gatherum and of course old school Soilwork and In Flames.
Genre: Melodic Death Metal
Lineup:
Alexander Otto (v)
Erik Garmus (g)
Henrik Tschierschky (g)
Konstantin Volhoff (b) (v)
Leo Wichmann (k)
Tristan Wegner (d)
Track Listing:
1. Continuum Shift
2. Telltale Notion
3. In Kingdoms of Rain
4. Damaged Beyond Repair
5. Beauty in Passing
6. The Outer Rim
7. Temporary Loss of Reason
8. Antibiosis
9. Luminary Ghost
10. Riven
Label: AFM Records
Website: www.facebook.com/wordsoffarewell
Hardrock Haven Rating: 8.75/10